Intelligent Cloud, Analytics Demonstrate SAP's Vision for Tomorrow's Business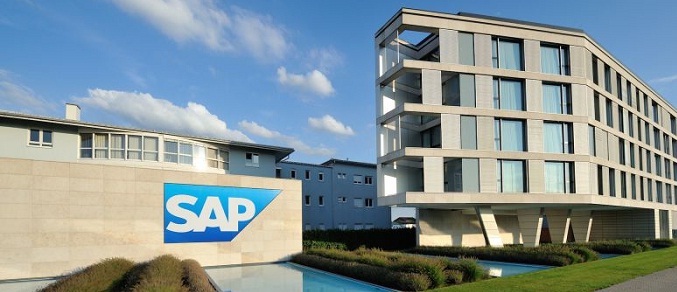 SAP SE (NYSE: SAP) presented its road map and new tools to help customers conquer the complex challenges that businesses face in a world of ubiquitous data.
SAP is the smart companion to navigate the data jungle: analytical applications with cloud-based access to all data sources; collaborative intelligence to help companies understand and react to the changing work environment; and finally, intelligent assistants that take away the tedium of repetitive tasks.
Machine Learning in SAP S/4HANA Cloud Makes Companies More Intelligent and Automated
SAP has introduced general availability of SAP S/4HANA Cloud 1705, enabling businesses to make their processes more efficient and automated. The 1705 release most notably features general availability for SAP CoPilot, a digital assistant for the enterprise that is aware of business context, driving efficient collaboration, quickly recognizing and connecting to business objects and offering in-context chat. Further embedded machine learning capabilities offer predictive analytics for increased end-user efficiency, automatic invoice matching and more.
SAP S/4HANA Cloud is SAP's intelligent enterprise resource planning (ERP) software-as-a-service solution with contextual analytics, digital assistant capabilities, machine learning and the award-winning SAP Fiori user experience.
Other updates in SAP S/4HANA Cloud 1705 include:
Significant acceleration of finance capabilities for large enterprises including statutory financial consolidation, SAP S/4HANA Cloud for Finance for credit integration and SAP digital payments add-on integration
The release of innovative end-to-end processes for manufacturing, providing transparency over financial impact, inventory management and supplier management, enabling demand-driven manufacturing
The SAP Project Companion mobile app, which facilitates collaboration in day-to-day actions and offers quick insights through push notifications
Additional integrations to third-party systems, including creating sales orders for sales force automation
Analytics Updates Help Customers Simplify Business, Stay Ahead and Act in Real Time
New innovations across the entire analytics portfolio give customers better insights into the business for their cloud and hybrid deployments as well provide new capabilities to the expanded SAP Leonardo digital innovation system.
The SAP Analytics Cloud (formerly SAP BusinessObjects Cloud) solution update is planned to be available this month. Intended features include a new mobile app on iOS, live connections to the SAP BW/4HANA solution and universes, R scripting, enhanced visual linking, new data preparation functions available to all user types, new smart discovery features including simulations and scoring, a new smart insight feature to automatically propose visualizations, and new prebuilt industry and line-of-business content.
SAP Digital Boardroom now supports Microsoft Surface Hub to simplify collaborative decision making, and new SAP and partner offerings to provide tailored capabilities for select industries and user groups within organizations.
The SAP BusinessObjects Business Intelligence (BI) 4.2 platform includes improved user interface experiences with the new SAP BusinessObjects Web Intelligence unified viewer and the enhanced SAP Fiori-styled BI launchpad. SAP Lumira 2.0 software aims to converge SAP Lumira visualization and SAP Lumira Designer (formerly known as SAP BusinessObjects Design Studio) to simplify the landscape for both IT and business users. SAP and Zoomdata are teaming up to provide enhanced capabilities in SAP Lumira including connectivity to a wide variety of data sources to enable modern analytics at the speed of thought. SAP Analytics Hub is now available to empower business users to find analytics content across their enterprise, whether on premise or in the cloud.
SAP Predictive Analytics software enables machine learning in SAP S/4HANA solutions both on premise and in the cloud, and enhanced SAP HANA platform support, data preparation and feature engineering are planned. SAP Cloud Platform Predictive service includes new features such as recommendation and clustering models, as well as model training services for automated regression and classification. SAP IT Operations Analytics 2.0 software brings more business context to IT issues, with new features to help IT prioritize responses based on business impact. Support for hybrid data centers also helps manage IT costs and optimize resources whether on premise or the in cloud
SAP Ariba and IBM Join Forces to Transform Procurement
SAP Ariba and IBM are teaming up to deliver next-generation applications that digitize and make procurement awesome. The companies will use SAP Leonardo and IBM Watson to drive an intelligent source-to-settle process for managing all categories of spend that creates value across the entire business.
The applications aim to bring insights from unstructured data together with predictive insights from procurement data from SAP Ariba solutions, empowering procurement organizations to interact in new ways across their supply chains and make smarter, faster decisions.
IBM and SAP Ariba will work on a mutual go-to-market plan to attract IBM customers to the SAP Ariba solution platform, where they can benefit from this expanded functionality and the comprehensive source-to-settle offerings that SAP Ariba solutions provide.
SAP, Thrive Global to Improve Employee Well-Being with Behavior Change Solutions, Machine Learning and Analytics
SAP and Arianna Huffington's Thrive Global have expanded their co-innovation partnership that enables SAP SuccessFactors solution customers to improve employee health and well-being and end the epidemic of workplace burnout, which affects an estimated 70 percent of workers. The partnership includes:
Exclusive Thrive Pathways for Change
Based on custom Thrive Pulse surveys that provide immediate personalized feedback on an individual's behaviors, Thrive's pathways will deliver science-based microsteps designed to improve employee well-being and productivity. Planned to be delivered via the SAP SuccessFactors Employee Central and Learning Management solutions in coming months, the first pathway will focus on managing employees' relationship with technology to reduce stress and distraction and improve productivity.
SAP SuccessFactors intelligent services will be leveraged to deliver personalized pathways triggered by key life and work events including maternity leave, job promotion, divorce, death in the family and more.
Behavior Change Solutions Across the SAP SuccessFactors HCM Suite
SAP and Thrive Global will collaborate using behavior change microsteps, machine learning and analytics with the intention of developing an integrated well-being solution across the SAP SuccessFactors HCM Suite, empowering employees to thrive from hire to retire, while giving leaders the ability to measure the impact of well-being on an organization's productivity and performance.
About SAP
As market leader in enterprise application software, SAP (NYSE: SAP) helps companies of all sizes and industries run better. From back office to boardroom, warehouse to storefront, desktop to mobile device – SAP empowers people and organizations to work together more efficiently and use business insight more effectively to stay ahead of the competition. SAP applications and services enable more than 350,000 business and public sector customers to operate profitably, adapt continuously, and grow sustainably. For more information, visit www.sap.com