Intel To Showcase loT Solutions At NRF to Enhance Shopper Experiences, Connect Retailers to New Insights and Boost Roi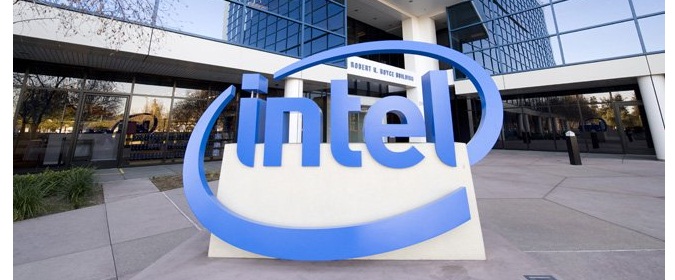 At this year's NRF's Big Show 2017, Intel will unveil new IoT technologies to accelerate innovation for retail's unprecedented transformation. With its robust ecosystem of original equipment manufacturers (OEM) and independent software vendors (ISV),
Intel will demonstrate various connected, more secure, data-driven solutions – including the next generation in retail-focused virtual reality and artificial intelligence that will allow retailers to achieve more engaging shopper experiences to increase sales while lower operating costs. At the show, attendees will gain insight on how these new technologies are changing the world of retail no matter when or where consumers and retailers transact.
WHAT: Intel to demonstrate next-generation IoT technology to enhance experiences that will transform the future of retail
WHEN: Jan. 15-17, 2017
WHERE: Jacob K. Javits Convention Center, New York City
Intel CEO Brian M. Krzanich keynote:
Driving Retail Transformation: How Data and Smart, Connected Technology Deliver Amazing Customer Experiences
Underpinning many retail industry advances, data increasingly pushes the customer experience to new levels and helps deliver brand loyalty. Enabled by more secure, smart and connected technology, this data powers much of the current disruption in retail, facilitating insights to deliver personalized experiences and fuel potent business results. Intel CEO Brian Krzanich, accompanied by Carrie Ask, executive vice president for Global Retail from Levi Strauss & Co.*, will discuss how retailers can drive a seamless path to connected, data-driven solutions for a more engaging customer experience, increased sales and lower overall operating costs.
Intel to Feature Robust Partner Ecosystem Solutions at Intel's Booth, #3125. Highlights include:
Customer Experience (CX)
Amazing CX is built on customer-centric solutions that enhance the retail experience, drive foot traffic and increase engagement. Delighted shoppers aren't just customers; they're advocates.
Banter* Conversational Commerce and Retail Interaction: Retains Customers with Fast, Responsive Direct Messaging –Banter is a conversational commerce platform designed to bring businesses and their customers closer together by utilizing the messaging systems they already like and use. It uses Intel technology to allow businesses and their customers to interact with each other via SMS, Facebook Messenger*, Twitter* and more. Both human and artificial intelligence combine to deliver personalized, real-time service, reducing operating costs and increasing customer satisfaction.
Telefonica* spotlabel for Fashion Retailer – Changing out paper tags and signage is time consuming and expensive. Time for Telefonica spotlabel and signage. It lets retailers instantly update pricing, promotions and customer content so information is always fresh. Inventory is laser-focused and customers are more engaged.
Ingenico Group* Next Generation –Payment Acceptance with PIN on Glass – An innovative experimentation that lets consumers manually enter their PIN on the digital screen of a retailer's tablet. This next-generation payment solution improves the retail experience by providing secure payment checkout anywhere in the store. With Ingenico's leading security feature, PIN on glass will respect standard security requirements to provide a safe and seamless checkout.
True Fit*: Enhance Customer Experience for Fashion with Data-Driven Technology – True Fit is the true intelligence inside every shopping experience. True Fit is a data-driven technology platform that helps people find clothes and shoes they'll truly love. It has organized the largest platform of apparel and footwear data through its partnerships with thousands of top brands, the world's leading retailers, and millions of consumers. Its data is mapped into the True Fit Genome*, which helps retailers and brands unlock digital growth in the largest consumer vertical – the nearly $2 trillion footwear and apparel industry. Genome* powers its award winning Confidence Engine*, allowing retailers to provide highly personalized fit ratings and size recommendations to shoppers, resulting in dramatic increases to net revenue. True Fit is also helping to unlock digital growth with its Discovery Engine*, which allows retailers to curate highly personalized collections to each consumer, as well as True Insights*, which provides retailers and brands unparalleled insights to optimize marketing, merchandising and product development.
Insights
Amazing data-driven insights give you more control over your retail operation, from operational efficiency to real-time inventory tracking to staffing. Data is the currency of disruption.
Small Box* Energy chameleon*: Energy Management and Equipment Diagnostics – Small Box Energy has a big idea. Optimize the operational systems and equipment of retailers and restaurants to maximize energy savings. Its chameleon* platform automates, controls and schedules equipment to run more efficiently and reduce costs. Equipment run time is lowered, energy consumption is reduced, maintenance costs are cut and equipment life is extended.
TRAX*: Real-Time Insight on Product Performance with Image Recognition Technology – TRAX equips companies with real-time insight on how their products are performing from store shelves. This helps sales representatives and store employees to significantly reduce out-of-shelf occurrences, which increases revenues and improves customer experience.
Unified Retail
Intel technology does more than create new experiences and identify insights. It unifies every part of your retail operation. When you have a 360-degree view of your business, you can see how to make it all work together seamlessly.
Capgemini* Smart Digital Store: Enhances Physical Stores with Online Presence – Retailers can create an "endless aisle" of product content, pricing, comparisons and reviews by integrating the physical store with their online presence. With the help of Capgemini's Smart Digital Store, retailers can enhance the physical stores with digital capabilities to empower associates, engage customers, increase operational efficiency and generate more revenue. Combined with in-store sensors, cameras and other devices with cloud, the Smart Digital Store optimizes everything from CRM to supply chain to associate management.
FINDMINE* Complete the Look: Meet Shopper's Preferences and Increase Revenue with Artificial Intelligence – "Complete the Look" technology uses artificial intelligence to create complete outfits around every product in a fashion retailer's catalogue as a true omnichannel solution. For fashion hunters in pursuit of perfection, FINDMINE answers the question "how do I wear this?" in real time, servicing requests for over 4.5 million outfits per day.
JDA* Store Optimizer: Increases Sales with Response Retail Technology – The science of selling just got more precise. Intel, JDA and Theatro are collaborating on the JDA Store Optimizer and Theatro employee management solution, which combines the Internet of Things and the cloud to make retail more responsive. Store Optimizer transforms accurate inventory data into dynamic merchandising tasks for store associates. Together Intel, JDA and Theatro shows how task management can be improved through real-time inventory and associate sensing. By integrating environmental and customer data, the customer experience is elevated through real-time insights. Upselling and fulfillment become second nature.
Ron Jon* Smart Digital Surfboard: Enhance Customer Experience with Digital Signage Equipped with Onboard Analytics – The surfboard-shaped digital signage is able to depict a multitude of customer information including gender, age bracket and dwell time. The brand's media and content ranges from videos, picture slide shows and even live weather forecast that can greatly influence the in-store customer experience and buying decision.
Shima Seiki* –Store as a Production Center: Enabling Fast and Customizable Fashion – Shima Seiki has the world of 3D knit printing all sewn up. It ushered in the Internet of Things to change the fashion supply chain. It's capable of customizing printed knit designs to every customer whim – right on the money, so forecasting errors are eliminated, no inventory is wasted, and markdowns and discounting are history.
Toshiba* Lift n' Learn: Influence Purchasing with Digital Displays and Interactive Content –As retailers seek to create new and engaging shopping experiences, interactive product displays utilizing digital content are helping to bridge the online and in-store experience gap. By providing compelling and insightful product information at the point of purchase, this solution helps convert shoppers from browsers into buyers.
Verifone* Carbon: Enables POS Customization with an Open, Flexible Platform – Verifone Carbon helps merchants operate more efficiently while providing a better point-of-sale experience with both a countertop and portable POS solution in one device.  Verifone devices connect retailers to an open platform that lets them customize apps, complete purchases across the supply chain, and engage customers with compelling content for an estimated 4 percent sales uplift.
About Intel
Intel (NASDAQ: INTC) expands the boundaries of technology to make the most amazing experiences possible. Information about Intel can be found at newsroom.intel.com and intel.com.