HYUNDAI POWERED UNLIMITED RACE CAR SETS THE SECOND FASTEST TIME IN PIKES PEAK HILL CLIMB HISTORY
Millen Sets Personal Best Time of 9:02.102 to the 14,115 Ft. Summit
PIKES PEAK, COLORADO, July 1, 2013 – Rhys Millen and his Hyundai-powered race car finished second overall and set the second fastest time in history at the 2013 Pikes Peak International Hill Climb today. Millen set a blistering pace to the summit in his specially-prepared Hyundai powered race car, needing only 9:02.192 to make international Motorsports' most challenging ascent. For 2013, Millen's own race team, Rhys Millen Racing (RMR), built an all-new unlimited-class, tube frame race car powered by a production-based Hyundai lambda engine block, heads, and powertrain support equipment. The production Hyundai electronic power steering in the car also performed flawlessly today at high and low speeds while providing a lot of feedback.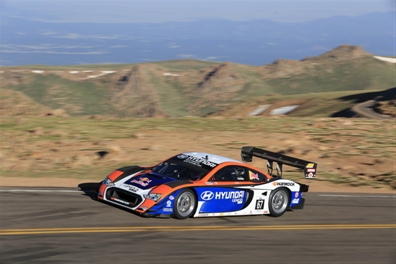 "Years of experience spent on Pikes' challenging 156 turns paid off in a big way for the RMR team this year," said Millen. "By building an all-new Hyundai Genesis PM580-T tarmac-focused race car  the team made precise adjustments, building upon last years' world record. We focused on leveraging monster down force  creating incredible traction for our rear-drive strategy on the all-tarmac road surface. Behind the wheel, considerable experience at Pikes Peak over the years allowed me to shave a few tenths from every challenging apex."
HYUNDAI GENESIS PM580-T UNLIMITED-CLASS RACER
Not content to rest on their laurels from last years' all-time record in the RMR Genesis Coupe, the RMR team held nothing back in race preparation for this years' all-new unlimited-class race car. Starting with a Grand Am Daytona Prototype tubular monocoque chassis with aluminium honeycomb from Crawford Race Cars, Millen added a custom carbon-composite body modeled after the production Genesis Coupe's unique greenhouse silhouette. Front and rear suspensions use sophisticated front and rear double A-arms with a push-rod set-up and Penske 8760 racing dampers. The engine block and heads are from the Hyundai production-based Lambda engine family, with a Garrett turbocharger feeding the highly pressurized (22:1) air-fuel mixture, creating 900 horsepower and 800 lb. ft. of torque. Power is fed through an Xtrac DP386 5-speed sequential transmission to BBS 3-piece, 18-inch aluminum wheels and Hankook F200 racing slicks. Six-pot front and four-pot rear Brembo brakes with MOTUL racing fluid provide stopping power for the 156 turns, and oversized cooling ductwork ensures adequate brake rotor heat dissipation in the thin air of the summit's extreme altitudes.
This year, special focus was given to maximizing the rear-drive grip potential for the new all-tarmac course and its considerably higher average speeds. A more aggressive aero strategy was implemented, targeting even more downforce to accommodate the additional grip requirements of a pure rear-drive setup. The entire car was scrutinized for weight reduction potential, with a racing weight of only 2150 lbs., while suspension settings were further optimized for Millen's unique driving techniques.
WINNING PIKES PEAK HERITAGE
Rhys Millen Racing has been the team to contend with in recent years at Pikes Peak. In 2012, Millen set the fastest-ever, all-time world record of 9:46.164 in the Hyundai RMR Genesis Coupe. Before that, in 2011, Rhys nearly broke the famed 10-minute barrier in his dedicated PM580 tube-frame hillclimb racer. The same year, in a classic father/son family effort, Rhys' father, Rod Millen, set the current record in the same Genesis Coupe, having recently celebrated his 60th birthday, even beating a Porsche 911 GT2 RS. In 2009, Rhys had set the world record for Time Attack 2WD in the Genesis Coupe, the beginning of a world-record-setting dynasty for the RMR team.
RHYS MILLEN
World Champion driver Rhys "Mad Skills" Millen pilots the RMR Hyundai Genesis Coupe in the Formula DRIFT Championship and the RMR Hyundai Veloster rally car in the U.S. Rallycross Championship Series, including Summer X-Games. Millen's team has been a great match for Hyundai motorsports. Millen's driving credentials include movie stunts, multiple drifting championships, two Pikes Peak world records and his 2008 New Year's Eve Las Vegas truck flip at Red Bull: New Year. No Limits. Behind Millen's success in the driver's seat is a full team of engineers and fabricators who know how to maximize the potential of a race car.
With more than 17 years of racing experience, Rhys Millen has established himself as one of the premier rally/drifting drivers in North America. Rhys is the son of famed rally and off-road racer Rod Millen. Rhys won the Formula Drift championship in 2005 and the Red Bull Drifting World Championship in 2008. In 2009 at the PPIHC, Millen won the Time Attack 2WD class in his carbon-bodied Hyundai Genesis Coupe. His time of 12:09.397 crushed the class record.
HYUNDAI MOTOR AMERICA
Hyundai Motor America, headquartered in Costa Mesa, Calif., is a subsidiary of Hyundai Motor Co. of Korea. Hyundai vehicles are distributed throughout the United States by Hyundai Motor America and are sold and serviced through more than 820 dealerships nationwide. All Hyundai vehicles sold in the U.S. are covered by the Hyundai Assurance program, which includes the 5-year/60,000-mile fully transferable new vehicle limited warranty, Hyundai's 10-year/100,000-mile powertrain limited warranty, and five years of complimentary Roadside Assistance. Hyundai Assurance includes Assurance Connected Care that provides Hyundai owners with proactive safety and car care services made possible by the Hyundai Blue Link telematics platform, complimentary for three years. These services include Automatic Collision Notification, Enhanced Roadside Assistance, Vehicle Diagnostic Alert, Monthly Vehicle Health Report and in-vehicle service scheduling.
For more details on Hyundai Assurance, please visit http://www.hyundaiassurance.com/
Please visit our media website at http://www.hyundainews.com/ and our blog at http://www.hyundailikesunday.com/
Source: http://www.hyundainews.com/