Hyundai Motors Hints at the Style of New Generation i20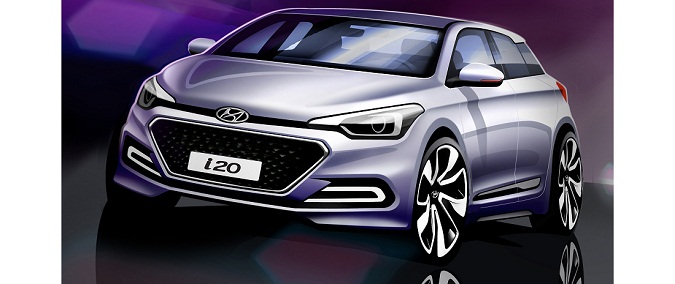 Inspired by 'Fluidic Sculpture 2.0' design philosophy
Styled at Hyundai Motor's Design Centre Europe
Packaging and dimensions create generous proportions
High Wycombe, 1 August– Hyundai Motor has revealed design renderings of the New Generation i20.
The new version of Hyundai's popular B-segment model features the brand's 'Fluidic Sculpture 2.0' design philosophy, in a sophisticated and distinctive design.
The long hood and generous shape create a powerful stance for New Generation i20. The body sides are sculpted yet the overall architecture is clear and simple, with the cabin sitting cleanly on the body. In profile, the dark treatment of the C-pillar visually accentuates the car's length.
The front presents a bold new interpretation of the well-established Hyundai hexagonal grille and a new thin horizontal strip connecting the headlamps. At the back, the wrap-around rear window and unique treatment for the lamp clusters combine with the car's hatchback proportions to create a distinctive design.
The New Generation i20 was designed at Hyundai Motor's Design Centre Europe in Rüsselsheim, Germany.
More details about New Generation i20 will be released ahead of its world premiere at the Mondial de l'Automobile 2014 in Paris in October.
-Ends-
About Hyundai Motor
Established in 1967, Hyundai Motor Company is committed to becoming a lifetime partner in automobiles and beyond. The company leads the Hyundai Motor Group, an innovative business structure capable of circulating resources from molten iron to finished cars. Hyundai Motor has seven manufacturing bases and seven design & technical centres outside of South Korea and in 2013 sold 4.73 million vehicles globally. With almost 100,000 employees worldwide, Hyundai Motor continues to enhance its product line-up with localised models and strives to strengthen its leadership in clean technology, starting with the world's first mass-produced hydrogen-powered vehicle, ix35 Fuel Cell.
More information about Hyundai Motor and its products can be found at:http://worldwide.hyundai.com or www.hyundaiglobalnews.com
About Hyundai Motor Europe
In 2013, Hyundai Motor Europe achieved registrations of 422,930 units, taking a new-car market share of 3.4%. Almost 95% of the vehicles Hyundai sells in the region are designed, engineered and tested in Europe to meet the needs of European customers. And 90% are built at its two local factories in the Czech Republic and Turkey, which have a combined annual capacity of 500,000 units. Hyundai sells cars in 30 European countries across 2,500 outlets.
Hyundai offers its unique, Europe-only, Five Year Unlimited Mileage Warranty package with all new cars sold in the region, providing customers with a five-year warranty with no mileage limit, five years of roadside assistance and five years of vehicle health checks.
More information about Hyundai Motor Europe and its products is available at www.hyundai.com/eu. Follow Hyundai Motor Europe on Twitter @HyundaiEurope.
 About Hyundai Motor UK
Hyundai has sold vehicles in the UK since 1982. In 2005, Hyundai opened its own UK subsidiary, Hyundai Motor UK Ltd, based in High Wycombe. Since 2008, the company has risen from 21st to one of the top ten car manufacturers in the UK and last year sold a record 77,500 vehicles. Hyundai Motor UK employs over 3000 people through its UK operations and dealer network.
Hyundai offers a full range of vehicles from the award-winning New Generation i10 city car through to the capable Santa Fe SUV and iLoad LCV. All passenger cars come with Hyundai's industry-leading 5 Year Unlimited Mileage Warranty package. Further information about Hyundai and its products is available at www.hyundai.co.uk.
Follow us on Twitter @Hyundai_UK_PR
For individual information please contact:
Natasha Waddington
Head of PR
01494 428646
07771 975692
natasha.waddington@hyundai-car.co.uk
Laura King
Media Relations Manager
01494 428685
07817 264224
laura.king@hyundai-car.co.uk