Hyundai Motor UK Launches Santa Fe Team Wiggins Edition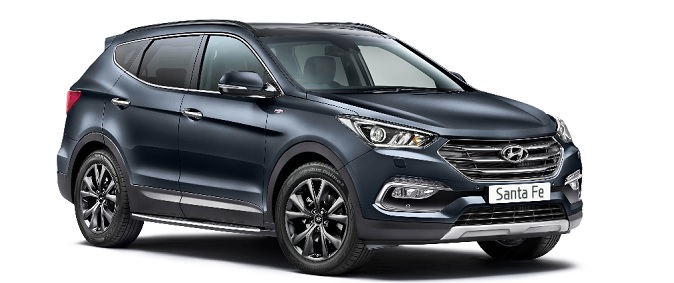 Hyundai Motor UK has launched a limited run of special edition Sante Fe models to celebrate its exclusive partnership with Sir Bradley Wiggins' elite cycling team.
Called the Sante Fe Team Wiggins Edition, just 500 examples will initially be available in July – each majoring on design and technology with subtle added detailing and high levels of the latest equipment.
Based on the Premium SE, the Team Wiggins Edition models will feature Dynamic Bending Lights, a Panoramic Sunroof, a Smart Electric Tailgate, Smart Parking Assist, Ventilated Front Seats and Smart High Beam as standard.
In addition Wiggins Edition models add subtle Team Wiggins badges on the front wings Side Bar Sport running bars and all-new 19-inch alloy wheels sitting on 235/55 R19 tyres and coloured in Dark Gunmetal. Customers will be able to choose from five limited body colours: an all-new pearl-effect White Crystal as well as solid Creamy White, metallic Titanium Silver, metallic Ocean View, pearl-effect Phantom Black.
These extras will not come with an inflated price tag though as the Team Wiggins Edition will cost £35,995 for the 7 seat 2.2 CRDi 4WD Manual – £705 less than the Premium SE. An automatic gearbox version will be priced at £38,295. Hyundai's 200PS 2.2-litre CRDi diesel will be the sole engine offered for the Team Wiggins Edition.
Team Wiggins was founded by Sir Bradley Wiggins – seven-time Olympic medallist and the first Briton to win the Tour de France – last year and Hyundai's exclusive partnership will see five vehicles used by the team throughout the 2016 season.
The fleet will consist of two i40 Tourers, two Santa Fe SUVs and an iLoad van. Each car will be used to support the team throughout the 2016 racing schedule, including at the Tour of Britain and other races in Europe.
David Pugh, Hyundai's marketing director said: "We're proud to be supporting Team Wiggins this year. Sir Bradley is one of Britain's sporting icons and his team is innovative, dedicated and full of perseverance. We share that ethos at Hyundai and it's great to be able to celebrate this successful partnership by issuing a desirable twist on one of our own icons, the flagship Santa Fe. The Team Wiggins Edition is packed full of equipment, looks the part but crucially offers great value too. Buyers will need to be quick to snap up the 500-car run."
Sir Bradley Wiggins said: "It's great to be working with Hyundai this year – the company is a great fit with a really positive spirit and attitude. The diversity of the cars at our disposal has already proved invaluable in the Tour of Yorkshire and the Santa Fe has been a big hit with the team. I'm very proud to put my name to this limited run of special Team Wiggins Edition models and am looking forward to putting the range through its paces over the summer racing season and beyond."
About Hyundai Motor
Established in 1967, Hyundai Motor Company is committed to becoming a lifetime partner in automobiles and beyond. The company leads the Hyundai Motor Group, an innovative business structure capable of circulating resources from molten iron to finished cars. Hyundai Motor has eight manufacturing bases and seven design & technical centers worldwide and in 2015 sold 4.96 million vehicles globally. With more than 110,000 employees worldwide, Hyundai Motor continues to enhance its product line-up with localised models and strives to strengthen its leadership in clean technology, starting with the world's first mass-produced hydrogen-powered vehicle, the ix35 Fuel Cell and IONIQ, the world's first model with three electrified powertrains.
About Hyundai Motor UK
Hyundai Motor has sold in the UK since 1982 and since then has sold over 1 million vehicles. In 2005, Hyundai opened its own UK subsidiary, Hyundai Motor UK Ltd, based in High Wycombe. Since 2008, the company has risen from 21st to one of the top manufacturers in the UK and last year sold a record 88,257 vehicles. Hyundai Motor UK employs over 3000 people through its UK operations and dealer network.