HP Unveils New DreamColor Displays Offering Unmatched Color Accuracy and Affordability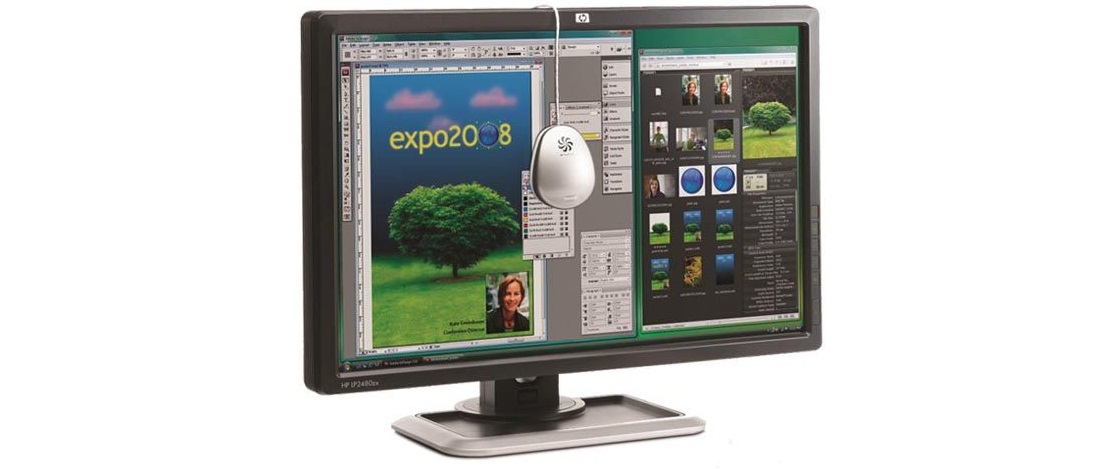 New DreamColor Displays deliver industry firsts, unprecedented color accuracy to maintain leadership position
HP today announced two new HP DreamColor Displays, once again disrupting the color-critical display market by achieving new levels of affordability and color accuracy.
The HP Z27x and Z24x displays for PCs and Macs feature HP's second-generation DreamColor Engine and provide up to 1.07 billion on-screen colors, achieving color error so small that it is not discernable to the human eye.(1) Compared to the previous-generation product, the new displays include up to 60 percent more pixels, contain up to a 4,000 percent increase in the internal color palette and are up to 57 percent thinner.
The HP Z24x DreamColor Display delivers the color accuracy and consistency that has become synonymous with the HP DreamColor brand, at less than 25 percent of the price of the original HP DreamColor display. The HP Z27x DreamColor Display breaks new technology barriers by providing:
Three times the color accuracy over the previous generation
The first color-critical display featuring HP's hostless integrated calibration engine with built-in support for third-party professional color measurement instruments
Ethernet-based remote management with an integrated web server that provides unprecedented control of the display
A published software development kit (SDK) that allows customers to fully integrate the HP Z27x into their color workflows
The most affordable color-critical display capable of 4K support
"The HP DreamColor Engine and our line of DreamColor products have become the gold standards for professionals who demand color accuracy," said Jun Kim, vice president and general manager, PC displays and accessories, HP. "This next generation of HP DreamColor Displays will once again disrupt color technology, providing customers with richer and more accurate colors than ever before."
The HP Z27x and HP Z24x DreamColor Displays are designed for professionals for whom accurate color management is essential, and consumers who seek to use only the best in technology innovations. Key features of the new displays include:
Consistent 10-bit color accuracy from design to production with push-button color space selection and easy color calibration
One-button access to presets including sRGB D65, sRGB D50, Adobe® RGB, BT.709, BT.2020 and DCI-P3
Ability to easily create a custom color space with full control over primaries, white point and tone response
Easy connection to existing workflows through support by Windows, Mac or Linux operating systems (2)
The HP Z27x DreamColor Display also offers:
An ultrawide Digital Cinema color gamut with 100 percent of sRGB, 100 percent of AdobeRGB and 99 percent of DCI-P3
The HP Night Vision interface with auto-fade button backlights and selectable red button backlight color for better low-light viewing in darkened working conditions
The result of an unprecedented technology collaboration with DreamWorks Animation SKG Inc. (NASDAQ: DWA) and other leading studios, the first HP DreamColor Display, the HP LP2480zx, addressed an increasingly critical need for affordable and consistent color accuracy in the animation, photography, film/video post, broadcast, product design and graphic arts categories.
"HP technology has enabled our studio to deliver amazing visual effects to our audiences," says Kate Swanborg, Head of Technology Communications and Strategic Alliance, DreamWorks Animation. "The new Z27x raises the bar in accuracy and ease of use for ensuring perfect color consistency from scene to scene and empowering further creativity in our artists."
With the new DreamColor Displays, HP has once again pushed the limits of innovation to bring users unrivaled accurate and consistent color from displays, to the big screen to print. Each new feature is a result of direct feedback from key advisory council members and customers looking for new ways to transform the way they work.
"The new DreamColor Z Displays are amazing and will be a game changer for many photographers," said Chris McLennan, an international, award-winning adventure and travel photographer and Nikon Ambassador. "The price point will mean that everyone who is into photography—whether a full time pro or a keen enthusiast—should be looking into this product."
Pricing and availability
The HP DreamColor Z27x and Z24x are available today for $1,499 and $599, respectively.(3)
---
(1) Integrated calibration engine in the HP Z27x produces three times better color accuracy than factory calibration results on previous generation. The color error is less than 0.6 ΔE 1994—calculated from measurements of the 24 ColorChecker natural tones plus primaries and secondaries—which is considered well below the difference discernible by the human eye.
(2) The HP Z24x requires a Windows system for user calibration, but is supported on Windows, Mac and Linux. The HP Z27x does not require a host computer for user calibration. It is supported on Windows, Mac and Linux.
(3) Estimated U.S. street prices. Actual prices may vary.
---
Microsoft and Windows are U.S. registered trademarks of Microsoft Corporation. Adobe is a trademark of Adobe Systems Incorporated.
This news release contains forward-looking statements that involve risks, uncertainties and assumptions. If such risks or uncertainties materialize or such assumptions prove incorrect, the results of HP and its consolidated subsidiaries could differ materially from those expressed or implied by such forward-looking statements and assumptions. All statements other than statements of historical fact are statements that could be deemed forward-looking statements, including but not limited to statements of the plans, strategies and objectives of management for future operations; any statements concerning expected development, performance, market share or competitive performance relating to products and services; any statements regarding anticipated operational and financial results; any statements of expectation or belief; and any statements of assumptions underlying any of the foregoing. Risks, uncertainties and assumptions include the need to address the many challenges facing HP's businesses; the competitive pressures faced by HP's businesses; risks associated with executing HP's strategy and plans for future operations; the impact of macroeconomic and geopolitical trends and events; the need to manage third-party suppliers and the distribution of HP's products and services effectively; the protection of HP's intellectual property assets, including intellectual property licensed from third parties; risks associated with HP's international operations; the development and transition of new products and services and the enhancement of existing products and services to meet customer needs and respond to emerging technological trends; the execution and performance of contracts by HP and its suppliers, customers, clients and partners; the hiring and retention of key employees; integration and other risks associated with business combination and investment transactions; the execution, timing and results of restructuring plans, including estimates and assumptions related to the cost and the anticipated benefits of implementing those plans; the resolution of pending investigations, claims and disputes; and other risks that are described in HP's Annual Report on Form 10-K for the fiscal year ended October 31, 2013, and that are otherwise described or updated from time to time in HP's Securities and Exchange Commission reports. HP assumes no obligation and does not intend to update these forward-looking statements.
© 2014 Hewlett-Packard Development Company, L.P. The information contained herein is subject to change without notice. The only warranties for HP products and services are set forth in the express warranty statements accompanying such products and services. Nothing herein should be construed as constituting an additional warranty. HP shall not be liable for technical or editorial errors or omissions contained herein.
About HP 
HP creates new possibilities for technology to have a meaningful impact on people, businesses, governments and society.  With the broadest technology portfolio spanning printing, personal systems, software, services and IT infrastructure, HP delivers solutions for customers' most complex challenges in every region of the world. More information about HP (NYSE: HPQ) is available at http://www.hp.com.