How To Optimize Your Trading Experience With LegacyFX's Trading Instruments
Experts advise to not invest in solely one type of asset–such as currency pairs like EUR/USD and EUR/GBP, or commodities like gold and silver. Instead, financial professionals believe investing in numerous instruments across different sectors–known as portfolio diversification; can improve one's investment outcomes. This is because each asset class has its own distinct qualities based on various market conditions, that could impact your portfolio's performance. Another reason to diversify your portfolio is to mitigate risks. As the saying goes, "Don't put all your eggs in one basket". The same concept applies when trading, for if one has invested in only one sector and that sector performs poorly, doing so could negatively impact allthe returns of all your investments as they are all from the same arena. In addition, diversifying your investments through multi-asset trading will increase the number of signals and trading opportunities you receive.
No one claims that diversifying your portfolio will always ensure profitable trades. As you may already know, trading can always go either way. Yet, as a leading broker in the world of financial and forex trading, we at LegacyFX promote this strategy as well, as it could potentially help you optimize your financial goals. As such, we offer our clientele various trading instruments to help them diversify their investment strategies. This article will dive into three popular asset classes of ours:  currency pairs, commodities, and cryptocurrencies, and discuss how each of them are beneficial in their own rights.
We will start with currency pairs on the forex market. This market is characterized primarily by its size, accessibility, and global reach as it transacts 24/5. This market trades different currencies against one another (also known as currency pairs, such as EUR/USD). With LegacyFX, we offer trading on some of the most desired currency pairs, including EUR/USD, GBP/USD, and EUR/GBP.
For example, the EUR/USD currency pair, combines two of the most prominent and most reputable currencies worldwide. Other pairs such as EUR/GBP or GBP/USD, are also popular instruments that are frequently traded. However, one must not that such products are associated with low spreads, high liquidity, volatility, frequent price fluctuations, and the ability to execute sizable volumes. While this particular market offers many products, due to the numerous global economies and currencies present on it, which can diversify you rreturns, since it is typically quite volatile, you should keep in mind that there is also equal chance of sustaining sizable losses.
Aside from the numerous pairs LegacyFX offers, trading foreign exchange with us have other benefits as well. First, this particular market is relatively easy to learn on when first entering into the world of online financial trading and markets. Compared to other markets it does not require large investments of capital to enter into. We support this by allowing clients to enter into trading these assets with us through deposits of as low as $250. This is further stipulated through our free demo accounts, which allow one to experiment on this market without risking their own capital. Second, we do not charge exchange, deposit, withdrawal, or government fees. This market is overall known for having low costs associated with it. Third, as the foreign exchange market is open from Monday through Friday, 24 hours a day, you could participate in the market regardless of your location or the time.
With LegacyFX, you can also trade commodities on CFDs, such as metals like silver and gold, energies such as gas, and soft commodities like oil. Contracts for Difference (CFD) trading allows one to trade on price differences of the contracts of commodities between a buyer and a seller. You do not physically own the asset by trading on CFDs. Instead, it is just provided to you as an electronic contact, so you do not need to consider transporting or storing the asset itself.
Trading CFDs on commodities is also quite convenient and flexible. Even though CFDs on commodities have expiration dates, we at LegacyFX easily rollover the contracts for you, so you may continue selling or buying it. This condition lets you hold onto the trade and wait for it to react as you need, with little obligations. As such, it can give more chances to possibly gain from market movements.
In the metals sector, trading CFDs on gold is one of the most frequently traded commodities. By including gold in your investment portfolio, you might be able to employ it as a hedge against inflation and crises due to its liquidity and ongoing price appreciation. It could also lower your trading risk, due to gold's safe-haven status.
The central values that you as a trader might entertain when trading various cryptocurrencies, such as Bitcoin, Ethereum, Ripple, and others, are the transaction speed and costs, as well as their accessibility and the security of the transactions.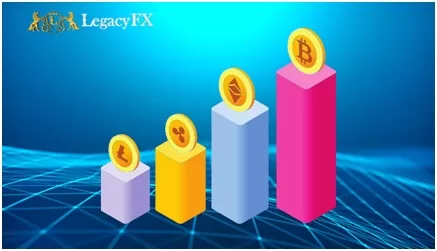 For instance, many financial transactions take between three to five days to settle, but cryptocurrency transacts almost instantly, which speeds up the transfer of money or assets. When trading cryptocurrency pairs, transaction costs are relatively low compared to other financial services. This helps reduce overall trading costs, which can interfere with one's investment abilities and objectives. Cryptocurrency trading is also more accessible as it provides alternative ways to access financial services without going through centralized authorities. The security of these transactions is another bonus of trading cryptocurrency pairs. They are safer because you cannot sign or carry out any transaction without having access to your funds via the personalized key for your individual crypto wallet. Furthermore, many of these currencies are not physically held in banks, but rather through blockchains which are securely encrypted.
As one can clearly see there are numerous opportunities to optimize your trading abilities and returns while using the various trading instruments offered by LegacyFX. Each asset class has their own favorable conditions, fees, and timeframes. Ultimately each trader must choose the asset classes that work best for their investment goals. Thankfully with so many options available, LegacyFX is a good broker to choose from to help create a truly diversified portfolio.
Visit us here if you are interested in learning more about trading various instruments with LegacyFX.