How To Get The 2016 Nike Mag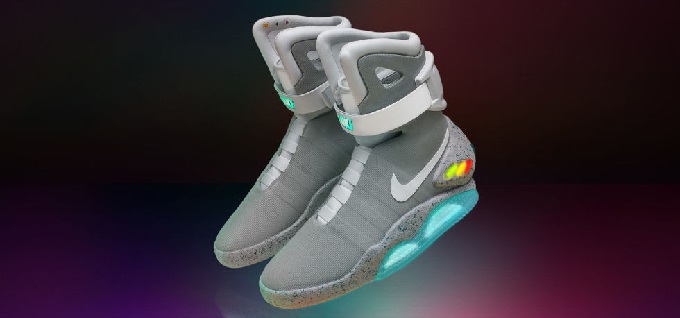 The Nike Mag, complete with "Adaptive Fit," to be released in partnership with The Michael J. Fox Foundation in effort to speed a cure for Parkinson's. 
Almost 30 years ago, Nike inspired a future vision of footwear — an individually responsive shoe that senses the wearer and adapts on its own. The Nike Mag, famously worn on the silver screen by Michael J. Fox, quickly became a cultural icon.
Today, Nike and The Michael J. Fox Foundation proudly announce the release of the 2016 Nike Mag — a limited-edition release of only 89 pairs available globally through an online draw — to once again channel the excitement of the Nike Mag to raise awareness in the fight against Parkinson's disease and the Foundation's tireless efforts to speed a cure.
Nike first partnered with The Michael J. Fox Foundation for Parkinson's Research in 2011. A version of the shoe was built for the Foundation and auctioned, raising nearly $10 million in 10 days — 100 percent of which went to fund critical Parkinson's research. Last year, Nike realized the future by hand-delivering the first adaptive Nike Mag shoes to Michael J. Fox.
"Though it initially shared only a few seconds of screen time with Michael, the idea behind the Nike Mag unlocked something much bigger at Nike," says Mark Parker, Chairman, President and CEO, NIKE, Inc. "It sent us down an uncharted path of innovation, but it also opened our eyes to our ability to fight some of the world's biggest challenges. We feel privileged for the opportunity to raise even more awareness for the fight against Parkinson's."
Nike took the first step in bringing adaptive footwear into more sports this spring with the introduction of the Nike HyperAdapt 1.0, a performance shoe that automatically laces and fits to the unique shape of each athlete's foot.
The 2016 Nike Mag combines the archetype invention with new technologies developed for the HyperAdapt 1.0. The result is an individually responsive system, called Adaptive Fit, that senses the wearer and tightens or loosens accordingly.
How to Get the Nike Mag
The 2016 Nike Mag is a limited-edition release of 89 pairs.
The majority of these will be available to residents of the United States and Canada through a digital draw process. Entrance to The Draw is via nike.com/mag or via the Nike+ App, with each entry granting equal opportunity to win a pair of the Nike Mag. Tickets are $10 donations to The Michael J. Fox Foundation. There is no limit to the amount of tickets that can be obtained per individual — the more tickets, the greater chance of winning. The Draw will begin on October 4, 2016 and end October 11, 2016. Winners will be notified October 17, 2016.
One pair of the Nike Mag will also be auctioned live in three places: Hong Kong on October 11, 2016; London on October 14 and 17; and in New York on November 12 at The Michael J. Fox Foundation's benefit gala, "A Funny Thing Happened on the Way to Cure Parkinson's."
 Harnessing the Energy of the Nike Mag to Help Speed a Cure for Parkinson's
Most importantly, 100 percent of the proceeds will go to The Michael J. Fox Foundation and drive critical research to accelerate development of a cure for Parkinson's disease.
One in 100 people over 60 will be diagnosed with Parkinson's disease, a chronic, degenerative brain disease affecting an estimated one million Americans and five million individuals worldwide (second only to Alzheimer's in prevalence). While classified as a movement disorder whose symptoms typically progress from mild tremors to serious physical disability, Parkinson's also gives rise to disabling non-movement-related symptoms including depression, cognitive impairment, pain, fatigue and digestive issues. Current treatments mask some symptoms but lose effectiveness over time and do not slow disease progression.
Michael J. Fox founded his eponymous Foundation in 2000 after publicly disclosing that he had been diagnosed with Parkinson's at age 29. His stated goal: Find the cure and close the Foundation's doors. The organization today continues working at an urgent pace to identify and drive the most critical research, and to mobilize the Parkinson's research and patient communities to take part in our work and help speed vital progress toward a future without Parkinson's disease.
About The Michael J. Fox Foundation for Parkinson's Research
As the world's largest nonprofit funder of Parkinson's research, The Michael J. Fox Foundation is dedicated to accelerating a cure for Parkinson's disease and improved therapies for those living with the condition today. The Foundation pursues its goals through an aggressively funded, highly targeted research program coupled with active global engagement of scientists, Parkinson's patients, business leaders, clinical trial participants, donors and volunteers.  In addition to funding more than $650 million in research to date, the Foundation has fundamentally altered the trajectory of progress toward a cure. Operating at the hub of worldwide Parkinson's research, the Foundation forges groundbreaking collaborations with industry leaders, academic scientists and government research funders; increases the flow of participants into Parkinson's disease clinical trials with its online tool, Fox Trial Finder; promotes Parkinson's awareness through high-profile advocacy, events and outreach; and coordinates the grassroots involvement of thousands of Team Fox members around the world.