How To Create A Killer First Impression In The Business World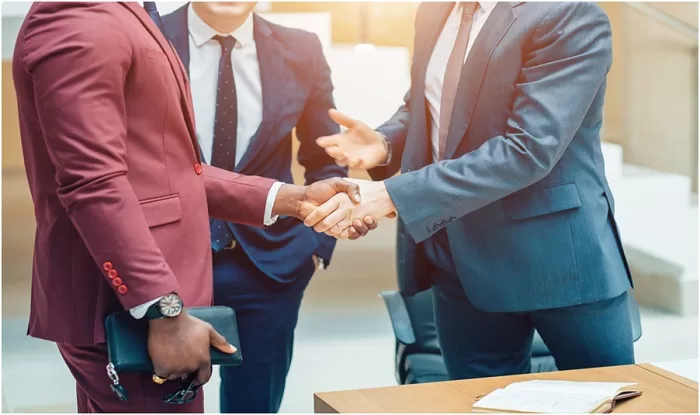 When you're meeting new clients, you only get one shot at making a positive first impression so you better be sure that you do everything you can to get it right. Studies have shown that people will form an opinion of you in as little as seven seconds so time truly is of the essence when it comes to making a positive impact on anyone you are meeting, in the business world. What's more, once that first impression has been formed, it's much more difficult to change it so you really need to make sure that you get it right the first time around.
There are countless ways that you can make a positive impression in the business world that will lead to more opportunities and better relationships as time goes on. Being well presented, dressed in a well-appointed business casual polo and slacks, for example, can help. Taking the time to research your client before you meet them will ensure you say the right things. Having a positive, enthusiastic and, above all else, authentic, attitude is also important. Regardless of who you are meeting in the business world, whether it's a client, supplier or a potential future partner, you need to be sure that they walk away from your meeting knowing that you are the type of person they want to do business with moving forward.
Let's take a look at a few simple tips to help you make a killer first impression when you're navigating your way through the business world.
Dress To Impress
Before you shake hands or say anything, the first thing that the person you are meeting is going to see is how you are presented. Make sure that you are dressed appropriately for the person that you are meeting. Being well-groomed and looking sharp will always help your case. Not only will you look more professional but if you take pride in your appearance it will highlight that you are a person who cares. If you are willing to put effort into how you look, the likelihood is that you will put just as much effort into what you do. Just be sure to dress appropriately for the meeting you are having and maintain a professional personal image.
Make Eye Contact
If you are meeting someone for the first time, focus on making eye contact with them. Looking someone in the eye will make sure that you come across as confident and interested. Nobody wants to meet with someone who spends the entire meeting staring down at the floor, or looking out the window. Eye contact can be key in establishing trust early on. However, you need to be careful not to overdo it. Too much eye contact can sometimes be perceived as intense or aggressive so make sure to find the right balance to ensure you make the right impression.
Be Personable
When you are meeting someone for the first time, you want to come across as capable and professional. On the other hand, you also want to be seen as someone that the other person can get on with on a personal level. Smile, be genuine and bring a positive attitude to your meeting. Shake hands with a firm grip but without crushing their hand and cutting off their circulation. During the meeting, refer to the other person by name to keep things personable, and start the conversation with some ice breakers rather than getting down to brass taxes right away. Be friendly, relax, try to be yourself and avoid faking it when you're meeting people in the business world.
Listen And Be Attentive
Nobody likes meeting with someone who doesn't listen or who just wants to hear the sound of their own voice. When you're meeting with someone, whether it's a supplier, client, employee, investor or partner, make sure that you listen to what they have to say. Avoid talking over people or interrupting them when they are speaking. Simply giving the other person time to talk and listening to what they have to say will ensure that you are received as a person who cares. When you take this approach, you can be sure that the person you are meeting with will feel appreciated and respected which will result in them leaving your meeting on a positive note and with the best possible impression of you.
Make A Killer First Impression That Will Help You Stand Out From The Crowd
When you're meeting people in the business world for the first time, you want to be sure that you make the best impression possible and that you are remembered for all the right reasons. Following the tips outlined above, you can be sure that you will make a great first impression on anyone you meet, opening up more doors for you down the line.