Honeywell Expands Scanning And Mobility Portfolio With Acquisition Of Datamax-O'Neil For $185 Million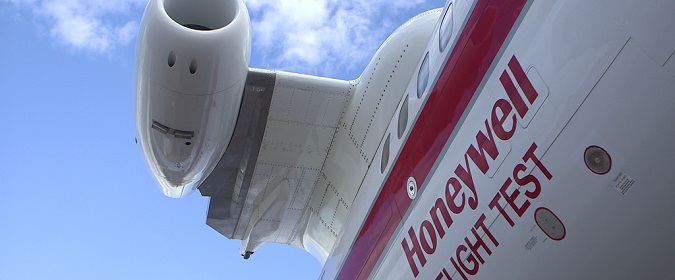 – Positions Honeywell Scanning & Mobility To Expand in the $1.5B Global Barcode Printing Segment
– Acquisition Builds On Existing Printing Capabilities Acquired With Intermec
– Extends Global Sales And Distribution Reach, With 2014 Sales of ~$135M
– Highly Complementary Printing Technologies; Provides Scale and Significant Synergy Opportunities
– Attractive Recurring Revenue With Datamax-O'Neil Revenues From Printing Supplies
FORT MILL, S.C., Dec. 18, 2014 /PRNewswire/ — Honeywell (NYSE: HON) today signed a definitive agreement to acquire Datamax-O'Neil, a global manufacturer of fixed and mobile printers used in a variety of retail, warehouse and distribution, and health care applications, for $185 million. The transaction is expected to close in the first quarter of 2015 subject to customary closing conditions, including regulatory review.
"The addition of Datamax-O'Neil to our portfolio underscores our continued commitment to strengthen the depth of our technology and product offerings in the estimated $1.5 billion global barcode printing segment," said John Waldron, president, Honeywell Scanning & Mobility. "Thermal printing and media are important components of our strategy to offer customers one of the industry's broadest portfolios of ruggedized mobile computers, scanners, voice-enabled workflow solutions, printing, software and service capabilities. We're excited to bring together two long-standing industry leaders, which will enable us to provide a broader array of new printing solutions to our healthcare, retail, field service and warehousing customers."
The acquisition builds on Honeywell's existing scanning and rugged mobile thermal printing products, and will extend that to include RFID, receipt, label and other specialty printing applications. This deal follows Honeywell's 2013 acquisition of Intermec, which essentially doubled the company's revenue in the highly attractive scanning and mobility segment.
Upon completion of the acquisition, Datamax-O'Neil will become part of Honeywell Scanning & Mobility based in Fort Mill, South Carolina, a business of Honeywell Automation and Control Solutions.  Datamax-O'Neil, headquartered in Orlando, Florida, is part of Dover Corporation(NYSE: DOV) and employs more than 300 employees globally with major facilities in California,France and Singapore.
About Honeywell Scanning & Mobility
Honeywell Scanning & Mobility (HSM) is a leading manufacturer of high-performance image- and laser-based data collection hardware, including rugged mobile computers and bar code scanners, radio frequency identification solutions, voice-enabled workflow and printing solutions. With the broadest product portfolio in the automatic identification and data collection industry, HSM provides data collection hardware for retail, healthcare, distribution centers, direct store delivery, field service and transportation and logistics companies seeking to improve operations and enhance customer service. Additionally, HSM provides advanced software, service and professional solutions that help customers effectively manage data and assets. HSM products are sold worldwide through a network of distributor and reseller partners.
Honeywell (www.honeywell.com) is a Fortune 100 diversified technology and manufacturing leader, serving customers worldwide with aerospace products and services; control technologies for buildings, homes, and industry; turbochargers; and  performance materials.
This release contains certain statements that may be deemed "forward-looking statements" within the meaning of Section 21E of the Securities Exchange Act of 1934. All statements, other than statements of historical fact, that address activities, events or developments that we or our management intends, expects, projects, believes or anticipates will or may occur in the future are forward-looking statements. Such statements are based upon certain assumptions and assessments made by our management in light of their experience and their perception of historical trends, current economic and industry conditions, expected future developments and other factors they believe to be appropriate. The forward-looking statements included in this release are also subject to a number of material risks and uncertainties, including but not limited to economic, competitive, governmental, and technological factors affecting our operations, markets, products, services and prices. Such forward-looking statements are not guarantees of future performance, and actual results, developments and business decisions may differ from those envisaged by such forward-looking statements.