Honda Expands miniMOTO Family with Fun, Approachable, Affordable Navi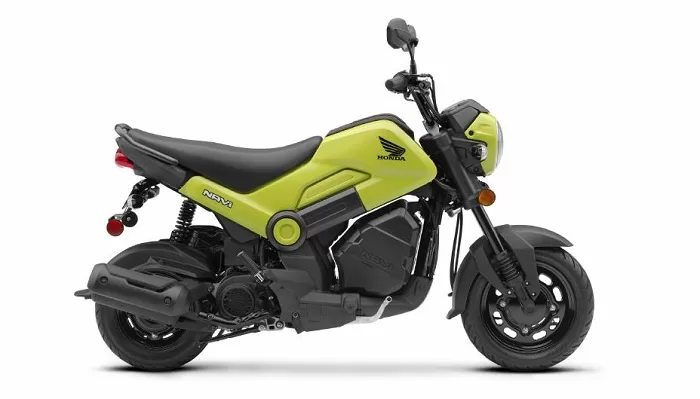 With automatic transmission, low seat height, model expands motorcycling to new riders
American Honda confirmed that the Navi miniMOTO will be offered in the U.S. market for the 2022 model year. Small, accessible, enjoyable and priced extremely competitively, the Navi appeals to a wide range of customers, especially those just learning to ride. The model has a fuel-efficient, user-friendly 110cc engine and an automatic transmission – so no shift lever or clutch lever. The look is sporty and fun, and the seat has a low, 30.1 inch height, so most riders can touch the ground with both feet. The combination is a bike that's nimble for navigating city traffic, easy to carry on an RV bumper rack and lightweight to simplify maneuvering into tight parking spots. There's even a storage bin for stowing a jacket, snack or textbooks. Already very popular in some markets, the Navi is now available in the United States.
"From the original Cub to the Grom, Honda has a proud legacy of producing miniMOTO models that open doors to new riders, and the Navi is set to extend that trend even further," said Brandon Wilson, Sports & Experiential Manager at American Honda. "This miniMOTO checks all the boxes for new riders, like simple operation, a fun design, low operating costs and Honda reliability – all for well under $2,000. We're pleased to make motorcycling possible for more riders by offering the Navi in the U.S."
The Navi will be on display at this weekend's IMS Outdoors motorcycle show in Costa Mesa, California, where it will also be among the models included in the Motorcycle Industry Council's Ride With Us Moto Intro experience, giving new riders an opportunity to try motorcycling.
Honda also confirmed the return of five additional on-road models for the new model year: the Gold Wing tourer and NC750X adventure tourer, the Rebel 1100 and Fury cruisers, and the CBR600RR sport bike. Most of these models are available in multiple trim levels, and some are offered in new colors for 2022.
NAVI
Somewhat of a mix between Honda's Ruckus and Grom (each of which is popular enough to have developed its own subculture), the Navi has the styling of a motorcycle and some convenience features of a scooter, including Honda's V-Matic automatic transmission – just twist the throttle to go! It's all wrapped up in an appealing miniMOTO package that's fun and easy to personalize, for example with Honda Accessory graphics produced in collaboration with Icon. The Navi also has an amazingly low MSRP and gas-sipping performance, putting it within reach of almost any customer. With Honda's proven quality and reliability, it's also a dependable way to get around town – far more convenient than public transportation or carpooling. There's never been a better way for new riders to discover just how enjoyable, convenient and practical motorcycling can be.
GOLD WING
The iconic Honda Gold Wing has helped pave the way for the modern touring category through its smooth power, deluxe features and overall performance. There has always been a subset of motorcyclists who covet a machine that meets their desire for long-distance tours in luxury, and for decades, the Gold Wing has fulfilled that wish. That's particularly true of the current platform, with large luggage capacity, rich audio equipment and a helpful navigation setup being just a few of the qualities that make it exceptional. Superior seat comfort (for both rider and passenger) and incomparable suspension performance facilitate multi-day journeys, but excellent handling means the Gold Wing also performs in more sporty situations.
NC750X
Recognized as both reliable and affordable, the Honda NC750X is practical and sleek. Powerful torque, quality suspension and excellent ride comfort make this adventure model ideal for riding backroads and getting off the beaten path, but it also has a well-earned reputation as a practical commuter king. The liquid-cooled, SOHC 8-valve parallel-twin-cylinder engine provides responsive performance in the low to midrange, and Honda Selectable Torque Control (HSTC) is standard on both manual-transmission and automatic Dual Clutch Transmission models (DCT), providing more precise rear-wheel control. Find adventure, performance and utility, all in a single, versatile machine.
REBEL 1100 ABS
Developed according to a "Relax and Excite" design theme, the Rebel 1100 ABS meets the wide-ranging needs of almost any modern cruiser rider. A forward-looking midsize cruiser, this adaptable and modern machine is available with Honda's advanced automatic Dual Clutch Transmission or a manual gearbox, and a long list of Honda Accessories are offered. Whether riders are "cruising" or out for an adrenaline-filled ride through thrilling curves, the high-performance, water-cooled parallel-twin engine and carefully developed geometry make for dynamic and comfortable handling. The Rebel 1100's acceleration and cornering prowess are also impressive, as is its clean, no-nonsense styling.
FURY
With its extreme, chopper-style looks, clean design and long wheelbase, the Fury is a rolling work of art, but it also boasts the functionality and finish that one would expect from a Honda. The 1,312cc liquid-cooled V-twin engine puts out waves of torque and a throaty-but-appealing exhaust note, but its fuel-injection, twin counter-balancers and shaft drive keep things smooth and reliable. The hard-tail look and raked-out front end are matched with adjustable suspension front and rear, delivering stable but nimble handling.
CBR600RR
Since its 2003 introduction, Honda's CBR600RR has been a popular supersport machine, equally capable as a track-day weapon and for weekend outings on local twisty backroads. Backed by a racing heritage that includes eight World Supersport titles (nine if you count its CBR600F predecessor), the CBR600RR returns for the 2022 model year, its inline four achieving high-revving power and its Showa suspension and responsive chassis delivering a nimble, comfortable ride. Available with or without ABS.
About American Honda
American Honda Motor Co., Inc., is the sole distributor of Honda motorcycles, scooters, ATVs and Side-by-Sides in the United States. American Honda's Powersports Division conducts the sales, marketing and operational activities for these products through independent authorized Honda retail dealers. For more information on Honda products, go to powersports.honda.com.