Honda Begins Sales of the All-New Mini-Vehicle "N-BOX SLASH"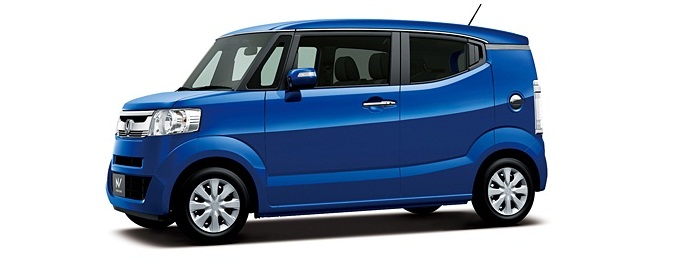 TOKYO, Japan, December 22, 2014 – Honda Motor Co., Ltd. today began sales of the all-new mini-vehicle, N-BOX SLASH, the fifth model of the N Series, at dealerships across Japan.
The N-BOX SLASH is an ingenuous Honda mini-vehicle that features a boxy and yet coupe-like form as well as complete coordination of exterior design with a custom car taste, bold interior design with thoroughly selected colors / materials and, finally, the body colors.
Moreover, the N-BOX SLASH is equipped with a newly-developed, high-end audio system, the Sound Mapping System, which generates a full-blown deep bass and high-quality sounds. Including the individualistic interior design, the N-BOX SLASH was developed with the goal to enable occupants to fully enjoy their time while relaxing in the cabin.
Furthermore, functions that please the driver were thoroughly pursued for this model. Newly-adopted functions include the Electric Parking Brake that provides the driver with an enhanced sense of security, as well as the Mode Switching Steering, which enables the driver to select between two modes of power steering assist. Overall, user-friendliness unique to the N Series has been inherited and further advanced with the N-BOX SLASH.
< Key features of the N-BOX SLASH >
Complete coordination of exterior, interior and colors to express five different styles:
| | |
| --- | --- |
| 1) | The Bright Rod Style (interior color: beige) was designed in the image of American sundries and home appliances of the 1950s and 1960s. Bright beige interior creates a youthful and exhilarating atmosphere and expressed the everyday life of the good old days. |
| 2) | The Street Rod Style (interior color: black) was designed in the image of a custom car called a "Hot Rod." The interior is entirely black including the inner roof to emphasize a race-car-like cockpit, and bare-metal-like silver decorative parts highlight the contrast with the black. |
| 3) | The California Diner Style (interior color: red & checkered flag) was designed in the image of a roadside diner in California. The atmosphere of a diner is expressed in details by the red interior with a checkered-flag pattern and a seat design that creates the look of a booth sofa. |
| 4) | The Hawaii Glide Style (interior color: white & light blue) was designed in the image of surfing and driving by the sun-socked coastline of Hawaii. The image of sky, ocean and beach sand, as well as an upbeat and pleasing atmosphere are expressed. |
| 5) | The Tennessee Session Style (interior color: brown & black) was designed in the image of a live music house where classic-style jazz and blues are played. The atmosphere of a well-thumbed guitar, bar-top and leather sofa was incorporated into the interior design to create a subdued and deep cabin space. |
Consistent pursuit of a "box coupe exterior" with custom car taste:
A coupe style exterior was created by lowering the roof by 100 mm compared to the N-BOX, narrowing down the roofline and elevating the window line toward the rear section. Honda engineers thoroughly exercises their ingenuity to make this box-style vehicle look like a 2-door coupe.
Boldly-designed metal-tone decorative parts were featured in several places such as roof molding, a rear pillar garnish and fuel lid. Combined with a dish wheel with two color choices depending on the body color, these decorative parts emphasize the taste of a custom car.
Interior design that strives to achieve a sense of composure and being wrapped within the cabin:
A low and wide cabin space was emphasized through design that uses straight lines as the underlying basis and features a silver billet-like garnish laid out from the front door to the cargo space.
The instrument panel and front door panel feature the same color and decoration. In addition, the same material was used for seats and door lining with a soft pad to create a comfortable and private space that offers a sense of being wrapped by the seat.
The Sound Mapping System (8 speakers + 1 subwoofer) that turns the cabin into a live music club:
While it is a mini-vehicle with limited space, this model features a speaker layout designed to pursue powerful deep bass and totally balanced high quality sound.
In order to realize powerful deep bass reproduction, a compact back-loaded horn sub-woofer was newly-developed exclusively for this model, and installed at the lower part of the instrument panel.
A Kevlar cone speaker was adopted to realize highly-responsive and powerful bass reproduction. In addition, an aluminum dome tweeter was adopted to reproduce clear and sensitive high-pitch sound.
A dedicated MOS-FET power amplifier was newly-developed to realize high-quality and high-power sound.
For vehicles equipped with the Sound Mapping System, soundproofing materials were added to obtain further enhanced quietness.
Striving to reduce unnecessary micro vibration of the door panel or door lining from external noise or the sound from the speakers, a sound deadening kit named "Pure Sound Booth" was newly-developed and offered as dealer option equipment.
The vehicle equipped with the Sound Mapping System is also equipped with a wireless charging device. A Qi (wireless charging standard)-enabled smartphone and smartphone equipped with a Qi-enabled wireless charging cover can be charged by placing it on the tray. The user can still enjoy music from a smartphone that is receiving a wireless charge.
Outstanding user-friendliness inherited from the N Series and enhanced equipment
The high-performance DOHC engine/DOHC turbo engine and CVT (continuously variable automatic transmission) are fine tuned exclusively for this model to realize exhilarating acceleration and outstanding fuel economy of 25.8 km/liter (measured in JC08 mode)* at the same time.
In addition to the conventional tip-up and dive-down functions, the rear seat for this model features forward/backward sliding function, which increased the versatility of seat arrangement options.
A newly-developed electric parking brake is adopted as standard equipment for all types. This electric parking brake system enables the driver to apply the parking brake without fail by a simple one-button operation and thus reduces the driver's burden in various scenarios.
A steering wheel heater and driver's/front passenger's seat heater are available for certain types to make winter driving more comfortable.
The Emergency Stop Signal system, which responds to sudden braking and quickly blinks hazard lamps automatically to alert vehicles following behind, is adopted as standard equipment for all types.
The Vehicle Stability Assist (VSA) system is adopted as standard equipment for all types.
The Hill Start Assist system, which temporarily prevents the vehicle from rolling backward when starting on an upward incline, is standard equipment on all types.
The "Safety Package" consisting of the City-Brake Active system, side curtain airbag system and front passenger's i-side airbag system is available for certain types. The City-Brake Active system is designed to prevent or mitigate the damage of a collision with a vehicle in front during low speed driving of approximately 30 km/h or less, and the side curtain airbag system and front passenger's i-side airbag system are designed to mitigate the impact on the head and chest in case of a side-impact crash.