H&M's Latest Innovation Story Collection Champions Love In All Its Forms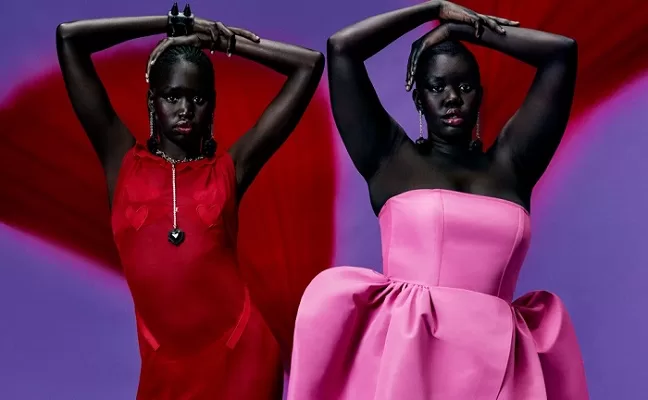 H&M is proud to present the fifth drop in its sustainability initiative Innovation Stories with a romance-themed collection, inviting customers to fall in love with materials made from waste. Eye-catching fashion statements and soft seductive styles are combined with repurposed, recycled and low impact materials, many made from recycled garments, ocean-bound plastic or other waste materials. Intended to be cherished and shared, the pieces come with labels in their linings where customers can write heartfelt messages when they want to pass it on to someone new. The Innovation Story Cherish Waste collection will be available at hm.com and in selected stores from April 21.
The collection combines bold proportions with cutting-edge materials that utilise waste to create beautiful fashion statements. Several of these materials are firsts for H&M, including MIRUM®, recycled silk and AirCarbon™. Headline pieces are dresses, from the bubble gum-pink heart-shaped evening dress to the pale blue puff-ball mini and the pink knitted spike dress, all made from recycled polyester. Recycled silk made from waste silk is used on a frill-trimmed pink shirt, while a pair of court shoes and a studded bracelet make use of MIRUM®, a plant-based leather free of plastic and made from plant fibres, vegetable oil and minerals. A convertible chain necklace and rhinestone earrings feature black hearts made from AirCarbon™, a biomaterial made by natural microorganisms that use air and carbon from greenhouse gases that would otherwise go into the atmosphere.
"This collection is a celebration of love, filled with wardrobe heroes that feel comfortable to wear, even if they are dramatic, statement pieces. My advice is to step out of your comfort zone and explore versatile combinations: dare to wear an oversized leopard-print coat with heart-shaped spots with a tight, cut-out bodysuit, or relax in a co-ordinated set with heart motifs inspired by foil balloons,"
 Ann-Sofie Johansson, creative advisor at H&M.
"The design team wanted to create a collection about love, intimacy, and forging connections – not just with each other, but with our wardrobes. Each piece has been designed to allow the wearer to express their true self, and to express their values by utilising materials that combat waste. And once they've got all the love they can from the piece, we hope they will pass it on to someone new,"
 Ella Soccorsi, concept designer at H&M.
About the campaign
The campaign captures the effervescent energy of the collection, styled in daring combinations by Ibrahim Kamara and photographed by Rafael Pavarotti with a kaleidoscopic set by Ibby Njoya. An accompanying film, directed by Albert Moya, celebrates uniquely vivid moments in love, from the first butterflies of a nascent relationship to nostalgic fading memories.
Source: H&M