High-Performance Hyundai N Concept Revealed At Paris Motor Show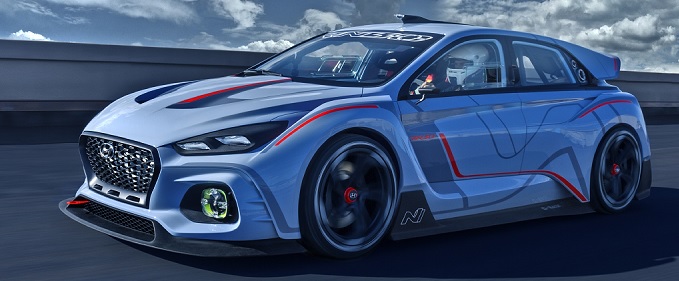 Hyundai Motor builds anticipation of high-performance 'N' models with new RN30 concept
RN30 Concept was created as a racing machine to demonstrate sporting DNA of Hyundai N
RN30 delivers driver-focused technology and lightweight engineering to enhance the thrill of driving
Hyundai Motor unleashed its latest high-performance N concept with the world premiere of RN30 at the 2016 Paris Motor Show. The motorsport-inspired racing concept is developed to deliver passion and pleasure on the track.
Based on the New Generation Hyundai i30, the RN30 was born as a racing machine, developed in close collaboration with Hyundai Motorsport (HMSG), Hyundai Motor Europe Technical Center (HMETC) and Hyundai Motor's Performance Development & High Performance Vehicle Division. The striking concept is distinguished by its purposeful aerodynamic design and specialised high-performance technologies that deliver thrilling high-speed driving.
Albert Biermann, Head of Vehicle Test & High Performance Development for Hyundai Motor said; "RN30 embodies the concept of a strong, high-performance car that brings dynamic, sporty driving. Soon to evolve into our first N model, the RN30 is inspired by our passion to provide a high-performance car that our customers can enjoy effortlessly. We have drawn on our technological expertise – honed through our motorsport successes – to deliver emotional delight through an engaging blend of performance and control, the goal Hyundai's N strives to achieve in future performance models."
Hyundai N was launched at the Frankfurt Motor Show in September 2015, bringing to life the company's philosophy for providing engaging and thrilling driving pleasure for its customers.
High-performance powertrain boosts driving pleasure
RN30's power is supplied by a high-performance 2.0-liter turbocharged engine, under development by Hyundai for N production models, upgraded with an enlarged turbo to increase thrust at full throttle. To manage the additional power, the engine blocks have been applied by forging parts, instead of casting parts, to increase their durability and resistance. As a result, the RN30 is primed for performance, boasting 380 PS (279.5 kW) and a maximum torque of 46 kgf.m (451 Nm).
Managing the impressive levels of torque is a wet-type dual-clutch transmission (DCT), delivering quicker responses during gear shifting and direct coupling to provide dynamic acceleration. To manage the car's power while enabling precision driving at high speed, the RN30 is equipped with an all-wheel drive (AWD) system.
Specialised technologies maximize thrill of performance
The RN30 features specialised high-performance technologies designed to increase excitement for drivers and enable them to tame the most challenging of race tracks. Rev-matching encourages spirited driving by quickly and accurately revising the engine's speed whenever the driver shifts gear while in sport mode. Adding to the sense of thrill for the driver, the Electronic Variable Exhaust system provides a surge of aural pleasure by emitting a strong exhaust sound consistent with the visceral sensations produced by the rapid acceleration.
Other technologies are specifically aimed at enhancing safety and control. The sophisticated electronic limited-slip differential system (eLSD) makes sure each wheel receives sufficient torque, measuring the driving force of the tyres. This helps prevent skidding and ensures fast, precise cornering when navigating high-speed curves – allowing drivers to control this powerful racing machine easily, accurately and confidently.
Engineering focus on lightweight and low center of gravity
When developing the RN30, Hyundai's designers and engineers established a new approach to reducing weight and lowering the center of gravity. Instead of using carbon fibre reinforced polymer (CFRP) common to most high-performance cars, Hyundai broke the mould with all-new high-performance plastic materials, developed in collaboration with leading global chemical company BASF.
This weight-saving innovation is light, highly durable and environmentally-friendly and is used throughout the new concept to help boost handling and acceleration. Inside, redundant parts were removed, while heavier parts sit in the lowest possible position. The centre of gravity is lowered further by pushing back and lowering the seats, with all these elements combining to achieve a light weight, ideal for performance driving.
Exterior design formed by high-performance DNA
The silhouette of the RN30 is unmistakably inherited from the clean and cohesive lines of the New Generation Hyundai i30, but with a lower, wider stance to enable greater stability during high speed driving and cornering. To achieve the more purposeful proportions the width of the RN30 has been increased by 30mm compared to the i30, to 1,950mm. Height has been significantly lowered by 84mm to 1,355mm
Further exterior design details hint at the RN30's capabilities and accommodate high-performance technologies and aerodynamic enhancements. A 'floating' fender over each wheel enhances the visual impact of RN30 and work with the side splitters to improve aerodynamic performance, producing the sensation that the car is being sucked-down onto the track.
The front design features Hyundai's new signature cascading grill and high-tech headlamps, which creates a strong, aggressive image when combined with the distinctive daytime running lights. The airflow from the front to the rear passes through the mesh cascading radiator grill and the air intake, not only improving downforce but also optimising cooling for performance driving. On the upper part of the engine hood, a large air outlet hints at the dramatic engine power of the RN30.
The large rear spoiler, which generates downforce during high-speed driving, distinguishes the car, giving it aesthetically balanced proportions. Also, a fin placed along the central line of the roof and penetrating the rear spoiler, creates a unique rear look. For optimal and balanced downforce, the car features a large rear diffuser set above centrally-mounted white ceramic twin exhaust pipes, while the 19-inch light-weight alloy wheels complete the car's dynamic appearance.
Interior design – optimised for performance driving
During the interior design process, RN30 designers and racing experts from Hyundai Motorsport (HMSG) worked together closely to ensure drivers can focus attention exclusively on the car and the road. A bucket seat, which perfectly fits the driver's body and an integrated roll cage, which increases the vehicle body strength, support and protect the driver in all situations.
To capture the driver's reactions and dynamic moments while on the road or track, image-stabilizing gimbal cameras are attached inside each A pillar, with an outside camera attached to the centre fin on the roof. Drivers can create professional-looking racing footage or present their experiences as if on television..
RN30 is the latest in a succession of high-performance sports concepts that point towards the future of N production models, furthering the 'N' model characteristics first seen in the Hyundai N 2025 Vision Gran Turismo, RM15 and RM16 concepts. All N performance models draw on Hyundai's successful motorsport experiences and demonstrate Hyundai's desire to put thrilling driver experiences at the heart of new car developments. The i30N model will soon be available next year, making our passion for high-performance driving accessible to everyone.
All N models are developed by passionate experts in Namyang, the heart of Hyundai Motor's global R&D network – then pushed to their limits at Nürburgring, the world's most challenging race track. The N logo represents the chicane of a race track – where the balance of cars is proven rigorously.
About Hyundai Motor
Established in 1967, Hyundai Motor Company is committed to becoming a lifetime partner in automobiles and beyond. The company leads the Hyundai Motor Group, an innovative business structure capable of circulating resources from molten iron to finished cars. Hyundai Motor has eight manufacturing bases and seven design & technical centers worldwide and in 2015 sold 4.96 million vehicles globally. With more than 110,000 employees worldwide, Hyundai Motor continues to enhance its product line-up with localized models and strives to strengthen its leadership in clean technology, starting with the world's first mass-produced hydrogen-powered vehicle, ix35 Fuel Cell and IONIQ, the world's first model with three electrified powertrains in a single body type.