Hershey's Kitchens Launches New Sea Salt Caramel Baking Chips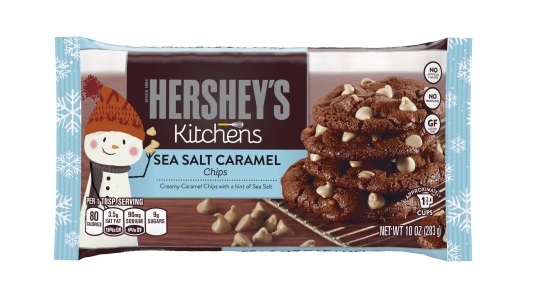 Hershey's Kitchens streamlines the baking aisle with new packaging that signals baking chips are gluten-free and have no artificial ingredients
The Hershey Company is setting out to inspire bakers this fall and holiday season with the introduction of the limited edition Hershey's Kitchens Sea Salt Caramel Baking Chips to its line of baking products, along with a number of new Hershey's Kitchens recipes. In addition, Hershey also updated its packaging to communicate nutritional information on the front of the bag, for example, highlighting gluten-free and no artificial ingredients notations for certain products to make it even easier to avoid ingredients related to food sensitivities and allergies.
Hershey's Kitchens launches New Sea Salt Caramel Baking Chips to inspire new recipes for the holiday season. The chips are gluten free and have no artificial flavors or preservatives.
Recent research uncovered that  baker is highly concerned with shopping for baking ingredients they can trust1. Many shoppers have a desire to understand what ingredients are in their recipes. Therefore, having nutritional information that is easy to locate on the package is important to them. According to a 2016 study by Egg Strategy for The Hershey Company, many shoppers are motivated by the label on their baking ingredients; one in two bakers noted that nutritional information and packaging is relevant in their decision making1.
The Hershey's brand has been a staple in the American kitchen since 1895 when Hershey'sCocoa hit shelves and continues to bring new innovations to the grocery store as bakers needs and preferences shift. With more than 12 million pounds of Hershey's Cocoa alone being sold in 2015, the brand continues to be one of the most trusted voices in baking.
"As a leader in the baking industry, we are committed to growing alongside the everyday baker. Once just a place in Hershey, Pa.,Hershey's Kitchens now goes beyond our test kitchen and website, directly into the homes of bakers with our updated packaging," said Kriston Ohm, senior brand manager, Hershey's Kitchens. "As consumers shift their focus toward better understanding the ingredients in their food1, we're prepared to guide them swiftly through the grocery store and the baking process. At Hershey, we are proud that our new approach to the baking aisle helps consumers know exactly what ingredients they are putting in their cart and their desserts."
New Sea Salt Caramel Baking Chips
Hershey's Kitchens Sea Salt Caramel Baking Chips are just the right mix of savory and sweet flavors for the holiday baking season. The creamy caramel chips have the perfect hint of sea salt to spice up holiday cookies or inspire new recipes from bakers. Hershey's Kitchens Sea Salt Caramel Baking Chips are available now at retailers nationwide for a suggested retail price of $3.49.
Inspiring Bakers in the Kitchen
From the first recipe printed on Hershey's Cocoa in 1895 to the fan favorite Peanut Butter Blossoms, made withHershey's Kisses Chocolates debuting in 1976, fans have turned to the Hershey's brand for inspiration in the kitchen for more than 120 years. This year Hershey's is partnering with five nationally-recognized food bloggers as a part of theHershey's Kitchens Bake Squad to inspire bakers to create new takes on classic treats. The Hershey's Kitchens Bake Squad consists of popular food bloggers including Real Food by Dad, Dessert for Two, Simply Sugar & Gluten Free,Taste and Tell and Hummingbird High.
"We believe the craft of transforming simple ingredients into a freshly, homemade dessert is the ultimate act of creative expression," Ohm said. "Our Hershey's Kitchens Bake Squad brings together five unique bakers that come to the kitchen with different expertise, from baking with kids to creative allergy sensitive desserts, we will have something for everyone as bakers begin thinking through their holiday baking plans."
For more information on Hershey's Kitchens products and inspiration from the Hershey's Kitchens Bake Squad, visit HersheysKitchens.com, and to learn how the brand is bringing Hershey's Kitchens into homes across the country, visit the company blog.
1Egg Strategy for The Hershey Company, Baking Segmentation, Attitudes & Usage Survey, 2016
About The Hershey Company
The Hershey Company, headquartered in Hershey, Pa., is a global confectionery leader known for bringing goodness to the world through its chocolate, sweets, mints and other great-tasting snacks. Hershey has approximately 21,000 employees around the world who work every day to deliver delicious, quality products. The company has more than 80 brands around the world that drive more than $7.4 billion in annual revenues, including such iconic brand names asHershey's, Reese's, Hershey's Kisses, Jolly Rancher, Ice Breakers and Brookside. Building on its core business, Hershey is expanding its portfolio to include a broader range of delicious snacks. The company remains focused on growing its presence in key international markets while continuing to extend its competitive advantage in North America.
At Hershey, goodness has always been about more than delicious products. For more than 120 years, Hershey has been committed to operating fairly, ethically and sustainably. Hershey founder, Milton Hershey, created the Milton Hershey School in 1909 and since then the company has focused on giving underserved children the skills and support they need to be successful. Today, the company continues this social purpose through 'Nourishing Minds,' a global initiative that provides basic nutrition to help children learn and grow. From neighborhoods across the United States to the streets of Shanghai and Mumbai and villages of West Africa, our goal is to nourish one million minds by 2020.