Hershey's Cookie Layer Crunch Bar – The Treat With An Intersection Of Flavors And Textures – Finally Hits Store Shelves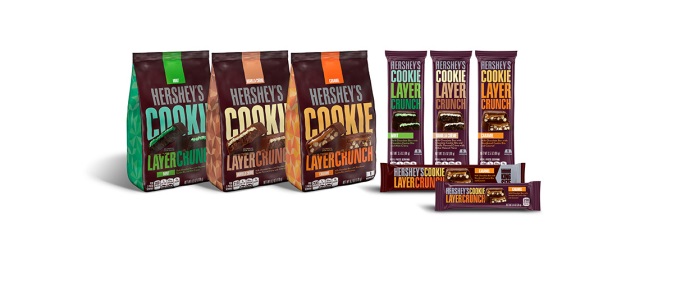 Millions of Hershey's Cookie Layer Crunch bars will be given out across America to celebrate
The Hershey Company announced that Hershey's Cookie Layer Crunch bar, one of the most anticipated innovations from the iconic Hershey's brand in more than 16 years, is now available in stores nationwide. To kick off the festivities, The Hershey Company is temporarily renaming the renowned intersection of Chocolate Avenue and Cocoa Avenue in Hershey, Pa., to Chocolate Avenueand Cookie Avenue to celebrate the launch and the evolution of the Hershey's chocolate brand.
Hershey's Cookie Layer Crunch Bar – The Treat with an Intersection of Flavors and Textures – Finally Hits Store Shelves
"This is an exciting time for the Hershey's brand, and we wanted to kick off the celebration at home, in Hershey, Pa. Nearly every city has iconic intersections that are part of its history, and to rename Cocoa Avenue to Cookie Avenueis a very special way to announce the product's nationwide availability from the birthplace of America's chocolate," said Melinda Lewis, Senior Director, Hershey's brand. "But this is just the beginning, we're excited to celebrate this launch by giving away more than seven million samples of Hershey's Cookie Layer Crunch bars to our fans."
Sampling opportunities for consumers to try Hershey's Cookie Layer Crunch bars include:
Teams will recreate Chocolate Avenue and Cookie Avenue intersections in Chicago, Las Vegas and Philadelphia to serve up free Hershey's Cookie Layer Crunch bars:

Chicago: The Magnificent Mile (Michigan Avenue), between Illinois Street and Lakeshore Drive from 11 a.m.– 3 p.m. (local time)
Philadelphia: City Hall Neighborhood, between Arch Street and Walnut Street from 11 a.m. – 3 p.m. (local time)
Las Vegas: The Strip, various locations from 3 p.m. – 7 p.m. (local time)

Visit Hersheys.com or Facebook.com/Hersheys to receive a digital coupon to save $1 off 2 Hershey's Cookie Layer Crunch Caramel Bars (1.4oz). Coupons will be available until December 31 or while supplies last.*
Now through February 2017, Hershey fans across the country can also take a complimentary bite of Hershey'sCookie Layer Crunch bars at select retailers nationwide. Consumers should be on the lookout for pop-up sampling experiences in-store to join the celebration.
Visitors to Radio City Music Hall from Dec. 9 – 21 will have access to an interactive, digital sampling machine. Fans can play with holiday-themed filters while making a video to share on social media, and at the end, they'll be surprised with a Hershey's Cookie Layer Crunch sample.
But that's not it. Check out the Hershey's Cookie Layer Crunch Facebook Live video that aired on December 4, National Cookie Day, at www.Facebook.com/Hersheys. The event kicked off live from Hershey's Chocolate WorldTimes Square in New York City and then cut to a reveal segment from The Hershey Theater right in Hershey, Pa. The announcement was a fun tech-style launch for the new Hershey's Cookie Layer Crunch bar revealing the new product for Hershey's fans across the United States. The mockumentary nature of the unveiling brings levity and fun to the new product experience.
New Hershey's Cookie Layer Crunch bars combine the classic Hershey's chocolate that consumers know and love, with the creamy, crunchy twist they desire. The bars come in three delicious flavors: Caramel, Vanilla Crème and Mint – which combine crunchy cookie bits, layered with a decadent filing, all wrapped in creamy, genuine Hershey'schocolate. Each piece is portioned into three of Hershey's iconic pips at 90-100 calories to create a convenient, layered, snack-able treat.
Hershey's Cookie Layer Crunch bars are offered in multiple sizes perfect for a variety of snacking occasions and for sharing. Sizes include a 6.3-oz. bag that is filled with nine pieces of individually wrapped Hershey's Cookie Layer Crunch (SRP $4.19; all flavors), a 3.5-oz. "XL Bar" featuring five pieces, (SRP $2.89; all flavors), a 2.1-oz. "King Size Bar" that has three pieces (SRP $1.69; available in Caramel only), and a two-piece, 1.4-oz. bar, perfect for on the go snacking (SRP $0.99, available in Caramel only).
About The Hershey Company
The Hershey Company, headquartered in Hershey, Pa., is a global confectionery leader known for bringing goodness to the world through its chocolate, sweets, mints and other great-tasting snacks. Hershey has approximately 21,000 employees around the world who work every day to deliver delicious, quality products. The company has more than 80 brands around the world that drive more than $7.4 billion in annual revenues, including such iconic brand names as Hershey's, Reese's, Hershey's Kisses, Jolly Rancher, Ice Breakers and Brookside. Building on its core business, Hershey is expanding its portfolio to include a broader range of delicious snacks. The company remains focused on growing its presence in key international markets while continuing to extend its competitive advantage in North America.
At Hershey, goodness has always been about more than delicious products. For more than 120 years, Hershey has been committed to operating fairly, ethically and sustainably. Hershey founder, Milton Hershey, created the Milton Hershey School in 1909 and since then the company has focused on giving underserved children the skills and support they need to be successful. Today, the company continues this social purpose through 'Nourishing Minds,' a global initiative that provides basic nutrition to help children learn and grow. From neighborhoods across the United States to the streets of Shanghai and Mumbai and villages of West Africa, our goal is to nourish one million minds by 2020.