Ground Breaking Hyundai Ioniq Hybrid And Ioniq Electric Go On Sale In The Uk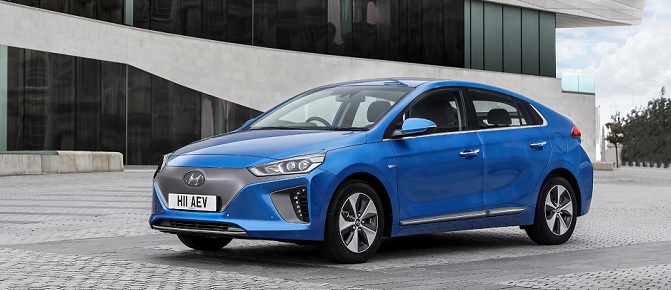 Hyundai's ground breaking IONIQ – the world's first car to offer three electrified powertrains on one platform – is now officially on sale in the UK.
First available in Hybrid and Electric variants, a Plug-In Hybrid version will join the range in 2017 giving customers unrivalled choice thanks to Hyundai's completely electrified portfolio.
Highly aerodynamic, all IONIQ models feature an airflow-optimised fastback body that slips through the air thanks to a drag coefficient (Cd) of just 0.24. Inside, the IONIQ features the very latest connectivity systems – including Apple CarPlay and wireless phone charging – while safety features include the very last active safety systems. Thanks to an aluminium bonnet and tailgate, the IONIQ Hybrid is 60kg lighter than the similarly sized i30 hatchback – and the cleverness doesn't end there. Compactly packaging the car's batteries under the rear seats means the IONIQ has a 443-litre boot, some 100 litres bigger than Toyota's Prius.
Hugely efficient, the IONIQ Hybrid boasts official combined fuel consumption of 83.1mpg, which gives a range of 846 miles: enough to drive from Land's End to John O'Groats without needing to fill up. It's also completely free to tax thanks to CO2 emissions of 79g/km.
The IONIQ Hybrid range starts at £19,995 for the SE 1.6 GDi, which includes standard features such as 15" alloys, DAB with Bluetooth, Cruise Control and Rear Parking Sensors with Rear View Camera. Safety features include Autonomous Emergency Braking (AEB), Lane Keep Assist System (LKAS) and individual Tyre Pressure Monitoring System (TPMS).
IONIQ Hybrid Premium 1.6 GDi, from £21,795, provides additional equipment over the SE, including keyless entry with push button start, heated front seats, heated steering wheel, Bi-Xenon headlamps with LED rear combination lamps and a driver's supervision instrument cluster with 7" LCD display. Integrated satellite navigation with TomTom Live services, an Infinity audio system with Android Auto / Apple CarPlay and Wireless Phone Charging (where supported) also feature as standard.
From £23,595, IONIQ Hybrid Premium SE 1.6 GDi models benefit from enhanced comfort equipment such as leather seats with heated/ventilated front seats and heated outer rear seats, heated leather steering wheel and a driver power seat with Integrated Memory System. Blind Spot Detection with Rear Cross Traffic Alert, Front Parking Assist and optional 17" alloy wheels round off this range topping trim.
IONIQ Hybrid is available in 7 different exterior colours; Phantom Black, Polar White, Platinum Silver, Iron Grey, Demitasse Brown, Marina Blue and Phoenix Orange. The lava stone interior trim features blue accents throughout the cabin and control surfaces.
The IONIQ Hybrid will be sold alongside an all-electric model, the IONIQ Electric, which boasts a remarkable 174-mile range. Prices start from £24,495 (inclusive of the Government Plug-In grant of £4,500) for the Premium specification, mirroring Hybrid Premium, with specific equipment including Automatic Windscreen Wipers with Rain Sensor, 16" alloy wheels, LED headlamps and rear combination lamps and Advanced Smart Cruise Control. Integrated satellite navigation is standard across the IONIQ Electric range.
IONIQ Electric Premium SE, available from £26,295 (again inclusive of the Plug-In grant), features standard equipment such as leather seats with heated/ventilated front and heated rear seats, heated leather steering wheel and a driver power seat with Integrated Memory System, Blind Spot Detection, front Parking Sensors and EV-specific 16" alloy wheels.
The savings don't stop there, though. The IONIQ Electric is exempt from the London Congestion Charge, which represents a whopping annual saving of £2,886.50 over a car that emits more than 75g/km of CO2 driving into central London every day.
Keeping the IONIQ Electric topped up with power couldn't be easier, either. All models feature a standard rapid charge compatibility, ensuring an 80 percent charge capability in just 33 minutes from a 50kW CCS Combo Rapid public charger, whilst a standard ICCB Charging Cable will allow charging from a domestic three-pin supply. IONIQ Electric also boasts adjustable regenerative braking, via steering column-mounted paddles, maximising driver engagement and enhancing efficiency.
POD Point is Hyundai's preferred charging partner for customer domestic charge point installations. Owners can charge their IONIQ Electric from zero to 100 per cent in just 4.5 hours at home. POD Point also has over 1,500 public charging points across the UK, as well as points across the Hyundai UK dealer network and Hyundai Motor UK facilities.
The IONIQ Electric is available in 6 different exterior colours; Polar White, Phantom Black, Platinum Silver, Marina Blue, Phoenix Orange and exclusively for IONIQ Electric, Blazing Yellow. The lava stone interior trim features copper accents throughout the cabin and control surfaces.
IONIQ Hybrid will be available across the Hyundai dealership network from the 27 October, with IONIQ Electric initially available from a selected network of 27 dealerships, with full network rollout from 2017.
All IONIQ models come with Hyundai's industry-leading 5 Year Unlimited Mileage Warranty package, with the additional high voltage battery cover of 8 years / 125,000 miles.
IONIQ Plug-In Hybrid 1.6 GDi prices and specifications will be announced prior to the on sale date in 2017.
Tony Whitehorn, President and CEO Hyundai Motor UK said: "This is a landmark launch for Hyundai. Not only is the all-new IONIQ the world's first car to offer three electrified powertrains, but it's also our first move into the electrified sector in Europe. We have listened to our customers and we have responded with a full portfolio of electrified models, making low- to zero-emission mobility more accessible to more people.
"Hyundai's innovative approach delivers an uncompromising design and driving experience, the latest connectivity and safety features with an enhanced industry-leading warranty-package. It is also an important milestone in our sustainability strategy, bringing innovative technologies to the market and extending the company's product range of low-to-zero emission vehicles, which already includes the world's first mass-produced fuel-cell electric vehicle, the ix35 Fuel Cell. What is more, this is just the start too – between now and 2020 we will launch 28 alternative fuel models."
About Hyundai Motor
Established in 1967, Hyundai Motor Company is committed to becoming a lifetime partner in automobiles and beyond. The company leads the Hyundai Motor Group, an innovative business structure capable of circulating resources from molten iron to finished cars. Hyundai Motor has eight manufacturing bases and seven design & technical centres worldwide and in 2015 sold 4.96 million vehicles globally. With more than 110,000 employees worldwide, Hyundai Motor continues to enhance its product line-up with localized models and strives to strengthen its leadership in clean technology, starting with the world's first mass-produced hydrogen-powered vehicle, ix35 Fuel Cell and IONIQ, the world's first model with three electrified powertrains in a single body type.
About Hyundai Motor UK
Hyundai has sold vehicles in the UK since 1982. In 2005, Hyundai opened its own UK subsidiary, Hyundai Motor UK Ltd, based in High Wycombe. Since 2008, the company has risen from 21st to one of the top 10 car manufacturers in the UK and last year sold a record 88,257 vehicles. Hyundai Motor UK employs more than 3,000 people through its UK operations and dealer network. Hyundai offers a full range of vehicles from the award-winning New Generation i10 city car through to the capable Santa Fe SUV and iLoad LCV. All passenger cars come with Hyundai's industry-leading 5 Year Unlimited Mileage Warranty package. Further information about Hyundai and its products is available at www.hyundai.co.uk.