Good at the Heart of All We Do: Tokio Marine's Financial Representatives Making a Positive Difference In Customers' Lives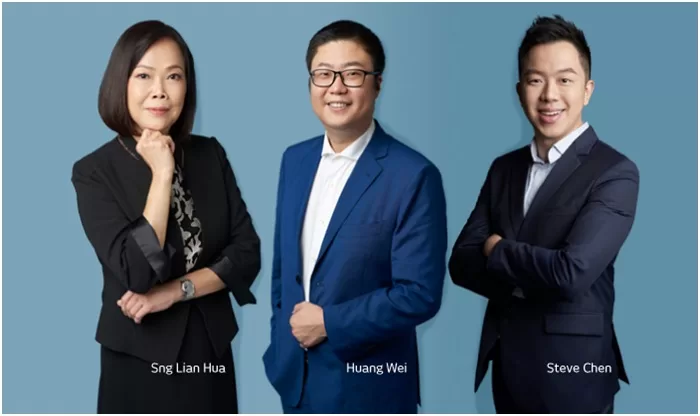 What helps a financial representative stand out from the crowd? Commitment to safeguarding customers' interests through the different stages of life and giving back to the community are two key factors. Three financial representatives from Tokio Marine Life Insurance Singapore (TMLS) share how they place Good at the core of all they do, fostering trust with their customers and helping build a better future for more in society.
One of the key advantages of having a financial representative is their ability to be a voice of reason when our lives are in flux, or the economy is volatile.
The best in the industry offer support and guidance during such times most naturally. They are consistently on the lookout for their customers' interests, helping customers find solutions to tide over challenging times. During volatility, they help customers keep their cool and seize opportunities. Walking the talk is imperative — they believe that to help others plan and live well, they must first live it out themselves.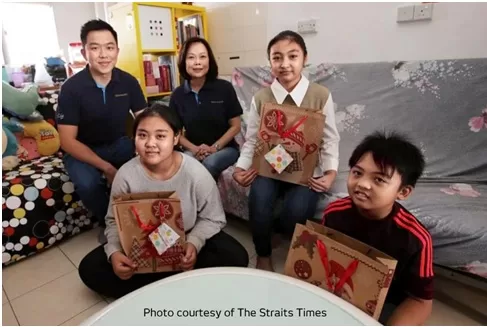 TMLS's representatives Sng Lian Hua, Steve Chen, and Huang Wei, exemplify these characteristics. Guided by TMLS' core tenets of Delivering On Commitments and Looking Beyond Profit, they keep themselves consistently at the forefront of financial developments. This keeps them ever ready to provide holistic and timely insight at each step of their customers' financial journeys.Through many years of helping others safeguard their financial well-being, they have forged relationships of strong rapport with customers. Their passion for delivering care and benefits extends beyond their customers, however.
Sng, Chen and Huang seek to uplift others in the community through partaking in TMLS' Corporate Social Responsibility (CSR) efforts. Just last year during the holiday season, Sng and Chen were part of the TMLS team that distributed Christmas gifts of earphones,speakers and USB drives to 66 children receiving support from The Straits Times School Pocket Money Fund (STSPMF).
Helping Customers With Challenges
Sng has been with TMLS for more than 30 years — she started her work life at TMLS, and has not looked back since. She recalls vividly a time when a customer had been retrenched. Sng helped the customer make adjustments to existing policies owned, so the customer could continue having coverage even during the time of financial uncertainty.
Sng's motivation? To make a positive impact. "Being able to support others in their times of need and knowing that my job helped make a difference is always fulfilling and humbling," she shares.
Chen, a commander who led a team of firefighters in his past work life, shares a similar experience. About a decade ago, Chen met a customer who was struggling with business cash flow issues. Chen helped the customer complete a policy review and assisted the customer to obtain loans from previously bought policies.
The customer eventually turned his business around and repaid the loans. "He thanked me… for supporting him during that tough phase of his life," says Chen. "Life has its ups and downs, and being able to be of assistance to another person is a great blessing," he adds.
Huang, a former engineer, finds great value in helping customers secure financial protection. He feels reassured knowing that customers will be able to draw on their protection plans to meet any changes in their financial needs, should they face uncertainties or challenges.
Seeing Opportunity Amid Volatility
The representatives are no stranger to seeking out solutions that score wins for their customers, even when market conditions are not favourable.
Back in 2008, amid the Global Financial Crisis, Chen customised a holistic investment plan for a customer who wanted to fund her child's education. He guided the customer in designing a portfolio based on her risk appetite and encouraged her to adopt the prudent investment strategy of dollar-cost averaging.
Chen happily shares that the portfolio is making decent profit in spite of recent market volatility. Today, his customer is more than on track to fund her child's education.
When asked about a financial tool he wished more people knew about, Chen opines: "I wish more people knew that in times of market volatility, the new generation of investment-linked policies (ILP) offers investors a high watermark locked-in guarantee benefit upon death[1]." He adds that the ILPs allow individuals to build their wealth so they can live out their desired lifestyle.
Sng and Huang similarly hold a positive mindset during this challenging time for investors and advise their customers to do the same. Their personal investment decisions prove clear evidence of their outlook.
Sng says she will continue to invest in good opportunities to divest risk, and hold on to existing investments to weather out the storm. Huang, meanwhile, notes he will not over-leverage and trusts he will be able to get through this tough period with the right strategies and with holding power.

Exemplifying Planning and Living Well
All three TMLS financial representatives are well-aware of the importance of evaluating their finances regularly. Sng makes it a point to review her financial plan on a quarterly basis to chart her progress toward her goals and make adjustments where needed. Part of her review is determining if she is making good progress toward her retirement target.
Huang reviews his retirement goals every five years, keeping them in line with the SMART (specific, measurable, achievable, realistic, time-bound) criterion. A firm believer in investing in products and areas that he is most familiar with, Huang parks most of his liquid assets in equity or equity-linked derivatives.
Chen, meanwhile, ensures in his yearly financial review that his preferred asset allocation — 50% in equities, 30% in bonds, and 20% in cash — holds steady.
He is grateful that his past efforts to Plan Well have borne fruit. "After over 10 years of investing diligently in the financial markets, I have managed to build a larger investment portfolio that consistently gives me good dividend payouts to supplement my income stream." He is all set to enter into retirement with great peace of mind, and to help his customers achieve the same.
[1] The specific policies TMLS offer that proffer the high watermark Locked-in Policy Value feature are: #goElite Secure, #goTreasures Secure, #goInvest Secure and #goClassic Secure.