Gojek Launches Vietnam's First Outdoor "Talking Billboards", Inspired By Cries Of Traditional Street Hawkers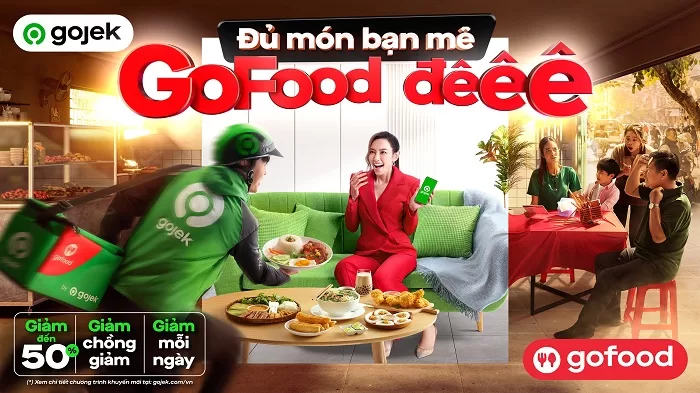 Gojek, Southeast Asia's leading mobile on-demand platform, has deployed outdoor "talking billboards" in Hanoi and Ho Chi Minh City (HCMC), making it the first brand in Vietnam to utilize this new form of outdoor advertising.
Gojek's outdoor "talking billboards" are located in eight locations with high footfall in Hanoi and HCMC. The billboards will say "Đủ món bạn mê, GoFood đêeee" (All your favorite dishes, GoFood anyone?) every three minutes, from 08:00 to 09:00 and 19:00 to 20:00 daily. The billboards will also showcase varying images in different locations, aimed at encouraging people not to skip meals and order GoFood in a witty manner.
The billboards are part of Gojek's latest campaign, "All your favorite dishes, GoFood anyone?", which will run from 18 July to 31 August 2022. The campaign has been Gojek's biggest promotion so far, and is aimed at showcasing the wide variety of delicious dishes at affordable prices that consumers can access, while driving demand to support merchants' business recovery.
Miss Grand International 2021, Nguyễn Thúc Thuỳ Tiên, will be the main ambassador of the campaign, appearing on the billboards, campaign materials and Gojek's social media channels. Aligned to the positive messages that Thuy Tien regularly conveys to the community, the campaign will showcase Gojek's efforts in catering to people's diverse preferences and dietary needs, while emphasizing the symbolism of mealtimes – family reunions, connecting with friends, self-care and more.
Le Phi, Head of Marketing of Gojek Vietnam, said: "Gojek's "talking billboards" are inspired by traditional street selling, which will be familiar to most Vietnamese people. While street selling has become less common over the years, we hope that this new advertising format, which combines the best of Vietnamese tradition and modern technology, will appeal to people."
Miss Grand International Nguyễn Thúc Thuỳ Tiên said, "I chose to partner with GoFood because we share a common purpose, to create a positive impact for the community in Vietnam. GoFood has improved the lives of many people in the country, by enabling convenient access to delicious dishes and timely promotions, while helping merchants to reach more customers. As a regular user of Gojek's services, especially GoFood, I hope to encourage more people to use GoFood to meet their everyday dietary needs and connect with loved ones over a meal."
Gojek connects tens of thousands of eateries and over 200,000 driver partners to millions of customers in Vietnam, with its GoFood platform offering more than a million dishes on-demand. As part of the "All your favorite dishes, GoFood anyone?" campaign, Gojek will provide various promotions for users to order summer-related food items. At the same time, this will create more income earning opportunities for merchants and driver partners, as Vietnam looks towards a gradual economic recovery.
Gojek is Southeast Asia's leading on-demand platform and a pioneer of the multi-service ecosystem model, providing access to a wide range of services including transportation, food delivery, logistics and more. Gojek is founded on the principle of leveraging technology to remove life's daily frictions by connecting consumers to the best providers of goods and services in the market.
The company was first established in 2010 focusing on courier and motorcycle ride-hailing services, before launching its app in January 2015 in Indonesia. Since then, Gojek has grown to become the leading on-demand platform in Indonesia, with additional operations in Vietnam and Singapore. The Gojek platform now comprises over 2.6 million driver partners across the region. Gojek is part of the GoTo Group, the largest digital ecosystem in Indonesia, consisting of Gojek, Tokopedia and GoTo Financial.
Gojek is dedicated to solving the daily challenges faced by consumers, while improving the quality of life for millions of people across Southeast Asia, especially those in the informal sector and micro, small and medium enterprises (MSMEs).