Gevalia® Kaffe Launches New Special Reserve Line of Coffees, Expanding Its Premium Offerings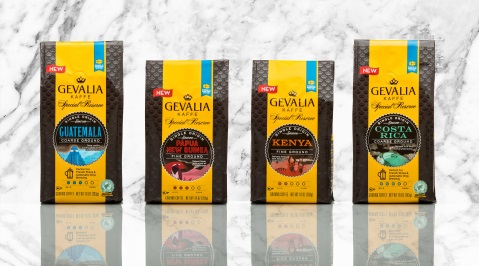 The Single-Origin, 100-Percent Arabica, Pre-Ground Coffee Line Makes Specialty Brewing Easier at Home
CHICAGO–(BUSINESS WIRE)–Gevalia ® Kaffe unveiled a new Special Reserve line of coffee that includes four premium, 100-percent Arabica, single-origin coffees, including Costa Rica, Guatemala, Kenya and Papua New Guinea varieties. Each is sourced exclusively from its respective country and crafted for those interested in tasting the exotic flavors of the world.
All four of the Gevalia Special Reserve coffees are specifically pre-ground to highlight the aspects of each origin's unique flavors, particularly when brewed using specialty brew methods like a French Press, pour over or moka pot. With a growing number of millennials using these on-trend brew methods1, Gevalia Special Reserve takes the guesswork out of brewing an exceptional cup of coffee at home.
"Much like grapes used to make wine, coffee beans also take on the unique characteristics of their growing regions," said Kale Schnettler, Brand Manager, Gevalia Kaffe. "With Gevalia Special Reserve, regular coffee drinkers and coffee connoisseurs alike can brew a premium cup of coffee themselves using these pre-ground coffee beans in both their specialty brewer and regular coffee brewer, within the comfort of their own home."
The four Gevalia Special Reserve varieties include:
Costa Rica Coarse Ground – A never bitter medium-bodied coffee with fruit and citrus undertones to the dark roast, crafted specially for French Press brewing
Guatemala Coarse Ground – A medium-bodied cup of coffee that's complex in flavor with earthy, smoky notes and a hint of cocoa, made especially for French Press brewing
Kenya Fine Ground – An intensely-flavored coffee with a balance of acidity and wine-esque undertones, pre-ground for specialty brewing with a moka pot or pour over
Papua New Guinea Fine Ground – A complex, balanced and rare coffee with delicate flavor notes that are sweet and enhanced with a touch of acidity, made for specialty brewing with a moka pot or pour over
Each 10 ounce (283 g) bag of Gevalia Special Reserve includes a brewing device recommendation and easy-to-follow instructions for both specialty brew methods and standard automatic drip coffeemakers. Gevalia Special Reserve is available at grocers and mass merchandise retailers nationwide at a suggested retail price of $6.99.
To learn more about Gevalia Special Reserve, visit www.Gevalia.com or follow the brand on Facebook at www.Facebook.com/GevaliaCoffee.
About The Kraft Heinz Company
The Kraft Heinz Company (NASDAQ: KHC) is the third-largest food and beverage company in North America and the fifth-largest food and beverage company in the world, with eight $1 billion+ brands. A globally trusted producer of delicious foods, The Kraft Heinz Company provides high quality, great taste and nutrition for all eating occasions whether at home, in restaurants or on the go. The Company's iconic brands include Kraft, Heinz, ABC, Capri Sun, Classico, Jell-O, Kool-Aid, Lunchables, Maxwell House, Ore-Ida, Oscar Mayer, Philadelphia, Planters, Plasmon, Quero, Weight Watchers Smart Ones and Velveeta. The Kraft Heinz Company is dedicated to the sustainable health of our people, our planet and our Company. For more information, visitwww.kraftheinzcompany.com.