Get EGG-Cited as Costa Coffee Launches New Fashionable Merchandise Collection for Spring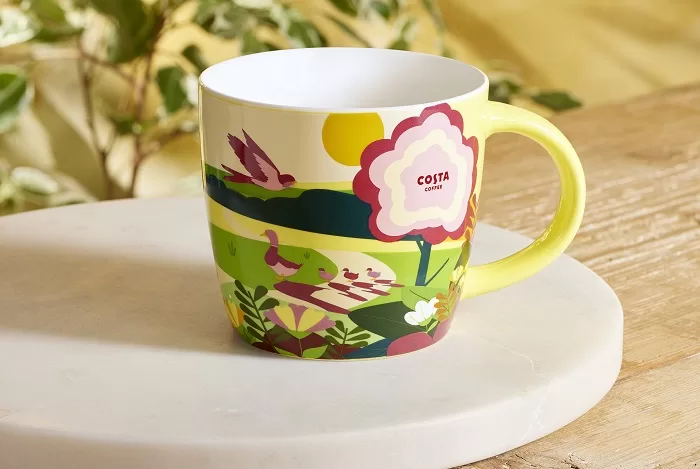 The Nation's Favourite Coffee Shop*, Costa Coffee has launched a stylish new range of merchandise just in time for Spring, including new reusable travel cups and two new ceramic cups.
Whether you are needing a new WFH cup for your morning brew or want to hop into Easter weekend with a fashionable travel cup, Costa Coffee has you covered with their new Spring range – available to purchase now from Costa Coffee stores nationwide.
New 16oz. Travel Cup – £12.00: Complete with a bespoke mint-green and white swirl design, this 16oz. Travel Cup is perfect for transporting your favourite Costa Coffee drink while out and about this Spring. It comes complete with a leak-proof lid and has been nicely finished to feature the Costa Coffee logo in silver foil at the base of the cup.
New 20oz. Travel Cup – £13.50: Ideal for ensuring your favourite Flat White stays warm, this 12oz. Travel Cup features a leak-proof lid, a unique mint-green and white swirl design and has been beautifully finished with a silver foil Costa Coffee logo at the bottom of the cup.
New 16oz. Frappe Cup – £9.00: Perfect for those warm days out with friends, the 16oz Frappe Cup comes with a straw to enjoy your favourite cold Costa Coffee drink. Why not enjoy a Frappé out and about while enjoying the Spring sunshine. Featuring the signature mint-green and white swirl design and finished with a silver foil Costa Coffee logo at the bottom of the cup.
New 12oz. At Home Cup – £9.00: This sleek ceramic mug has been created using the pastel mint-green and white swirl design and is ideal for any office or at-home desk set-up. With a 12oz capacity, you can enjoy your favourite drink from Costa Coffee's wide range of at home products.
New Spring Seasonal Ceramic Cup – £10.00: Say hello to Spring with the newest addition to Costa Coffee's seasonal cup collection range for 2023. This ceramic cup encapsulates a Spring landscape, from the sun shining to the animal's enjoying nature. Drinking your morning brew from this cup is bound to put a Spring in your step on days working from home.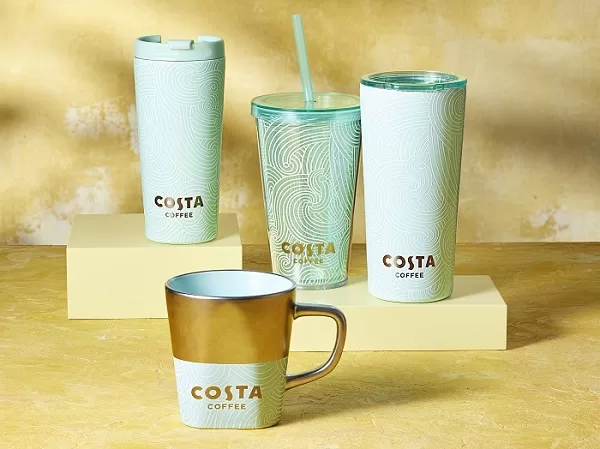 Extra benefits for Costa Club members
The new 16oz. Travel Cup, 20oz. Stainless Steel Travel Cup and 16oz. Frappe Cup can be used in store to earn an extra 'Green' Bean via the Costa Club app. Customers using the app will receive a free drink after purchasing any four hot or cold handcrafted drinks in any reusable cup. Or a free drink after any eight purchased without a reusable. In addition, Costa Club members also receive a free sweet treat for their birthday and benefit from ongoing rewards and offers throughout the year.
Costa Coffee's Spring merchandise range is available now in Costa Coffee stores nationwide until the end of April 2023.
Source: Costa Coffee