FlexClip Review – A Free Video Editor That You Need To Try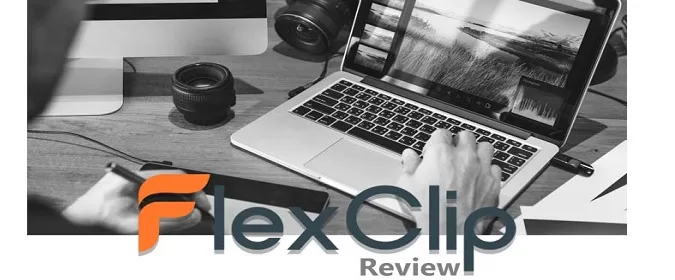 Are you are a Video Blogger who shoots video daily or just a regular family guy trying to capture every special moment of life? Also if you want to be successful on the Internet, attract the interest of the audience and keep their attention, you will use video in your work, marketing, or personal branding. Video Creation and editing tools come in handy to present and store your precious memories in the best possible way.
So we are going to discuss briefly one of those tools for you; FlexClip, your online video maker.
In this FlexClip review, you will see how it allows you to work on your videos online straight from your internet browser. Hence, many will find FlexClip convenient rather than having to go through all the hefty installation processes of an editing app like Camtasia, Movavi Video Suite etc.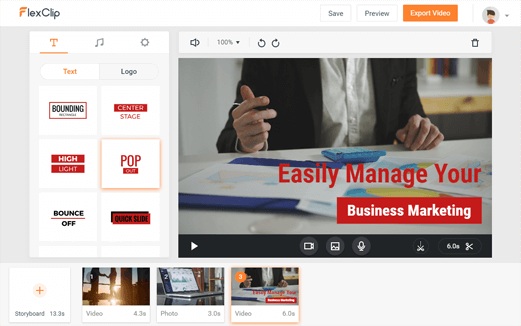 The sign-up process is simple enough: you sign in with Facebook, Google or create an account with an email and a password. Then you go straight to the dashboard in which you can create your first project.
Once you're in the project view, you can add clips (called storyboards inside the site) with videos, photos or backgrounds. You are presented with help cards that help you get familiar with the workspace and options all the way through, so you won't feel lost.
When adding videos, you can browse through stock video options and pick one you want, or you can add your own from your computer. Something to notice here is that you can only add one video at a time (no multi-select possible), which is a bummer.
After a while, the multi-clicking task of hitting the add-storyboard icon, selecting which type, then clicking on the "browse my file" and selecting a file from your computer gets really old.
Also, each video clip can only be 1 minute long, so if yours is longer, you'll have to trim it. If you want to use the whole length, you'll have to add it again as another storyboard, then trim another minute of it, with no way to keep marks where you trimmed the same video in the previous clip.
When you add another storyboard (or piece of content), it adds it right after the one you have selected, so keep this in mind before you do it, or you'll end up having to reorder all your clips, which you can do by just dragging and dropping.
In the text department, you have a few dynamic text options that are simple, but effective. Then you can change the font, size, alignment and colors. But you can't add more than one text box to a clip. If you click on another option, your current one will get replaced. So you get one text box per storyboard (or clip).
Then you can add music, and here you have quite a few options that include some sound FX, which is nice… if it wasn't for the fact that you can only select one piece for the whole video and there is no multi-track, so if you want an effect on a part over the music, you can't have it… or even just effects one after the other. If you picked a track and then you click on "add music", it gets replaced with no warnings.
In the settings section you can add a watermark, position it on one of the four corners of the video, set its size and opacity. You can also set the aspect ratio of the video.
I understand that the focus of this app is to make very simple videos, but there are some things missing besides the ones I mentioned that make it very hard to settle for this one, because there are a plethora of apps like this out there that make a good (and better) job at this.
PROS
Modern & Easy Interface
Templates to choose from
Royalty Free stock Videos & Music
Web interface allows access from any device
Powerful editing tools to satisfy your requirements
CONS
Lacks undo button
Free version is very limited
Add text feature needs improvements
Limited amount of templates
Video output duration is low
Is there anything better than a completely free program that works well with what it promises? No! If you are looking for a program that has countless features, options, and plug-ins, and you can make a professional video, then FlexClip is not for you.
FlexClip is not a video editor for advanced users who already know in advance what they want to achieve and are greatly concerned with editing videos. It is a video editor for most people who have not previously encountered video editing software that never made a video and is willing to do so.