FIRST RETAIL UNIT 2015 FORD MUSTANG GT FASTBACK SELLS FOR $300,000 AT BARRETT-JACKSON AUCTION IN SCOTTSDALE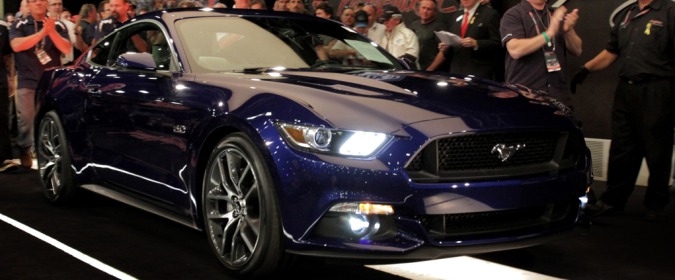 The first retail unit 2015 Ford Mustang GT Fastback sold for $300,000 with proceeds benefiting JDRF, the leading diabetes research organization
With this sale, Ford has increased its JDRF charity car vehicle sales to more than $3.5 million
The winning bidder will personalize their new car with available 2015 Mustang GT options
Shelby GT500-inspired, 1956 Ford F-100 pulled in $450,000 for the Children's Hospital of Saskatchewan in Canada. KISS bassist and Rock and Roll Hall of Fame inductee, Gene Simmons, his wife and Canadian-born actress, Shannon Tweed-Simmons, attended spurring on the auction crowd
At Barrett-Jackson Auction Company's sale in Scottsdale, Ariz., a car collector and North Texas Ford dealer, Sam Pack, paid $300,000 to have the first retail production unit of the all-new 2015 Mustang GT when it goes on sale this fall. This purchase helped Ford Motor Company increase its charity vehicle sales to more than $3.5 million for JDRF, the leading diabetes research organization and a Ford partner since 1983.
Also at the auction, a Shelby GT500-inspired 1956 Ford F-100 sold for an impressive $450,000, bought by Gordie Broda of Prince Albert, Saskatchewan, Canada. The Wheels of Dreams Project was created to raise funding for the new Children's Hospital of Saskatchewan in Canada.
Since it debuted in April 1964, Mustang has always been "the car designed to be designed by you," and the winning bidder, has that same opportunity for his new car. Pack will choose either a manual or automatic transmission as well as any interior and exterior color combination offered on the 2015 Ford Mustang GT. Furthermore, the team involved in Mustang design and development will sign the car in appreciation of the donation to JDRF.
"The response to the all-new Mustang GT on the auction block was remarkable," says Raj Nair, group vice president – global product development at Ford Motor Company. "People were drawn to the opportunity to own this historic car, while also knowing the funds would benefit JDRF. We're pleased to continue this collaboration in the fight to cure type 1 diabetes."
Powered by the throaty V8, the Mustang GT features upgrades that yield more than 420 horsepower and 390 lb.-ft. of torque. Under the sleek new skin, Mustang features all-new front and rear independent suspension systems to help transfer power to the pavement with world-class handling, more precise steering control and enhanced ride comfort. Innovative technologies also provide enhanced information, control and connectivity when drivers want it, including launch control that enables smooth and consistent starts when desired.
"We are thrilled with the result of the auction," says John Brady, incoming JDRF chairman. "The enthusiasm and generosity of Ford Motor Company and Barrett-Jackson Auction Company is appreciated by the JDRF family and all those living with type 1 diabetes. The $300,000 raised tonight will get us closer to a world without type 1 diabetes."
The future Children's Hospital of Saskatchewan received a large donation through the sale of the 1956 Ford F-100 or "Snakebit," as the truck is known. It is a blend of street rod styling with influences from the iconic Ford Shelby GT500. It boasts a supercharged 5.4-liter V8 breathing through a high-performance exhaust system. A six-speed manual gearbox feeds the estimated 550 horsepower to the 20-inch rear wheels.
The sale was made possible through the Wheels of Dreams Project, which is a unique collaboration involving KISS bassist and Rock and Roll Hall of Fame inductee, Gene Simmons, his wife and Saskatoon-born actress, Shannon Tweed-Simmons, along with area businesses including the local Saskatchewan Ford dealer association. Though the fundraising campaign to build the hospital started several years ago, the group collectively wanted to do their part to achieve the 2016 construction completion goal. The two celebrities joined the truck on stage for the charity sale.
"We are elated with the response to this one-of-a-kind truck," says Vaughn Wyant, co-chair of Wheels of Dreams and president and CEO of Vaughn Wyant Automotive Group. "The volunteers involved in this project traveled an amazing road to get here, and it was thrilling to finally reach the moment where Gene and Shannon were spurring on the auction crowd to support the future children's hospital. What an incredible moment."
"We continue to be astounded by the ongoing generosity of the Saskatchewan community and those beyond our borders who are making the Children's Hospital of Saskatchewan a reality," says Brynn Boback-Lane, president and CEO of the Children's Hospital Foundation of Saskatchewan. "Special thanks go to Ford Canada, the Ford Dealers Association of Saskatchewan and those at home in Saskatchewan who created and built this truck with the generosity of funding, commitment of time and sharing of their talents ensuring this project is world-class. These are the heroes in helping to build Saskatchewan's new children's hospital. Our Foundation is grateful for their efforts. We simply could not have done this without them, as this is a true testament to what Saskatchewan people can do when working together."
ABOUT JDRF
JDRF is the leading global organization funding type 1 diabetes (T1D) research. JDRF's goal is to progressively remove the impact of T1D from people's lives until we achieve a world without T1D. JDRF collaborates with a wide spectrum of partners and is the only organization with the scientific resources, regulatory influence, and a working plan to better treat, prevent, and eventually cure T1D. As the largest charitable supporter of T1D research, JDRF is currently sponsoring $530 million in scientific research in 17 countries. For more information, please visit www.jdrf.org.
ABOUT THE WHEELS OF DREAMS PROJECT
Championed by the KISS bassist and new Rock and Roll Hall of Fame inductee, Gene Simmons; his wife and actress Shannon Tweed-Simmons; and local businesses including the Saskatchewan Ford Dealer Association, the Wheels of Dreams Project is on a mission to raise funding for the development of the future Children's Hospital of Saskatchewan in Canada. A custom built 1956 Ford F-100 with Shelby Mustang influences will be sold at no reserve at the Barrett-Jackson Auction in Scottsdale, Ariz. on Jan. 17, 2014. All proceeds will benefit the Children's Hospital Foundation of Saskatchewan. For information, please visitwheelsofdreams.ca.
ABOUT FORD MOTOR COMPANY
Ford Motor Company, a global automotive industry leader based in Dearborn, Mich., manufactures or distributes automobiles across six continents. With about 180,000 employees and 65 plants worldwide, the company's automotive brands include Ford and Lincoln. The company provides financial services through Ford Motor Credit Company. For more information regarding Ford and its products worldwide, please visitcorporate.ford.com.