Fight Fear and Gain Financial Confidence With Tokio Marine's New #go Total Protect Cancer
How can you face the prospect of cancer with less fear and more confidence? Taking care of part of the financial challenges in advance through a cancer protection plan with industry-best features can go a long way. In line with our commitment to be customers' #GoToPartner in all life stages and situations, Tokio Marine Life Insurance Singapore (TMLS) launched a new, innovative cancer plan, #go TotalProtect Cancer, with highest potential payout of up to 475% of Sum Assured1 and multiple payouts across early, intermediate and advanced stages of cancer.
"David, in his mid-thirties, is busy living every day of his life to the fullest. Even though helping clients find efficient and innovative solutions at work daily amid challenging deadlines keeps him busy for most of the week, he makes time to plan exciting activities for his wife, Susan, and two children, and to cycle every other day with his mates. He even makes use of the weekends to learn new languages and pursue his musical interests.
David felt he was finally at the stage of life where he had the financial ability to reap the sweet rewards, so he spent freely, saved little, and encouraged his family to do the same.
When he was diagnosed with Stage III Lung Cancer at the age of 38, David found life as he knew it unravelling. Besides needing surgery, he had to regularly undergo chemotherapy and radiation therapy, which left him unable to keep up with his demanding career. After resigning from his job, he turned to MediShield Life to pay for treatment costs, but found that he still had to pay a larger amount than he expected out-of-pocket each month. His family became concerned about covering both the medical costs and their living expenses with his savings alone.
Troubled about the financial difficulties, David gradually found himself battling intrusive thoughts threatening to spiral out of control. David regretted not taking steps to secure greater financial protection years back, when he had the ability to do so."2
Chances are, we know at least one person who has a story similar to David's. According to the National Cancer Care Centre Singapore, cancer cases have been increasing over the years, and the number of people living with cancer will continue to rise. At present, about one in every four to five Singapore residents is likely to develop cancer during his or her lifetime.
More have been able to get diagnosed and manage their conditions early, but it remains that staying in work while undergoing treatment can be difficult. This means patients often have to rely on their savings for both living expenses and medical fees. The strain of meeting multiple financial burdens while watching these savings dwindle can add unnecessary stress and distress to patients and their family members.
Having a health insurance and a Critical Illness plan does not usually mean one is adequately covered for cancer protection. While there are more targeted options known as cancer protection plans, those available on the market tend to provide a single, lump-sum payout, which results in termination after a claim.
In contrast to existing plans on the market, TMLS' #go TotalProtect Cancer offers industry-best and industry-first features, such as highest potential payout of up to 475% of Sum Assured (based on S$100,000 Sum Assured) and industry-first multiple payouts across early, intermediate, and advanced stages of cancer, as well as two additional payouts for advanced stage cancer that is newly diagnosed, or has spread, persisted, or recurred. #go TotalProtect Cancer shows TMLS' commitment to creating customer-centric and innovative solutions.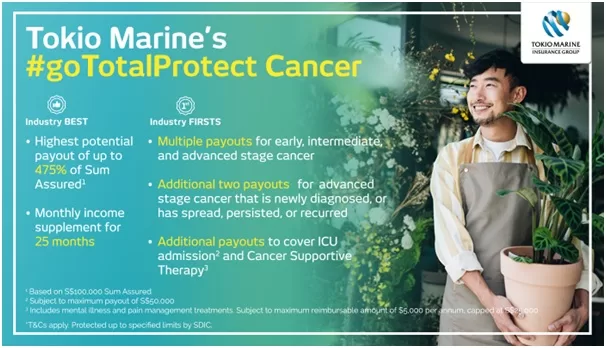 Tokio Marine Life Insurance Singapore aims to be your trusted #GoToPartner for all financial planning needs, helping you to Plan Well and Live Well, Through It All. Cancer can come suddenly and be overwhelming, but you can fight fear and have more confidence knowing that part of the financial challenges can be taken care of in advance. With TMLS' new #go TotalProtect Cancer plan, you can fear less about what you do not know, and live more in every moment.
Make the decision to #go TotalProtect Cancer between 20 July 2022 and 30 September 2022 and receive up to $600 worth of CapitaLand Gift Vouchers. Terms and Conditions apply.
Protected up to specified limits by the Singapore Deposit Insurance Corporation (SDIC). This advertisement has not been reviewed by Monetary Authority of Singapore.
Footnotes
[1]Based on S$100,000 Sum Assured
[2] This is a fictional story for purposes of illustration. Any similarity to actual persons, living or dead, or actual events, is purely coincidental.
Sources:
https://www.healthline.com/health/lung-cancer/stage-3-symptoms-outlook#treatment
https://www.straitstimes.com/singapore/health/cancer-patients-hopeful-enhanced-medishield-life-will-provide-more-coverage
https://www.moh.gov.sg/news-highlights/details/assistance-available-for-cancer-patients-who-need-medications-not-on-new-list
https://www.moh.gov.sg/news-highlights/details/drug-suppliers-can-play-a-role-in-keeping-cancer-treatments-affordable
https://www.moh.gov.sg/news-highlights/details/subsidies-to-be-extended-to-more-cancer-drugs-and-patients
https://www.nccs.com.sg/patient-care/cancer-types/cancer-statistics
https://www.singaporecancersociety.org.sg/learn-about-cancer/cancer-basics/cancer-myths-debunked.html
https://www.moneysense.gov.sg/articles/2018/10/critical-illness-insurance