Exploring Toyota's Bold C-HR Concept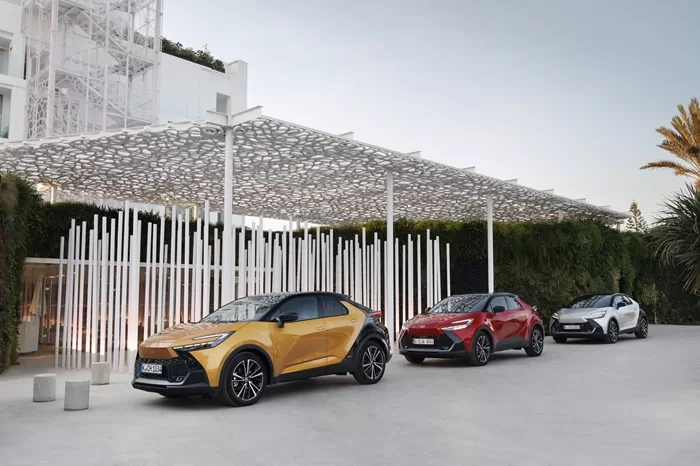 Distinctive coupe-like design and sophisticated execution create a "concept car for the road"
Imagined, designed and engineered in Europe, for European customers
Modern interior styling combines intuitive functionality with premium comfort
An environmental pathfinder for Toyota through increased use of recycled materials, weight-saving and new production processes to reduce carbon emissions
Fully electrified range with 1.8 and 2.0-litre hybrid electric, 2.0-litre AWD-i hybrid electric and 2.0-litre plug-in hybrid electric systems with everyday EV capability
The new Toyota C-HR combines stand-out styling, an engaging drive and classleading efficiency with a focus on European customer expectations of premium quality and sustainability. Inspired by a vision of a 'concept car for the road', it stays true to its heritage by taking another bold step forward.
The iconic coupe silhouette pioneered by its predecessor is further emphasised by a wider, more confident stance, enhanced by sharp character lines and a new level of sophisticated design execution.
With sales of more than 840,000 in Europe since its 2017 introduction, the original Toyota C-HR was a breakthrough model for Toyota, bringing the brand to a style-conscious audience thanks to its unconventional design inside and out, fun to drive character and superior quality.
The new Toyota C-HR has been engineered specifically for the expectations of European customers through its local design, engineering and production, exploiting innovative developments, including real-time data from drivers across the continent. Premium features such as the Toyota-first flush door handles, dynamic 64-colour interior ambient lighting and shade-less panoramic roof are part of a holistic and personalised user experience which puts the customer at the heart of the vehicle. The new Toyota C-HR delivers driving excitement and a confident, quiet ride through innovative technologies and a comprehensive upgrade to the vehicle dynamics. Its range of hybrid electric and plug-in hybrid electric powertrains use Toyota's latest hybrid technology to deliver more power via an engaging and efficient driving experience.
Beyond its class-leading efficiency on the road, the new Toyota C-HR further reduces its environmental impact by the introduction of new recycled and animal-free materials, as well as advanced technologies to reduce vehicle weight and cut CO2 emissions during production.
SENSUAL STYLE
Condensed packaged with 35mm wider stance on larger wheels, up to 20 inches
Hammerhead face at the front features full LED headlamps while model name is integrated in full LED rear lamp and used in new welcome scenario
Stylish and harmonious interior upgraded with premium materials, optional panoramic glass roof, and more storage
Premium features such as flush door handles, meet stand-out styling, including diamond-cut character lines
The new Toyota C-HR is designed to stand out through its distinctive styling, which enhances the iconic coupe silhouette with dynamic diamond-cut character lines for a striking bold look.
A 35mm wider stance is further complemented by new larger alloy wheels – up to an imposing 20 inches – and a 25mm shorter front overhang as part of a condensed package that looks poised and dynamic from every angle.
True to the vision of a 'concept car for the road', the new Toyota C-HR brings premium features such as flush door handles, a first for Toyota. An incredible attention to detail is emphasised by the production innovation which allows the edge of the rear door to directly meet the rear lamp assembly, without any frame, for a sharper, cutting-edge exterior. Tighter shut lines and the perfect integration of technologies such as the cameras, radar, and headlight washers maintain clean, stylish lines across all surfaces for a seamless appearance.
At the front, the 3D architecture and hammerhead face are reinterpreted to include spectacular full LED headlamps integrated along with the turn signals within an eyecatching arrow-shaped design.
As standard and for the first time in the market, the model's name, directly integrated into the full LED rear lamp, is illuminated during a dynamic welcome and goodbye sequence, as part of the car's stylish and impactful rear. That bold look is further emphasised by new bi-tone colouring, which is standard on higher grade models. It implements a black roof to create a sleek, modern appearance, while the optional 'bitone+' goes further by extending the contrast black all the way to the rear of the car and into the car's rear three-quarter section.
A stylish selection of exterior colours is available, including the new signature Sulphur and Precious Silver colours which are exclusively offered for 'bi-tone+' models in the first year of launch, alongside Emotional Red and Ash Grey. Dark Teal and Deep Amethyst perfectly match the new Toyota C-HR's sophisticated looks, while Dark Grey, Dynamic Grey, Black, Super White, Silver Metallic and Platinum White Pearl are elegant alternatives.
Inside the cabin, the Toyota C-HR's renowned sensory quality has been taken to new heights thanks to a comprehensive upgrade of materials combined with new highquality details to generate an exceptional, harmonious interior experience.
A wing concept consists of a slim horizontal instrument panel that is perfectly integrated with the door panels and centre console to wrap the occupants and generate a warm, welcoming space. The multimedia display is combined seamlessly, while selected grades include a custom-built fade-effect metal JBL speaker with superior sound quality, a first for Toyota.
A driver-focused zone ensures all control elements and vehicle information are intelligently located to keep hands on the wheel and eyes on the road, including a head-up display, depending on the vehicle grade.
Style contributes to practicality when it comes to storage and charging options. The slimline wing design allows an additional tray to be integrated above the glove box, offering a convenient new storage option. Within the centre console, there is a tray large enough to hold two mobile phones. Compared to the previous Toyota C-HR, the new generation also benefits from an increased trunk capacity.
A unique panoramic glass roof, available on mid+, high and GR SPORT grades, provides a lighter, more spacious feeling. Using innovative low-emissive and infrared- reducing coatings, it keeps heat inside the cabin on cooler days and prevents overheating in sunny weather. Reaching a comfortable temperature with reduced need for air conditioning, allied with a 5kg weight saving achieved by eliminating the need for a conventional sunshade, enhances efficiency. Passengers also enjoy more space thanks to 3 cm additional headroom.
A PERSONALISED USER EXPERIENCE
Welcome scenario begins a sophisticated and customisable experience
New 64-colour ambient lighting sets the mood and enhances safety
All-new 12.3inch digital combimeter for clear information, tuned to a driver's preference
Upgraded multimedia experience includes voice agent and wireless smartphone connectivity
The new Toyota C-HR is designed to provide a clear, intuitive experience for customers who expect their car to be an extension of their connected digital environment. A comprehensive customer-focused development process created convenient features to personalise and add value to the user.
That experience begins before a user even enters the car. A welcome scenario impresses with stylish illumination as the driver approaches, including a striking puddle light projection. Pre-saved settings for seat position, instrument display and multimedia are automatically applied.
The MyT app unlocks a practical range offunctions, including a digital key to conveniently unlock and start the new Toyota C-HR via a smartphone, with no requirement to carry a physical key. The digital key is available from January 2024 and depending on the vehicle grade, with a one-year connection included in the vehicle purchase price. MyT incorporates other helpful functions, such the possibility to activate the air conditioning system to heat or cool the car before a journey begins. For even more convenience, a unique-in-class automatic parking function allows a driver to exit the vehicle and instruct the vehicle to automatically manoeuvre into a space.
Inside the cabin, Toyota's first 64-colour ambient lighting system promotes a serene mood among occupants and enhances their safety too. Over the course of a day, the direct and indirect lighting, including on the instrument panel, changes each hour, from bright morning shades to relaxed evening hues, while one of 14 programmed themes can be selected to reflect the mood of each journey. The lighting is also synchronised with the air conditioning system, using warmer colours when the cabin is heating, or cooler ones when the temperature is reducing. Safety is also enhanced via the ambient lighting, which is used to visually highlight warnings issued by the Safe Exit Assist and Proactive Driving Assist systems.
As well as enhanced ambiance, the cabin also benefits from improved air quality thanks to nanoeX™ technology which diffuses microscopic water droplets to cleanse the air, remove allergens, reduce odours and promote more hydrated skin.
Most Toyota C-HR models feature an all-new, 12.3-inch fully digital combimeter for instrumentation, although a 7-inch colour display is also offered on some entry-grade versions in selected markets. The lay-out prioritises the clear visibility of critical information, such as speed and driver assistance settings, and can be personalized according to a driver's preferences. The display can be changed through four themes – Casual, Smart, Tough or Sporty – and three customisable dial lay-outs intuitively, via one touch of a steering wheel control.
A more connected multimedia experience is available thanks to Toyota Smart Connect, which features on-board voice agent and wireless smartphone connection via Apple CarPlay or Android Auto, as well as an eight or 12.3-inch touchscreen, depending on trim grade.
ENVIRONMENTAL LEADERSHIP
Enhanced focus on sustainability and new technologies complements ultra efficient electrified powertrains
Greater use of recycled materials, including 100% increase in recycled plastics.
CO2 emissions are further reduced via paint process innovations
Toyota-first use of high-tensile steel enhances rigidity and cuts emissions
The new Toyota C-HR is an environmental leader within Toyota's model range, setting new standards for sustainability, emissions reduction, and the use of recycled materials.
Compared to its predecessor, the new generation uses double the quantity of recycled plastic, which is now found in more than 100 different parts. That includes 19 parts which consist of at least 80% recycled material.
As well as interior plastic parts and floormats made from recycled content, a new synthetic seat covering is made from recycled plastic bottles, a first for Toyota. Extensive analysis and testing have ensured that the appearance, feel and durability of the recycled materials on the new Toyota C-HR is the same or better than virgin alternatives.
CO2 emissions during production are further reduced by a new painting process for bumper parts, which utilises water-based paint for lower environmental impact within an automated process which also uses less material overall.
Paint has been eliminated entirely in seven parts, up from three on the previous generation, by an expanded use of in-mould colour technology, whereby colour is applied directly during the injection moulding, achieving a glossy finish, and cutting CO2 emissions by 50% compared to painting.
By moving away from leather to a synthetic, animal-free steering wheel cover, the CO2 impact of that part has been reduced. This new material offers the same or better look and feel as genuine leather and is included as standard on all grades.
Through innovative design and technology, further measures have been taken to reduce the weight of specific parts, thereby enhancing fuel efficiency and reducing environmental impact.
In a European first, the new Toyota C-HR uses high-strength 2000MPa steel in its Bpillars, maintaining a very high torsional rigidity whilst reducing component weight by 3.5kg and eliminating spot welding. This accounts for a 10% CO2 reduction during the production process.
AGILE AND RESPONSIVE PERFORMANCE
Four electrified powertrains – Hybrid 140, Hybrid 200, Hybrid 200 AWD-i and Plug-in Hybrid 220 – optimised for European driver preferences
Fifth generation Toyota hybrid technology for increased power and low emissions
Better acceleration, more engaging handling and enhanced braking performance via component and control system upgrades
Premium level of acoustic comfort due to optimised aerodynamics, lower highway engine speeds and vibration damping solutions
Toyota's best-in-class electrified powertrains combine with optimised handling, improved ride comfort and better braking for a more powerful, engaging, and fun driving experience.
The latest, fifth generation Toyota hybrid technology is at the heart of the new Toyota C-HR for a class-leading balance of increased power and low emissions.
The new line-up features a choice of four electrified powertrains, emphasizing Toyota's inclusive multi-technology path to carbon neutrality. Toyota believes customers need a variety of options for affordable and practical vehicles to accelerate the pace of CO2 reduction today and ensure a successful transition to zero emission mobility in the future.
The new Toyota C-HR range comprises the Hybrid 140, Hybrid 200 and Hybrid 200 AWD-i and the Plug-in Hybrid 220 variant.
The Hybrid 140 features an ultra-efficient 1.8-litre engine with 140 DIN hp. For an even more thrilling driving experience, the Hybrid 200 brings power and efficiency from a 2.0-litre engine with 197 DIN hp and 190Nm torque.
A Hybrid 200 AWD-i option brings all-wheel-drive confidence to the range. A compact, high-torque electric motor-generator on the rear axle has been enhanced with more power and torque. Over a range of speeds and road conditions it provides better traction and stability when pulling away, more precise cornering, and greater confidence when driving on slippery surfaces.
All powertrains have been enhanced to suit the tastes of European drivers, using realtime data from drivers across the continent. Throttle response has been optimised for a more direct and consistent acceleration feel, thanks to a careful recalibration of pedal input sensitivity to ensure it is easy to control and yet highly responsive. On undulating roads, the new Adaptive Hill Control Logic modifies acceleration depending on the incline, for a more natural and easy driving experience. For a quieter ride, engine speeds during highway driving have been reduced by up to 500rpm to help the new Toyota C-HR achieve class-leading acoustic comfort, helped by optimised aerodynamics, vibration damping and noise insulation.
All hybrid electric versions benefit from redesigned components for better performance, improved efficiency and reduced weight. A new high-power Li-Ion battery, installed under the rear seat, is more compact and weighs 1.5kg less than its predecessor, yet provides 14% more output. The newly developed Power Control Unit contributes to fuel efficiency through improved cooling and lower electrical losses, while it operates at a higher frequency to reduce cabin noise. A new transaxle is 15% lighter thanks to the use of new materials whilst simultaneously giving up to 24 kW or 33 DIN hp more power, depending on the powertrain.
The Plug-in Hybrid 220 is based on a 2.0 litre engine and offers a best-in-class experience thanks to its dual DNA. It has the lively performance and smooth ride of a true EV for everyday journeys, with an all-electric range of up to 66km (WLTP Combined), as well as the class-leading efficiency and performance of hybrid electric for longer journeys when more flexibility is required.
Added to the upgraded power and acceleration response, improvements have also been made to braking performance. New 16-inch twin piston brake calliper and discs with built-in electric parking brake have been introduced for the Hybrid 140, Hybrid 200, with Hybrid 200 AWD-i and Plug-in Hybrid 220 benefitting from 17-inch calliper and discs. The latest vehicle stability control systems and a redesigned brake pedal enhance control for a more natural braking feel.
Updated Toyota New Generation Architecture (TNGA) delivers higher torsional rigidity throughout the body whilst also being lighter due to the intelligent use of materials. The new Toyota C-HR builds on the engaging handling of the original model with a newly-designed suspension system that is more rigid and lightweight.
A modified MacPherson strut at the front features shape changes for higher rigidity and strength, while the multi-link rear suspension includes higher-strength TNGA components.
For the first time on a Toyota vehicle worldwide, frequency sensitive control (FSC) technology is deployed to enhance handling and comfort. Fitted to Toyota C-HR plug-in hybrid and GR SPORT Premiere Edition models, the hydro-mechanical system increases damping force at low frequencies to deliver superior body control, in roll and pitch, as well as maintaining better control during cornering. Reduced damping at high frequency further improves ride comfort.
Highly developed aerodynamics deliver a drag co-efficient of 0.318. This is achieved through reduced frontal area and an extensive refinement of the body shape, including the underbody, to optimise air flow. Attention was paid to every detail, such as the removal of the rear wiper to improve aerodynamic performance and reduce wind noise, without compromising visibility thanks to the rear window being angled for water drops to slide away.
TOYOTA T-MATE SAFETY AND DRIVER ASSISTANCE
Toyota T-Mate brings comprehensive safety and driver assistance features
Latest generation of Toyota Safety Sense, with preventive safety systems for even greater protection
Additional safety from Rear Seat Reminder System and Safe Exit Assist as standard
Optional extended package includes additional safety features and semiautonomous parking system
All versions of the new Toyota C-HR benefit from Toyota T-Mate, which includes the latest generation Toyota Safety Sense range of active safety and driver assistance features, as standard for comprehensive safety systems and driver assistance. Toyota T-Mate is the collective name for the wide-ranging systems that help safeguard against accidents, provide protection in the event of an impact and assist the driver to make manoeuvres, whether parking or driving in traffic. On the new Toyota C-HR, the latest generation of Toyota Safety Sense includes preventive safety systems with greater functionality and more comprehensive monitoring of the car's surroundings.
The latest Pre-Collision System and Proactive Driving Assist constantly monitor the road for hazards and can warn the driver or automatically suppress acceleration and provide braking control if an imminent risk is detected. This guards against a range of risk factors, such as the presence of a slower or stationary vehicle in the lane ahead, and pedestrians or cyclists crossing the road, even when doing so on a road the vehicle is turning into.
Lane Trace Assist keeps the new Toyota C-HR safely on its intended path, guided by the road markings, the road margin or the vehicle ahead, further enhancing safety by reducing the driving burden on long highway journeys. The system works with the Full-Range Adaptive Cruise Control to adjust speed through a highway bend and also monitors the use of the steering wheel and pedals. If they are not used for a specific amount of time, it can initiate the Emergency Driving Stop System.
Enhanced Full Range Adaptive Cruise Control includes new Overtake Prevention Support to automatically prevent unintentional highway overtaking on the wrong side of another vehicle, and Turn Signal Linked Control to help the driver join traffic at a safe speed and distance from other vehicles.
On main roads and highways, the Road Sign Assist gives a visual reminder of important information such as warning signs and the speed limit. The latest version is enhanced with a one-touch adjustment of the speed limiter to match information from the road signs.
The new Toyota C-HR also benefits from additional safety systems as standard, such as the Rear Seat Reminder System, which alerts the driver if a child or pet is left on the back seat, and Safe Exit Assist which warns if vehicles or cyclists are approaching from behind when a door is opening.
An extended package is optionally available on the new Toyota C-HR. This includes enhanced Lane Change Assist and Front Cross Traffic Alert, designed to warn the driver of vehicles approaching from the left or right at intersections. More comfortable parking is available via a Panoramic View Monitor and the semi-autonomous Advanced Park system, which can manoeuvre into a space hands-free or via smartphone outside of the vehicle. A Driver Monitor Camera provides enhanced monitoring of a driver's status and is linked to the Emergency Driving Stop System, while the Adaptive High-beam System adjusts front light levels to minimise glare for oncoming traffic.
For complete customer convenience, seamless software revisions and upgrades overthe- air is provided via the car's data communications module.
PREMIERE EDITIONS
Special editions feature premium equipment and stunning new 'bi-tone+' colour scheme
GR SPORT Premiere Edition enhanced by new suspension technology, 20-inch wheels, head-up display and GR design details
High Premiere Edition includes panoramic glass roof, striking new signature colour and head-up display
The new Toyota C-HR range includes two Premiere Edition models, showcasing the highest levels of equipment and styling. Both come with the striking new 'bi-tone+· colour scheme as standard.
'Bi-tone+' consists of a bold black element on the side sills and the roof which create the sleek impression of a lower roof line. Those elements combine at the rear threequarter section as part of a powerful rear look which emphasises the full LED lights and illuminated vehicle logo.
The GR SPORT Premiere Edition features FSC shock absorber technology on its imposing 20-inch wheels to deliver optimised handling adjusted to the road conditions. In addition, a dynamic damper on the front strut reduces road noise and vibration.
Alongside the signature Precious Silver paint are eye-catching GR details such as a Gmesh pattern on the grille, GR badging, and sports front seats with embossed GR logo, as well as Liquid Black ornamentation on the centre console. A head-up display and premium JBL audio system are also included.
The High Premiere Edition stands out in its audacious signature Sulphur colour, which is reflected by the contrasting Sulphur stitching on the leather seats within the cabin. The premium feel is further enhanced by the panoramic glass roof, while head-up display is also standard.
Whatever the grade, the new Toyota C-HR brings more style, performance, efficiency and choice to European customers when deliveries begin by the end of 2023, writing the next chapter in the story of a pioneer within its class and for Toyota across the world.
Source: Toyota