Exclusive Markets wins Leading Multi-Asset Broker-Asia at the Global Brand Awards 2022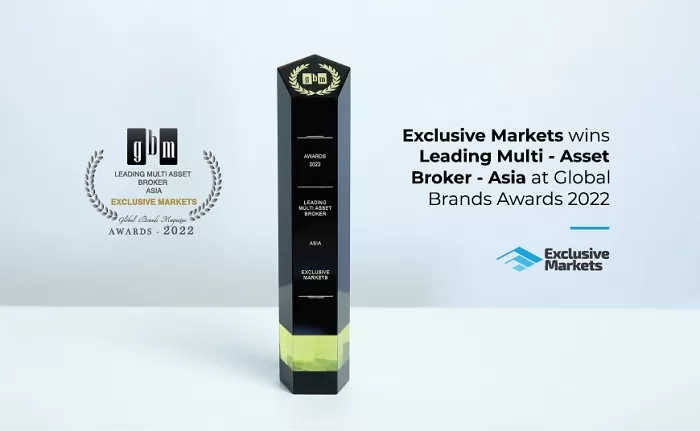 Every year, Global Brands Magazine (GBM) chooses the winning brands that achieve excellence in performance, innovation, effectiveness, and customer service in various sectors. The Global Brand Awards recognize the best-performing brands globally and nationally. 
This year, competing within the Forex sector against the most prominent players in the industry, Exclusive Markets rightfully wins the Leading Multi-Asset Broker-Asia award.
The brand's commitment to its customers sets them apart from others. The company evolves and expands its products and services based on clients' needs and strives to innovate continually, adding new, exciting, and accessible financial products and services.
Commenting on winning the award, Exclusive Markets CEO, Chris Trikomitis, said, "It's an honour for all of us here at Exclusive Markets to receive the "Leading Multi-Asset Broker-Asia" award. This award from Global Brands Magazine recognizes and celebrates all the hard work, love, and dedication we put into providing our customers exceptional service, creating long-lasting relationships, and offering a reliable and utterly secure investment environment."
About Exclusive Markets
Exclusive Markets offers a powerful, secure, and transparent platform to invest in thousands of financial instruments.
The team of Exclusive Markets has more than 30 years of experience and expertise in the financial industry, offering reliable financial services to clients from over 180 countries. The company evolves and expands its products and services based on clients' needs.
Building on its foundational core values of innovation, trust, and customer-centricity, Exclusive Markets has become a global force in finance, making exclusive investment opportunities accessible to traders worldwide.