Emirates welcomes New Generation A380 and Boeing 777 Aircraft to its Fleet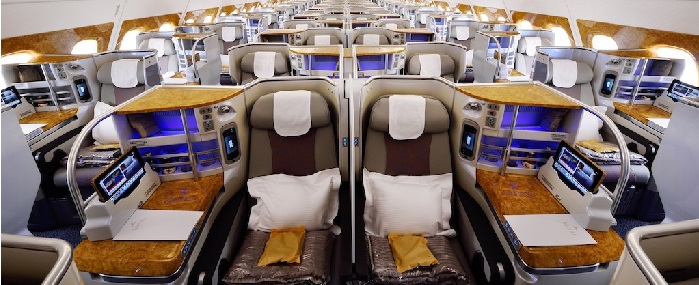 Emirates has begun taking delivery of its new generation Airbus A380 and Boeing 777-300ER aircraft. The first of the new generation A380s was delivered this month as Emirates' 85th A380. The first of its new generation Boeing 777-300ER aircraft is expected to be delivered later this month and will feature upgraded Business Class seats amongst other features.
These new aircraft reflect Emirates' continued investment and commitment to flying a modern, environmentally –friendly fleet and providing its customers with a superior level of comfort and safety.
New generation Emirates Airbus A380
In addition to its iconic Onboard Lounge and First Class Shower Spa, the new generation Emirates A380 – 388Q will have several new features including a new seat configuration. This is the first of seven expected to be delivered this fiscal year, with 51 more on order.  With the relocation of the crew rest area, there will be 25 additional seats in Economy Class, making it a total of 426 seats on the lower deck. First and Business Class seats will remain at 14 and 76 respectively.
Among the features is an elegant new design in the Business Class cabin with a higher ceiling to create a more spacious and luxurious feel for customers. Overhead cabin lockers on the new A380 aircraft will be concentrated in the middles aisles and will be 28% larger in volume.
The next generation A380s are expected to serve more ultra-long haul routes.
New generation Boeing 777-300ER
From end of November, Emirates will begin taking delivery of its new generation Boeing 777-300ER. It will be the first of six this fiscal year and 27 total on order. The new aircraft will feature enhanced Business Class seats which recline to 180-degree fully flat beds of 78 inches in length, an in-seat minibar and the largest inflight entertainment screen in Business Class at 23 inches.
The aircraft will also have an upgraded seat configuration with two additional seats in Economy Class taking the total capacity in economy to 306. The number of seats in First and Business Class will remain the same at 8 and 42 seats respectively.
The lavatories have also been given a fresh look with new wood finish, improved lighting and new designs on the sidewall panel.
These fuel efficient aircraft are expected to have improved environmental performance with 2% lower fuel burn.
100% on-demand entertainment
Emirates' entire fleet is now made up completely of Boeing 777s and Airbus A380s, as it recently retired the last of its Airbus A330 and A340 aircraft. An all-Boeing 777-and-A380 fleet means that the inflight entertainment offering will effectively be 100% video on demand giving customers full control and choice with up to 2,600 channels of entertainment on its award-winning ice system.
Currently, 85% of Emirates' fleet of passenger aircraft is equipped with Wi-Fi on board including all A380 aircraft. In addition, 108 aircraft are equipped with live TV, which has up to nine channels of live news and sport.
With close to 90% of customers on Emirates connecting to Wi-Fi on long haul flights, Emirates will continue to meet the increasing demand for connectivity, enabling more aircraft with Wi-Fi and live TV each month.
About Emirates
Our Media centre contains all of our business updates, including the latest press releases and articles and our contact details.
The Emirates story started in 1985 when we launched operations with just two aircraft. We fly the world's biggest fleets of Airbus A380s and Boeing 777s, offering our customers the comforts of the latest and most efficient wide-body aircraft in the skies.
We inspire travellers around the world with our growing network of destinations, industry leading inflight entertainment, regionally inspired cuisine and world-class service