Emirates Offers more Live Sporting Action on Board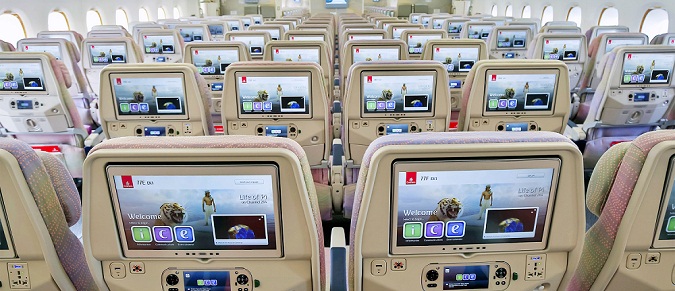 Emirates is amplifying its inflight entertainment offering, adding a second dedicated sports channel to its ice TV Live onboard – now available on over 90 of its Boeing 777 aircraft. Busy globe trotters and travelling sports fans can now enjoy more live sporting action than ever before. Sports 24 Extra, the second dedicated sports channel, will complement the existing Sports 24 channel to offer double the live sports coverage on ice Digital Widescreen- Emirates' award winning in-flight entertainment system.
Sports 24 Extra and Sports 24 will offer live matches and coverage of the much anticipated top sporting events this summer including UEFA Euro 2016, NBA, Formula 1, Wimbledon, US Open and Moto GP. With two dedicated sports channels, sports fans on Emirates will not miss out on busy sporting weekends and will have the choice of selecting between coverage of two events.
The two channels will also provide live coverage of the Rio 2016 Olympics this August. Fans will have the opportunity to watch the world's largest sporting event and cheer for their national teams wherever they may be travelling to on Emirates' global network of over 150 destinations.
Emirates continues to invest in enhancing the inflight entertainment experience for its customers. Other than sports, ice TV Live also offers a selection of international news channels including CNN, BBC World News, Sky News, Euro News, CNBC, Al Jazeera and NHK World. The record number of over 90 Boeing 777 aircraft with live TV represents more than one third of the total Emirates fleet, and more aircraft are being equipped every month. This month, the 80th A380 being delivered to Emirates will also be the first A380 in the fleet to be fitted with ice TV Live.
Free Wi-Fi service is available on all A380s and more than half of the Boeing 777 fleet so passengers can log on and catch the latest updates and highlights of their favourite sport as well as stay in touch with friends, family or colleagues. Customers can also enjoy a wide selection of on demand sports content and sports documentaries on ice.
Those seeking other entertainment options can enjoy over 2,500 channels of entertainment on ice Digital Widescreen. With over 500 movies including the latest blockbusters and 90 dedicated kids' channels, Emirates' jam-packed inflight entertainment system offers something for everyone.
A selection of upcoming sporting events that will be available on ice TV Live on board Emirates:
Rio Olympics (August 2016)
Football:  Euro 2016 (June 2016), Barclays Premier League (August 2016), Bundesliga (August 2016)
Golf: US Open (June 2016), The Open Championship (July 2016), Ryder Cup (September 2016)
Tennis:  Wimbledon (June – July 2016), US Open Tennis Championships (August 2016)
Rugby:  NRL (June – September 2016)
Motorsports:  Formula  1 (June – November 2016), Moto GP (June – September 2016)