Emirates launches second daily Airbus A380 service to Manchester Airport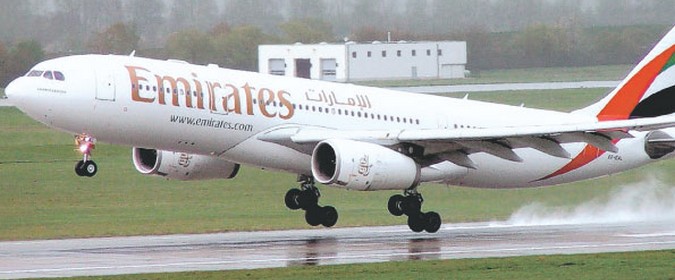 DUBAI, U.A.E., 8th January 2015: Emirates, a global connector of people, places and economies, has announced that as of 1st February 2015, its EK019/020 service between Dubai International Airport and Manchester Airport, currently operated by a Boeing 777, will be replaced with an Airbus A380. The introduction of the second daily A380 means that half of Emirates' 16 daily flights to the UK will be operated by an A380 from February.  
The second daily A380 will increase Emirates' capacity from Manchester by 13 per cent, with over 20 per cent of this increase in the premium cabins. The upgraded service will feature 14 seats in First Class, 76 in Business Class and 427 in Economy Class. Passengers throughout all classes can enjoy access to over 2000 channels of films, TV shows, music and games through ice, the airline's award-winning inflight entertainment system as well as wifi connectivity and gourmet cuisine.
Emirates flight EK019 will depart Dubai International Airport at 1435hrs and arrive in Manchester at 1835hrs. The outbound flight, EK020, will depart Manchester Airport at 2025hrs and arrive in Dubai at 0740hrs.
Hubert Frach, Emirates Divisional Senior Vice President, Commercial Operations West commented: "Manchester is the third busiest airport in the UK and demand for flights to Dubai, and beyond, has increased significantly during our 25 years of operating out of the airport. At Emirates we are committed to providing our customers with the very best service possible. The introduction of a second daily A380 aircraft will not only help more leisure and business passengers to travel in and out of Manchester, but also offer them the world-class travel experience that is synonymous with Emirates." 
With eight daily A380 flights into the UK and an ever expanding global A380 network, Emirates continues to set the industry benchmark in both A380 connectivity and customer experience.
The Emirates A380 offers spacious seating in Economy Class, access to the world's only onboard Shower Spas for First Class passengers and the Onboard Lounge, where First Class and Business Class passengers can socialise at 40,000 feet.
Ken O'Toole, Chief Commercial Officer at Manchester Airports Group (MAG), said: "We welcome Emirates' addition of a second daily A380 service at Manchester Airport from 1st February.
"Manchester is the only UK airport outside of London that the A380, the world's largest passenger aircraft, flies to. Customers will now have the choice of two daily A380 and one Boeing 777 flights, to travel direct from Manchester to Dubai.
"This additional flight confirms Manchester as the northern gateway and highlights the ongoing demand from passengers to fly from Manchester Airport. It is testament to the success of our Fly Manchester campaign and the strength the airport offers long-haul carriers."
Popular destinations from around the Emirates network into Manchester include Dubai, Australia, India, Singapore, Bangkok and Hong Kong – all destinations that already offer the Emirates A380 service, providing customers with a seamless A380 travel experience all the way through to Manchester.
As with all Emirates flights, passengers will enjoy the extra generous Emirates baggage allowance of 30kg in Economy Class, 40kg in Business Class and 50kg in First Class.