Emirates Announces a New Daily Service to Orlando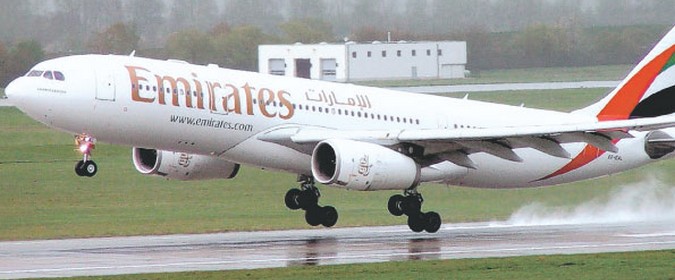 Airline's tenth US passenger route to commence from 1st September2015
DUBAI, U.A.E., 25 March 2015: Emirates, a global connector of people, places and economies has announced it is commencing a daily service to Orlando, Florida from 1st September 2015. The route will be served by a US-built Boeing 777-200LR with eight First Class suites, 42 Business Class lie-flat beds and 216 Economy Class seats.
Emirates flight EK 219 will depart Dubai International Terminal 3 (IATA code: DXB) at 03:50 hours local time and arrive at Orlando International Airport (IATA code: MCO) Terminal B at 11.40 hours local time, a flying time of 15hrs50mins. The return flight, EK 220 will depart Orlando International at 14:20 hours and arrive into Dubai at 12:30 the following day, a 14hr10min flight.
US visitors continue to visit Dubai – Emirates' home and hub – in their thousands. In 2014 over 500,000 US citizens stayed in Dubai[1] to conduct business and explore the emirate's array of leisure opportunities. Emirates' flight, the first direct service from Florida to Dubai, will connect well with many of the airline's services to and from the Middle East, South Asia, the Far East and Africa, giving passengers from those regions seamless connectivity to the "Sunshine State" as Florida is known.
Orlando is famous for its world-class theme parks, family entertainment and year round sunshine which bring in over 59 million visitors each year. It also has a strong business base with thriving industries in Advanced Technology, Film and Digital Media production, Aerospace and Life Sciences.
Emirates customers can also connect seamlessly onto many destinations in the US, the Caribbean and South America through the airline's codeshare partner JetBlue's regional hub in Orlando, which serves 24 cities including San Juan in Puerto Rico; Bogota, Colombia and Nassau, The Bahamas.
 "Orlando is one of the world's premier leisure and conference destinations, a dynamic business centre and a destination which Emirates has long wished to serve", said Sir Tim Clark, President, Emirates. As a growing region, we believe that our service will facilitate further growth for both Orlando as well as central Florida by connecting the city with our global network of 145 destinations across 80 countries; and give customers from Orlando the choice of flying Emirates whilst experiencing our award-winning inflight product and service."
"Orlando International Airport has always been an engine for economic growth and job creation in Central Florida," said City of Orlando Mayor, Buddy Dyer. "Today's great news that Emirates will fly non-stop Orlando to Dubai will boost our local economy with new jobs and continue to further Orlando as a premier global travel destination."
"All too frequently, aviation news is dominated by announcements of fewer options, less comfort and shrinking value. By contrast, this pro-growth development demonstrates that international airlines can spur American jobs by providing supply where there is previously unmet demand," said U.S. Travel Association President and CEO Roger Dow. "America sorely needs this kind of infusion of air service and customer service, not to mention the quality, unexportable jobs that are generated by increased travel."
"JetBlue is delighted to see our codeshare partner Emirates expand into Orlando, one of our largest and most important markets," said Scott Laurence, JetBlue's senior vice president of airline planning. "This is not only great news for Central Florida travelers but also for visitors from around the globe who will gain new travel options to the Caribbean and Latin America when connecting on JetBlue through Orlando International Airport."
"Florida is on a mission to become the global leader in job creation and we are excited about the new Emirates non-stop flight between Orlando and Dubai. We welcomed more than 97 million visitors to our state last year and every 85 tourists creates another Florida job.  We know our tourism industry helps grow our economy and that is why we are investing $145 million at the Orlando International Airport to expand the South Terminal Complex so we can continue to increase domestic and international air service – like the new Emirates flight," said Governor of Florida, Rick Scott.
"Emirates addition of daily service between Dubai and Orlando is great news for the Sunshine State and will help to establish Florida as the No.1 travel destination in the world," said J. William Seccombe, President & CEO, Visit Florida.
Orlando will be the tenth US passenger destination Emirates serves, following on from Boston which launched on 10th March and Chicago on 5th August 2014. The airline has been serving the US for over 10 years, gradually expanding services on a commercial basis to serve the consistently high demand for its flights. In 2014, Emirates' average load factors on its US routes were over 80%, offering single-carrier connections to over 50 global destinations not currently served by any US airline. Last year Emirates carried over 2.3million passengers and 106,000 tons of cargo to and from the US.
Customers on board an Emirates Boeing 777-200LR can experience a wide range of products and services during their flight. All passengers can enjoy over 2,000 free channels of films, TV shows, music, games and podcasts through ice, the airline's multi-award winning in-flight entertainment system, regionally inspired gourmet cuisine and Emirates' renowned inflight service from the airline's multi-national cabin crew from over 120 countries. First Class passengers will have a private suite which converts into a two metre (6ft7in) bed and dining on demand; Business Class passengers can relax in their lie-flat bed; whilst Economy Class passengers will enjoy a choice of menus including complimentary beverages.
Parents flying with children are well looked by Emirates with access to free strollers at Dubai International Airport, a choice of children's toys, specially prepared children's meals and dedicated children's channels on board to keep our younger passengers entertained.
[1] – Source Dubai's Department of Tourism and Commerce Marketing hotel stays survey 2014