Emirates A380 Returns to Houston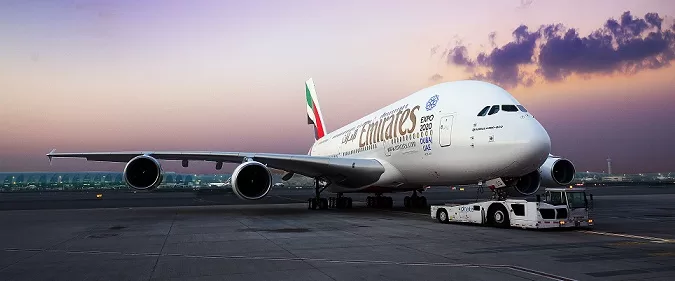 Emirates will resume its flagship A380 service between Houston (IAH) and Dubai (DXB) from 1 June 2018. This follows the airline's recent adjustments to its US services with the launch of a new non-stop Dubai-Newark service from 1 June 2018 and the resumption of daily services to Fort Lauderdale and Orlando from 25 March 2018.
Houston will join more than 40 destinations on Emirates' extensive global network served by its highly popular A380 aircraft, including Mumbai, Kuala Lumpur, Singapore or Kuwait. Emirates will deploy its three-class A380 on the Houston route, offering a total of  516 seats, with 14 private suites in First Class, 76 flatbed seats in Business Class seats and 426 spacious seats in Economy Class, increasing capacity per flight by more than 160 passengers compared to the current Boeing 777-300ER.
Emirates celebrated 10 years of service to Houston in December 2017, and has carried nearly 2 million passengers since its inaugural flight in December 2007. Services to Houston were upguaged to an A380 in December 2014, but as part of Emirates' fleet optimization, the decision was made in July 2016 to operate the route with a Boeing 777-300ER.
Emirates remains committed to Houston, offering exceptional product and services. With the energy sector recovering and playing a large role in Houston's resurgence, Emirates took the decision to reinstate the A380 services from 1 June 2018 in line with commercial demand.
Flight EK211 will depart Dubai at 09:35 and arrive in Houston at 16:50 daily. Return flight EK212 will depart Houston at 20:00 and arrive in Dubai at 20:00 the next day. Passengers from Houston can enjoy convenient connections in Dubai when travelling to destinations in India, Pakistan, Saudi Arabia, Bahrain, Kuwait, Thailand, Malaysia, Singapore or South Africa. Passengers can also take advantage of over 90 codeshare destinations with flydubai.
The double-decker A380 is the world's largest commercial aircraft in service and extremely popular with travelers. The Emirates A380 is renowned for its First Class Private Suites and Shower Spas, as well as Onboard Lounge for First and Business Class passengers to mingle whilst enjoying canapés and beverages prepared by the onboard bartender. Passengers in all classes can enjoy Wi-Fi to stay in touch with family and friends and Emirates' award-winning entertainment system, ice, with more than 3,000 channels of movies, TV shows, games and music.
Emirates serves 12 points in the US, helping to link the world's largest economy with emerging markets that will further drive American economic growth, trade, and job creation. Of the 80-plus destinations on our Middle East, Africa, and Asia Pacific network, 67 are not directly served by any US carrier. The breadth of our network between the US and India is unparalleled, offering more flights than any other foreign carrier and significantly reduced travel times compared to airlines connecting via European hubs.
About Emirates
The Emirates story started in 1985 when we launched operations with just two aircraft. Today, we fly the world's biggest fleets of Airbus A380s and Boeing 777s, offering our customers the comforts of the latest and most efficient wide-body aircraft in the skies.