DHRUVA SPACE SETS RECORD IN TELEMETRY & TRACKING IN INDIA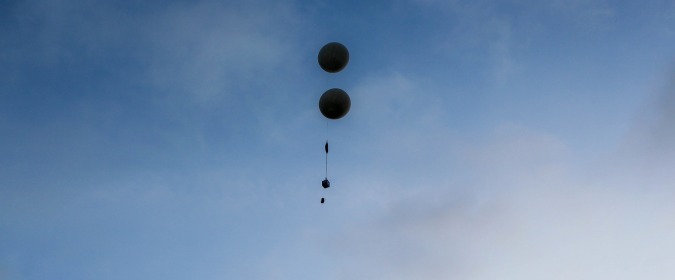 Dhruva Space in association with Indian Institute of Astrophysics is gearing up to observe comet ISON when it passes earth on November 28 using a high altitude balloon platform.
Weekly test flights are in progress as part of the preparations for the ISON observation. On one such flight on October 13, the balloon which was carrying a 5 kilograms payload containing various sensors reached a peak altitude of 21 kilometres and it drifted over 600 kilometres into the Arabian Sea. What makes this test flight special is that the ground station at Bangalore and the two mobile payload recovery teams were able to receive radio signals from the balloon for over 12 hours without any disruption.
Hyderabad based National Institute of Amateur Radio which is one of the program partners has provided immense support in successful post-flight payload recovery.
Ham radio operators in Karnataka and Goa in India, and Middle East and Africa were able to receive encoded APRS signals containing real time location, altitude and other operating conditions of the flight.
Dhruva Space has been applauded by many national and international agencies for pulling off a very successful mission tracking record.
Mr. Narayan Prasad, Directors of Dhruva Space, spoke to our correspondent at Dubai where he has been invited to speak at a United Nations / United Arab Emirates Symposium on Basic Space Technology. He thanked the ISON observation mission partners, Indian Institute of Astrophysics and National Institute of Amateur Radio for their continued support in making each test flight a success. He is very bullish about a successful mission in late November.
Mr. Sanjay Nekkanti, Director of Dhruva Space, told the press that they are considering opening up their ballooning platform to universities, researchers and enthusiasts who may be interested in flying their own experiments to study comet ISON.
About Dhruva Space
Dhruva Space was founded in 2012 as India's first Private Space Company which has small satellite integration capabilities. Some of their other solutions include Ballooning Platforms, UAVs and Space Devices for both civilian and military applications. Visit www.dhruvaspace.comfor more information.