DBS Reimagines Banking with Lifestyle Space for "Tech" Generation
Novel 24/7 "café and branch" at Plaza Singapura features Video Teller Machines, industry-first VR corner for retirement planning and humanoid robot, Pepper
In its continued journey to reimagine banking, DBS has launched a lifestyle space for the tech generation where digital banking is complemented by human connection.
Designed with a "café and branch" concept, the new lifestyle space at Plaza Singapura features an open layout, creating a relaxed atmosphere. Customers are first welcomed by the aroma of freshly brewed coffee at the entrance of the branch, where Bettr Barista, a social enterprise supported by the DBS Foundation, stands.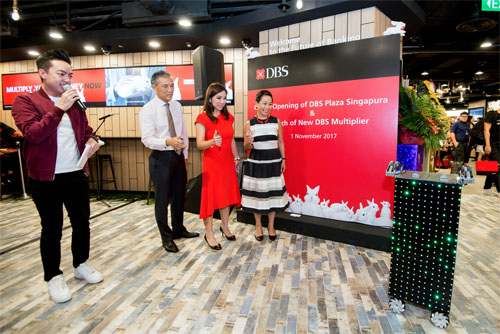 The new lifestyle space is designed with the tech generation in mind and also offers them a highly digital experience to meet their banking and lifestyle needs. It features an industry-first VR corner for retirement planning, where customers will be guided on how to go about working towards their retirement lifestyles.
At the branch, customers can perform both cash deposits and withdrawals at the Cash Services Machines – the machines also allow cash withdrawals above their ATM card limit. DBS/POSB has deployed close to 90 of these machines in more than 30 different locations across the island. Since the introduction of the Cash Services Machines, over-the-counter cash transactions have decreased by around 48% and 22% for retail and corporate customers respectively, highlighting its convenience.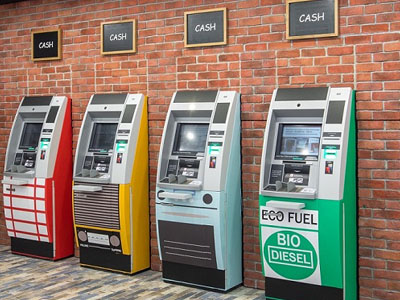 Besides the cash machines, banking services are also accessible to customers round-the-clock through Video Teller Machines (VTMs), offering them non-cash banking services such as the issuance or replacement of internet banking tokens or debit cards. Customers who require help are able to access instant 'face-to-face' assistance via live video. Pepper, the humanoid robot, is also on hand to guide customers on how to use the VTMs.

There are currently 13 VTMs in 12 locations in Singapore and the bank plans to install more than 20 machines by the end of 2017.
DBS will also transform this lifestyle space to allow customers to interact with one another based on their interests. For a start, together with *SCAPE, DBS is organising a talent development showcase to groom budding singing talents, culminating in the first-ever National Youth Music Awards competition in 2018. There are also plans to hold monthly latte art and coffee appreciation classes with Bettr Barista, financial talks by NAV – Your Financial GPS and art work exhibitions by students.
Jeremy Soo, Head of Consumer Banking Group (Singapore), DBS Bank, said "Banking services have a 'clicks and mortar' element, where digital banking and human connection complement each other. Over the last few years, we have both expanded and further integrated our physical and digital channels to enable our customers to access our services seamlessly across multiple touchpoints. In short, customers choose the platform they are most comfortable with, be it on a face-to-face basis, digitally on the mobile or internet, or a combination of both."
He added, "We also believe social networking in a physical space is equally important and that is why we are transforming this lifestyle branch to allow customers to interact with one another based on their interests. By reimagining banking, we want to change the impression of what branch banking is for the tech generation – hence offering this new relaxed environment, where banking is woven into our customers' daily lives."
DBS is also launching TwentyThirty (www.twentyxthirty.com), an online initiative for young adults – a hub that provides quality content that is of relevance to everyday living. TwentyThirty will cover a variety of topics, from getting through adulting milestones and financial literacy, to career advice and everything else that may be important for a balanced life. DBS' aim is to engage young adults in their 20s and 30s in conversations about larger "life" issues, and embark on a continuous process of providing valuable information that directly addresses their jobs to be done.
DBS will continue to engage the young adult segment with enhanced products and services, activations and partnerships with like-minded brands. To cater to the financial aspirations of young adults in Singapore, DBS has ecently launched the enhanced DBS Multiplier Account, making it easier for them to qualify for higher interest rates on their account balances by lowering the transaction threshold, with no minimum salary crediting amount and no minimum credit card spend. For more information, please visit www.dbs.com.sg/multi.
About DBS
DBS is a leading financial services group in Asia, with over 280 branches across 18 markets. Headquartered and listed in Singapore, DBS has a growing presence in the three key Asian axes of growth: Greater China, Southeast Asia and South Asia. The bank's "AA-" and "Aa1" credit ratings, is among the highest in the world.