DBS/POSB first in Singapore to Provide Instant Approval for Credit Cards & DBS Cashline via MyInfo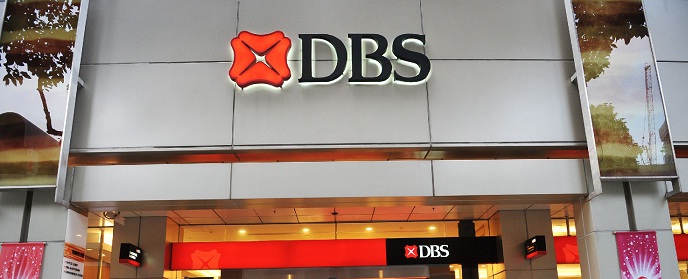 Service available to the 3.3 million registered SingPass holders via DBS/POSB internet banking and websites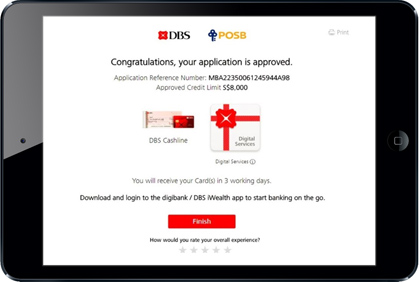 DBS Bank launched a new online application service leveraging the national platform MyInfo. The service enables new-to-bank (NTB) and existing customers to apply for a DBS/POSB credit card with instant approval, as well as open a DBS Cashline account online with immediate access to funds and related DBS Cashline account functions. Both services are a first in Singapore.
The service is accessible to the 3.3 million registered SingPass holders in Singapore[1] on both DBS/POSB internet banking and websites. Time savings for the customer are significant – it traditionally takes up to a week for NTB customers to receive their credit card or access to DBS Cashline. Application via MyInfo removes the need for traditional application processes and provides real-time application approval without physical documentation. Back-end operations such as Know-Your-Customer (KYC) processes are also automated, while meeting MAS compliance standards.
To use this service, existing or NTB customers applying for a DBS/POSB credit card or DBS Cashline account can submit an online application via DBS/POSB internet banking or the bank's websites, where they will be prompted to use MyInfo by logging in to their SingPass accounts. Upon customer consent, MyInfo will retrieve personal data from relevant government agencies to pre-populate relevant fields such as a customer's official name, registered address and Notice of Assessment.
"Our focus here at DBS is to ensure customers can access our services with minimum fuss – MyInfo allows us to do this without compromising on quality, speed, and accuracy," said Jeremy Soo, Head of Consumer Banking Group (Singapore) at DBS Bank. "MyInfo adoption has been rapidly increasing since the service was introduced in March 2017. Today, one in four DBS/POSB customers will use MyInfo for online application services when given the option, and we expect this to increase with our latest credit card and DBS Cashline capabilities. We look forward to rolling out more services with MyInfo by the end of this year."
NTB customers who choose to apply for a credit card with DBS/POSB will be notified of the approved credit limit immediately. They will also receive a DBS/POSB digibank account for internet and mobile banking as part of the application. Meanwhile, NTB customers opting for a DBS Cashline account will be signed up for a DBS/POSB digibank account during application, where they can instantly access, transfer and withdraw funds, as well as pay bills, using DBS/POSB's digital token. NTB or existing customers can soon use MyInfo to open a current or savings account, and benefit from instant access to the bank's full suite of banking services via DBS/POSB internet and mobile banking.
[1]https://www.tech.gov.sg/-/media/GovTech/Media-Room/Media-Releases/2016/0129_Singpassfactsheet/SingPass-Factsheet–Updated-29-Janpdf.pdf
About DBS
DBS is a leading financial services group in Asia, with over 280 branches across 18 markets. Headquartered and listed in Singapore, DBS has a growing presence in the three key Asian axes of growth: Greater China, Southeast Asia and South Asia. The bank's "AA-" and "Aa1" credit ratings are among the highest in the world.
Source: DBS