Daimler Strengthens Dedication to Emission-free Mobility with New DENZA 400 EV for China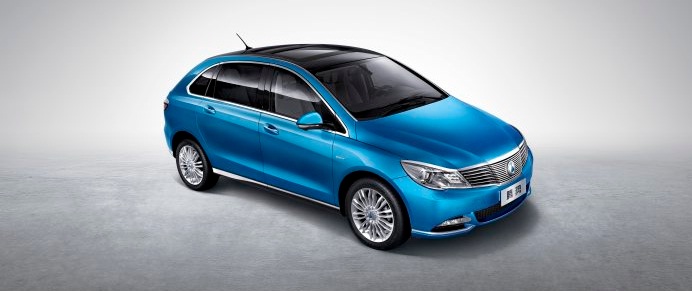 Introducing DENZA 400 from BYD Daimler New Technology Co., Ltd. (BDNT), China's first Sino-German joint venture focused on electric vehicles
DENZA 400 vehicle with upgraded battery, electric motor and electronic control rolls off the production line, providing a range of up to 400 km
Daimler is committed to providing emission-free mobility solutions in China's growing new energy vehicles market
Daimler extends its portfolio of new energy vehicles (NEV) with the introduction of the DENZA 400, the company's "Made in China, for China" electric vehicle from Shenzhen BYD Daimler New Technology Co., Ltd. (BDNT). The DENZA 400 offers upgraded battery, electric motor and electronic control providing customers an electric range of up to 400 km on a full charge. The vehicles are manufactured at BDNT's independent production line at the BYD base in Shenzhen. The new flexible production line will increase capacity based on future market demand. Today's start of production of another NEV underlines Daimler's comprehensive approach in the area of electric mobility.
"Our joint venture BDNT unites the best of Sino-German cooperation in new energy vehicles. Already offering safe, reliable and convenient electric vehicles from and for China, the DENZA 400 with upgraded range offers our Chinese customers a further improved driving experience," said Hubertus Troska, Member of the Board of Management of Daimler AG responsible for Greater China. "We are confident about the future prospect of new energy vehicles in the country. Daimler will continue to invest in research and development of efficient and eco-friendly new energy vehicles, which represent a key pillar of our China growth strategy."
In addition to electric vehicles, Daimler's strategy in China to reduce emissions and promote environmental responsibility includes an increasing offering of plug-in hybrid vehicles. In 2013, Mercedes-Benz became the first automaker to offer petrol, diesel and hybrid models at the same time in China. The E 400 L Hybrid was the first locally-produced hybrid from a premium brand, while the smart electric drive (electric power consumption combined 15.1 kWh/100km/ CO2 emissions combined 0g/km) was the first imported premium all-electric vehicle from Europe.
The DENZA 400 – convenient emission-free mobility for day-to-day use
The DENZA 400 features improved battery density achieved through an upgraded production process that increases the battery's capacity from 47.5 kWh to 62 kWh while maintaining the original size. With an upgraded range of up to 400 km, most Chinese consumers, who generally drive 50 to 80 km per day, will only need to recharge their DENZA 400 once per week.
The first generation of DENZA was launched in 2014 as the premiere offering from the first Sino-German joint venture dedicated to electric vehicles in China. With nearly 3,000 units sold in its first year in 2015, DENZA quickly became the choice for those seeking convenient and reliable emission-free mobility.
About BYD Daimler New Technology
BYD Daimler New Technology Co., Ltd. (BDNT) in Shenzhen is the first Sino-German joint venture dedicated to an all-electric vehicle in and for China. It targets raising the bar in the domestic electric vehicle market by combining Daimler's renowned engineering expertise as global forerunner in safety and quality with BYD's leading battery technology. BDNT will continue to focus on the development of energy-saving, safe, comfortable and high quality electric cars. The joint venture is committed to become China's most successful new energy automobile manufacturer, to promote new energy vehicle (NEV) development and to create a better living environment.
About Daimler Greater China
Daimler's presence in China covers all areas of mobility from private car ownership and NEV to commercial vehicles, from financial services to innovative car-sharing. Daimler Greater China Ltd. (DGRC), established in Beijing in January 2001, is responsible for the operation of Mercedes-Benz Cars, Mercedes-Benz Vans, Daimler Trucks and Buses, Daimler Financial Services, and Daimler Spare Parts in Mainland China, as well as Hong Kong and Taiwan.