Daily Vanity wins 2 awards at the 9th edition of Global Brands Magazine Awards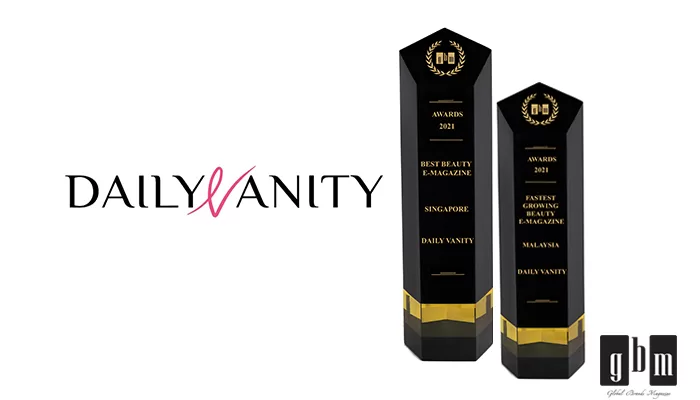 Daily Vanity, Singapore's #1 beauty media, has won "Best Beauty e-Magazine – Singapore" while Daily Vanity Malaysia has picked up the award for "Fastest Growing Beauty e-Magazine – Malaysia" for the year 2021.
The Global Brand Awards is an annual event held by Global Brands Magazine (GBM), an international publication headquartered in the UK. The award aims to recognise global brands achieving excellence in performance across a broad range of sectors while keeping its readers updated on key trends surrounding the branding world.
Daily Vanity was selected from a very competitive group of entrants, all of whom demonstrated unique and exceptional service delivery towards the evolving Media & Publications sector. The company was awarded this honour for its exceptional commitment to innovation, quality, branding activities, customer service and performance, and providing a robust Media & Publications system in Singapore and Malaysia.
Commenting on winning the awards, Kristen Juliet Soh (COO and Editorial Director) said, "We value every award given because it lets us know that our hard work is recognised and it encourages every member in our organisation to continue to do our best in offering even more value to our readers, followers, customers, and clients. Particularly for this award, we understand that we were up against a competitive list of entrants, which makes it such an honour to be named a winner."
Despite a tumultuous year in the pandemic, Daily Vanity continued to grow exponentially. "In 2021, the editorial team continued to sharpen our ability in 'breaking' beauty news and identifying trends that can relate to the ever-evolving social media audience. On the other hand, the business team improved our all-rounded offerings for beauty consumers by enabling our clients to do better sampling exercises through our platform and strengthening Salon Finder, a feature that offers attractive vouchers from salon merchants," she added.
In addition, Keith Toh (CEO and Business & Product Director) commented, "We wouldn't have been able to achieve this without high performing individuals coming together to work as a team to make a difference for our stakeholders – readers, colleagues, and advertisers. Their drive and desire to give their best have made it possible. Besides that, we also value mentorship and career progression for everyone. Keeping abreast with times and trends is important too. We aim to produce content that is relevant to the times we are in. It's easier said than done as we need to be sensitive to the changes in sentiments, behaviours, and consumption needs of the population."
Sharing more about Daily Vanity Malaysia, Kristen Juliet Soh said, "We started Daily Vanity Malaysia in 2021, hoping to replicate the success we enjoyed in Singapore, while making sure we stay attuned to hyperlocal trends and needs. We have received substantial positive feedback and support even though the publication is still in its infancy, and our traffic has been growing rapidly – so I think we're off to a very good start!"
As one of the most established beauty publications in Singapore, Daily Vanity has enjoyed strong recognition and support and has been leading in terms of web traffic in the industry for many years. Daily Vanity exemplifies a publication ready for the ever-changing demands of media during a time of pandemic.
Daily Vanity is committed to sharing truthful, helpful content to further cultivate trust among their readers, with an aim to become Southeast Asia's #1 beauty media in the mind of readers and advertisers.
About Daily Vanity
Daily Vanity is the #1 beauty media in Singapore and a fast-growing start-up. Winner of the Fastest Growing Online Beauty Magazine at the Global Brand Awards 2019 and Runner-up for Best Lifestyle/Leisure News Site at the The Drum Online Media Awards 2020, Daily Vanity has grown from strength to strength since its founding in 2012.
More recently, Daily Vanity clinched the titles of "Best Beauty e-Magazine – Singapore" and "Fastest Growing Beauty e-Magazine – Malaysia" in 2021.
With more than half a million viewers per month, Daily Vanity is a reliable media resource for beauty novices and beauty enthusiasts alike. The site has content for everyone regardless of age and spending preference.
The publication is trusted by their readers, which led them to gaining trust from various luxury skincare brands, dermatologist brands, mass brands, and small beauty business owners.