Costa Coffee Launches Mouthwatering 2016 Christmas Menu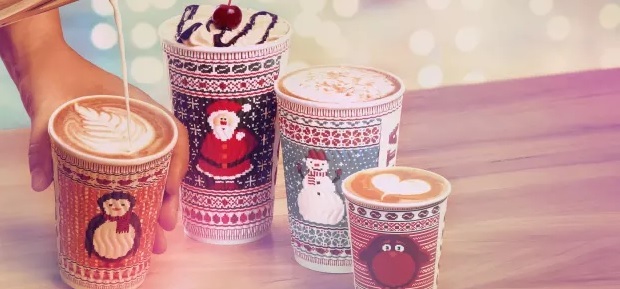 The nation's favourite coffee shop, Costa Coffee, unveils its full-on festive new limited edition Christmas menu, now in-store. From stand-out scrumptious coffee options and utterly decadent hot chocolates to a brand new Christmas sarnie that will rival your mum's roast lunch and an amazing cake selection – Costa is serving up a festive feast!
The limited edition Christmas menu has been months in the making, crafted with lashings of festive cheer and led by the Costa Coffee innovation team who tasted and tested hundreds of festive creations before finalising Costa's most fabulous Christmas menu yet!
Customers will be treated to an all-out Christmas drinks menu, including two new twists on our classic lattes – the Honeycomb Latte and Amaretti Latte. The menu will also include returning favourite drinks such as the Salted Caramel Cappuccino, the classic Gingerbread Latte (with everyone's favourite mini Gingerbread Man making a welcome return!) and warming Hot Spiced Apple.
Hot chocolate enthusiasts rejoice! As part of its hot chocolate offering, the master baristas at Costa are partnering with Master Chocolatiers, Lindt, this Christmas. The partnership will see Costa become the only place on the high street to offer Lindt Hot Chocolate as part of its limited edition menu. The velvety consistency and heavenly flavour will not disappoint.
Other options include the newly crafted Toasted Marshmallow Hot Chocolate as well as the Mint Hot Chocolate (featuring a miniature candy cane) and Black Forest Hot Chocolate, both back by popular demand.
The food menu is also a delight awaiting Christmas shoppers. The new Turkey Feast Sandwich is set to rival the heartiest of Christmas sandwiches, featuring juicy British turkey breast, Cumberland sausage and Beechwood bacon, topped with stuffing, mayonnaise and cranberry sauce between two slices of malted bread. Another new addition to the savoury menu, the Prawn & Rocket Sandwich is composed of plump prawns in a lemon mayonnaise and fresh rocket leaves sandwiched in oatmeal bread. Returning classics to the savoury menu include the Pigs in Blankets Panini, Turkey & All The Trimmings Panini and the Brie & Bacon Panini – now with an added festive twist of cranberry sauce.
The Florentine Topped Christmas Loaf Cake will also join a festive line up including a sumptuous Chocolate & Salted Caramel Triple Layer Cake (10p of each slice sold will go to the Costa Foundation)and the show-stopping Golden Velvet Hazelnut Slice. Also among the new Christmas sweet treats is the Gluten-free Vegan Christmas Cake Slice, which is an ideal menu choice for Coeliacs and those following a gluten-free diet. Of course, Christmas wouldn't be Christmas without the delicious Costa Mince Tart to accompany any of the festive drinks range.
The Costa Christmas range arrives in stores nationwide from Thursday 3rd November 2016
Christmas drinks menu
Lindt Hot Chocolate NEW!
Mint Hot Chocolate
Orange Hot Chocolate Back by popular demand!
Salted Caramel Cappuccino
Honeycomb Latte NEW!
Amaretti Latte NEW!
Black Forest Hot Chocolate
Toasted Marshmallow Hot Chocolate NEW!
Hot Spiced Apple NEW!
Gingerbread Latte
Christmas food menu (savoury)
Turkey Feast Sandwich NEW!
Prawn & Rocket Sandwich NEW!
Brie, Bacon & Cranberry Panini
Pigs in Blankets Panini
Turkey & All The Trimmings Toastie
Gluten-Free Turkey, Bacon & Cranberry Wrap NEW!
Christmas food menu (sweet)
Mince Tart NEW!
Gluten-Free Vegan Christmas Cake Slice NEW & GLUTEN FREE!
Florentine Topped Christmas Loaf Cake NEW!
Chocolate Truffle Yule Log Loaf NEW!
Chocolate & Salted Caramel Triple Layer Cake NEW!
Snowy Forest Slice NEW!
Golden Velvet Hazelnut Slice NEW!
Holly Berry Bakewell Tart NEW!
Christmas Cornflake Crunch
Belgian Chocolate Mallow Pud NEW!
Merry Berry Brownie NEW!
Christmas Jumper Iced Gingerbread Biscuits
Penguin Lollipop Biscuits
Gingerbread Muffin