Costa Coffee Grants Christmas Wishes with Festive Drinks Menu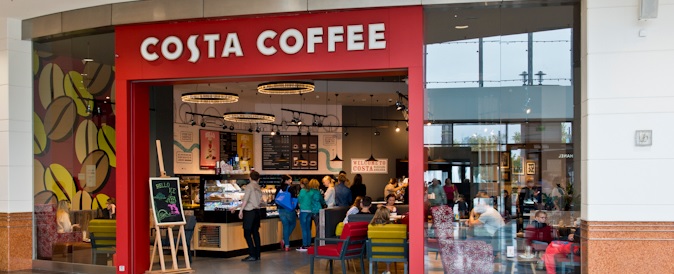 New flavours Caramelised Orange & Cream and Hazelnut Praline & Cream join the returning Gingerbread & Cream – all available as a latte or hot chocolate
Little Luxuries launch – cortado cups of thick chocolate or caramel under 200 calories
Fan-favourite Black Forest Hot Chocolate back by popular demand, served with cherry sauce
Menu in stores nationwide from Thursday 1 November, along with the festive food menu and legendary limited-edition Christmas cups
The Nation's Favourite Coffee Shop*, Costa Coffee, is launching a magical new Christmas drinks menu to mark the start of the festive season. In stores from Thursday 1 November, Costa's Christmas drinks are hotly anticipated each year and the 2018 creations are sure to spread Christmas cheer.
Festive Flavours | Delicious new Christmas creations
Costa Coffee introduces two new flavours to the festive menu as Caramelised Orange & Cream and Hazelnut Praline & Cream are joined by returning favourite Gingerbread & Cream, all of which will be available in both a latte and a hot chocolate (cream topping optional).
The Caramelised Orange & Cream Latte and Hot Chocolate are inspired by the iconic food pairing of chocolate and orange. The warming drinks are made using Costa's signature blend of hot chocolate combined with zesty orange syrup, topped with cream and crowned with a caramelised orange slice.
Continuing the chocolate theme are the Hazelnut Praline & Cream Latte and Hot Chocolate, another classic flavour combination. Poured over a layer of chocolate and blended with rich hazelnut syrup, these delicious drinks are topped with cream and sprinkled with a chocolate truffle crumb. Returning to menus will be the Gingerbread & Cream Latteand Hot Chocolate, decorated with a cheeky, mini gingerbread.
Little Luxuries | Small in size, big on festive indulgence
Christmas might be about giving to others, but it's also a time for people to spoil themselves, with Costa's Little Luxuries the perfect pick me up. The Luxury Chocolate and Luxury Caramel are rich, yet petite cortado cups of thick chocolate or caramel, both under 150 calories!
Fan Favourite | The return of a crowd-pleaser
Just as children all over the world get excited at the prospect of Santa Claus arriving at this time of year, Costa customers are bound to be equally as thrilled at the return of the Black Forest Hot Chocolate, which comes complete with cherry sauce. Joining the fruity, chocolatey treat as a returning drink from last year's menu is the warm Hot Spiced Apple.
Winter Character Roast | Limited-edition blend
Variety is the spice of life, and Costa customers can add a flavourful festive twist to their favourite coffee this Christmas with the Limited Edition Winter Character Roast. Rich and wintery, the blend uses winter berries, dark cocoa and warming cinnamon, which can be added to any coffee for an extra 25p. To give customers an extra helping of Christmas sparkle this season each Winter Roast blend will be available as a Shimmer Coffee to give a festive golden glow to every sip.
Costa Coffee's new Christmas drinks menu is in stores from Thursday 1 November and will be joined by the festive food menu and Costa's legendary limited-edition Christmas cups.
Source: Costa coffee