​Costa Coffee Announces Coconut: A Fresh Dairy-Free Alternative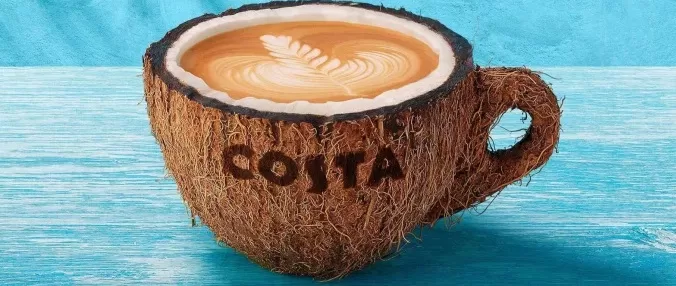 The nation's favourite coffee shop, Costa Coffee, has introduced coconut across its stores nationwide. In celebration of the new addition, Costa has released an exclusive, vegan-friendly hot drink; the Coconut & Vanilla Latte. The drink showcases the perfect partnership of Costa's Mocha-Italia blend and the light, fresh taste of coconut.The limited edition drink is full of flavour – the perfect choice to lift the mood this January.
The introduction comes as customer demand for an additional alternative-milk to the range increases. The delicious, light flavour is the latest innovation on Costa's drinks menu andhas been specifically developed for use in coffee. The addition of soya creates a rich and glossy microfoam; perfect for the creation of latte art.
Coconut offers a smooth, delicious and refreshing flavour for anyone looking to try something different. It is a great option for those looking to watch their waistline, with a similar calorie count to skimmed milk. In addition, coconut is perfect for those with dietary needs and ideal for those who follow a vegan or vegetarian diet.
Costa will also now offer a Coconut Flat White and a Coconut Mocha, which will be available for £2.95. Additionally, coconut will be available in Costa's core range of drinks, including the Cappuccino, White Americano and Cortado, for an additional 45p.
Russell Braterman, Global Innovations Director at Costa, said: "January is the start of fresh beginnings for many and it's often a time when people are looking to try something new. Opting for dairy-free alternatives and natural flavours are growing trends and coconut is becoming more and more popular. Coconut complements coffee perfectly and offers a fantastic alternative choice for our customers. We hope to not only encourage customers to try new and exciting ways to enjoy great coffee – but to escape the depths of UK winter with a deliciously smooth tasting coffee experience too."
Costa is also adding a new range of delicious items to its food menu including the Orange Polenta Cake, a mouth-wateringly moist maize flour sponge made with orange curd and topped with candied orange shreds. The new Banana & Pecan Bread, Salted Caramel Melting Middles and Gingerbread Latte Loaf Cake are all additional sweet treats for those looking for a January lift.
Costa is also releasing a Pretzel and Wow Butter Slice, which contains all the flavour of peanut butter without the nuts. The vegan-friendly Paradise Slice will also entice customers, featuring coconut and vine fruit bound in coconut cream and topped with rich dark chocolate, dried raspberry pieces and nibbed pistachios.
All the new products will be available at Costa stores across the UK from 4 January 2018.
—–
Full list of Costa Coffee new menu products includes:
Drinks Menu
Coconut & Vanilla Latte – from £2.95 NEW!
Food Menu
Gingerbread Latte Loaf Cake – from £2.30 NEW!
Banana Cake – from £2.45 NEW!
Orange Polenta Cake – from £2.45 NEW!
Pretzel and Wow Butter Slice – from £2.00 NEW!
Paradise Slice – from £2.00 NEW!
Salted Caramel Melting Middle Muffin – from 2.00 NEW!
All new menu items are subject to availability.