Common Types of Personal Injury Cases in Massachusetts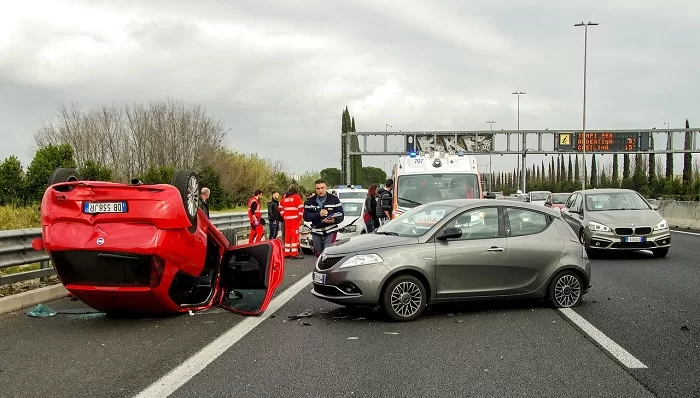 The fact that mishaps from an injury or accident often do not diminish the resulting pain and confusion. Chances are, if you wish to protect your legal rights after an accident, you have a few questions regarding the merit of your personal injury claim in Massachusetts. The best place to begin is with a licensed personal injury attorney who has been catering to seriously injured clients for over 25 years.
Personal Injury Lawsuits – The Basics
A personal injury lawsuit is defined as a legal dispute that arises when someone is harmed or injured by another individual who might be legally liable for that harm.
A personal injury case is a formal civil court procedure in which the person, represented by an attorney, who has been harmed is seeking compensation for their injuries. The purpose of the court session is to determine who is legally at fault. The conclusion of the personal injury case may come through a court judgment, or a more informal settlement agreed upon before the lawsuit even reaches a court.
A Formal Lawsuit – civil cases differ from criminal cases. Civil cases are typically initiated by a private individual (and not an agency or division of the government) that files the lawsuit with the appropriate jurisdiction. The personal injury claim is a legal procedure that can be used to hold someone else accountable if their irresponsible, careless, or negligent chosen actions result in an injury to another.
An Informal Settlement – the reality is that most legal cases regarding who is at fault for causing an injury or accident are resolved through an informal settlement. A settlement is negotiated amongst those who are personally involved. These include the parties to the lawsuit, attorneys, and insurance companies, among others.

This resolution before trial (aka, the settlement) is a managed compromise. Upon agreement, the terms are reduced to writing and executed by the parties. An informal settlement typically precludes the parties from seeking further legal action as they agree to financial compensation.
The above personal injury case potential resolutions represent two extremes. Alternative dispute resolution options – like arbitration and mediation, fall somewhere between a formal lawsuit and an informal settlement.
In general, the responsible person's insurance company will compensate the injured person to cover the costs of –
Medical bills
Pain & suffering
Ongoing medical expenses.
If the personal injury case is a medical malpractice claim, a personal injury attorney will work with insurers as well as lawyers who represent the hospital or medical facility.
The Statute of Limitations & Personal Injury Claims in Massachusetts
State laws determine the amount of time a plaintiff must file a lawsuit. In the legal arena, this restriction for time is known as a statute of limitations. This law is designed to prevent civil actions from lingering as a potential lawsuit for what would be, effectively, forever. It also encourages people to move forward and beyond civil claims, given time.
From a general perspective, the statute of limitations-clock begins when the injury occurs or when the plaintiff discovers the injury. Within this defined timeframe, a licensed Massachusetts attorney must initiate a personal injury lawsuit. Once the lawsuit has begun, the time limitations are no longer applicable.
Statutes of limitations are set forth by state lawmakers. The time allowed to file a lawsuit may vary between states and even by the type of injury within the same jurisdiction.
The Commonwealth of Massachusetts has, for personal injury claims, a three-year statute of limitations. So, a plaintiff has three years from the date the injury occurred to file a lawsuit in Massachusetts. In addition, legal malpractice provides for the same three-year time limit to initiate a legal claim.
Note that the state statute of limitations brought against the Commonwealth of Massachusetts (or any other town, city, or local government) is also three years. However, Massachusetts General Laws, Chapter 258, Section 4 notes in a presentment rule that the government entity must be served within a two-year timeframe. This essentially complicates the manner in which someone serves a government entity.
The Laws that Govern Personal Injury Cases
Most areas of the law source their relevant rules in state statutes (which, for criminal cases, would be the penal code). However, personal injury law has been developed through court decisions and legal scholar theses.
Many states have proactively sought to summarize the state's development of personal injury law within written statutes. However, from a practical perspective, the primary source of law for legal claims resulting from an accident or injury is still relevant court decisions.
Common Types Of Massachusetts Personal Injury Cases
Personal injury claims are heard thousands of times each year. Some are settled informally, while others reach the inside of the courtroom to allow a judge to make the final decision regarding the case. Some personal injury lawsuits can result in a significant amount of money to compensate victims for their injuries and hardships.
1. Auto Accident Injury
Recent statistics note that there are more than 228 million drivers in the United States, of which nearly 5 million were driving in Massachusetts. According to the Bureau of Transportation Statistics, there were 2,740,000 injuries in the United States from motor vehicle crashes in 2019.
The National Highway TSA (Traffic Safety Administration) notes that, in 2020, more than 38,600 people died in a motor vehicle accident, which is a 7.2% increase from the previous year.
On a state level, according to the Federal Highway Administration within the USDOT, Massachusetts recorded –
334 fatalities for 2019.
2,725 serious injuries for 2019.
If you've been injured or hurt in a car or motor vehicle accident and believe another person's recklessness or negligence caused the accident or car crash, it is essential to consult with a licensed attorney as soon as you can.
3. Slip and Falls
A "slip and fall" is another common type of personal injury lawsuit. According to the CDC – the Centers for Disease Control and Prevention, more than 800,000 individuals are required to be hospitalized annually due to a slip and fall injury. Approximately 3 million seniors visit emergency rooms for treatment due to a slip and fall. Note once you have a slip and fall, you have double the chance of falling again
Approximately 3 million seniors visit emergency rooms for treatment due to a slip and fall. Note once you have a slip and fall, you have double the chance of falling again!
And, about 20% of those who suffer a slip and fall injury will face a serious injury, which may include a head injury or broken bones, etc.
Many "slip and fall" accidents occur due to another party's negligence. The plaintiff involved in a personal injury claim must be able to provide evidence that someone else has been negligent, and their recklessness has caused an injury. The following suggests how to determine liability and negligence –
First, an individual who was injured.
The victim was owed some duty of care by the owner of the property that injured them.
The property owner violated their mandated care.
The victim suffered harm and injury due to this negligence.
The plaintiff can seek damages to compensate for the defendant's negligent actions or even inaction.
3. Medical Malpractice
The reality is that medical malpractice is a more common occurrence than most people think. While medical professionals take oaths to do no harm, there are instances where they fail to meet this responsibility.
It happens when a medical or healthcare provider –
Fails or neglects to give appropriate medical care/treatment, such as –

A missed or delayed diagnosis
Injuries sustained in childbirth
Medication, surgical, and anesthesia errors
Anesthesia errors
Surgical errors

Omits proper actions.
Offers deficient medical care that results in injury or death to the patient.
According to The National Practitioner's Data Bank, there were more than 35,000 Adverse Action Reports in 2021 in the United States. An Adverse Action Report is defined as the protocol that is used by state agencies or health care facilities/organizations to report an adverse action against a medical professional.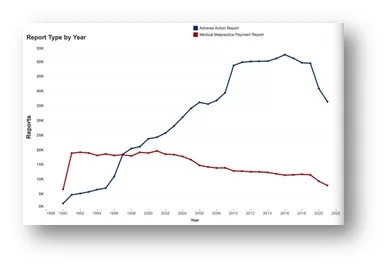 Source US-DHHS
In Massachusetts in 2021, there were more than 500 Adverse Action Reports related to medical malpractice.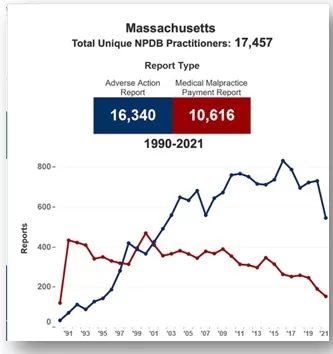 Source – US-DHHS – National Practitioner Data Bank
Injuries that result from a medical malpractice case are often life-altering. As such, it is important for victims to seek proper compensation for the hardships created by the incident.
4. Workplace Injuries & Accidents
The National Safety Council notes that about every 7 seconds, someone working is injured on their job. Many workers who receive injuries while working choose to file a personal injury claim with a licensed lawyer.
According to the US Department of Labor's BLS – Bureau of Labor Statistics, there were 2.7 million workplace illnesses and injuries (non-fatal) in 2020.
Source – USDOL – BLS
Using the most recent available data in the Commonwealth of Massachusetts, from 2019, there were more than 64,000 non-fatal workplace injuries recorded that year. The following table details the statistics for workplace fatalities in Massachusetts from 2016 through 2020.

Source – MassCOSH& Mass AFL-CIO
Often, a business' negligent actions (or inaction), when it comes to the safety of their workers, can result in terrible consequences and life-altering injuries.
If injured on the job, seek medical attention as soon as possible. Speak with your supervisor and begin to document the incident. –
Take pictures of the scene, injuries, and anything else that may be relevant.
Gather contact information for those people who are involved or saw what happened.
Obtain a copy of the supervisor's report regarding the incident.
If, for some reason, you cannot document the scene, ask a colleague to help because the more information that is gathered, the greater chance of a successful case. Speak with a personal injury lawyer who can determine the facts and seek the compensation you deserve.
5. Wrongful Death
A wrongful death lawsuit is a legal process that allows a loved one or family member to sue for the negligent actions of another person or business, or government entity. Mass General Laws – ch. 229, § two is the legislation governing a wrongful death claim in the state.
The latest data and information extracted from the Centers for Disease Control shows that accidents are the third leading cause of death in Massachusetts (2017). That year, more than 3,800 deaths were attributed to accidents in the state.
After learning of the unexpected loss of someone they love, family members, and loved ones, they shouldn't be burdened with the victim's medical expenses or burial costs if the death resulted from someone's negligent actions.
6. Product Liability 
 A product liability claim occurs when the seller (or manufacturer), through a design flaw or manufacturing defect, injures the consumer who chose to buy/use the product.
Examples of a product liability lawsuit are as follows –
In 2018, a jury ordered Monsanto – the makers of Roundup Weed Killer to pay nearly $290 million to a school maintenance grounds-worker who dies of cancer after using Roundup for failing to warn the plaintiff that the chemicals in Roundup may lead to a cancer diagnosis.
In 2020, Johnson & Johnson agreed to pull its talc-based baby power sales in the United States as it faces almost 20,000 cancer-related lawsuits. Since 2017, J&J has been ordered to pay over $1 billion in verdicts by juries, including a solitary verdict in 2019 for $325 million.
It is important to protect your legal rights after a defective product has injured or caused you harm. As noted above, product liability and personal injury claims are governed by Massachusetts' Statute of limitations. It is vital to speak with a legal professional who can help preserve your rights.
7. Assault
Personal injury cases are not always the result of an accident. Many assault victims choose to file a personal injury lawsuit in a civil court that requests appropriate compensation for the damages and injuries caused by the assault. According to the United States Department of Justice's BJS (Bureau of Justice Statistics), there were more than 6,000,000 violent incidents in the United States (2018).
Further, in 2018, there were 2,668,920 crimes of assault in the US, broken down as follows (BJS P.15) –
Aggravated Assaults – 694,260
Simple Assaults – 2,058,870
Massachusetts defines assault and assault and battery differently. As noted in MA Gen Laws ch 265 § 13A
Assault in Massachusetts is defined as an attempt to use physical force against someone else or intending to use immediate physical force against someone else.
Assault & Battery in Massachusetts is defined as intentionally touching someone that causes harm or without the consent of the individual.
Assault, as well as assault & battery consequences, begin as misdemeanors. However, penalties and consequences may increase based on essential case aspects. It begins with the severity of the harm and includes, in part, the following –
Did the perpetrator target the victim specifically?
Is there a restraining or protection order in place at the time of the incident?
Was a dangerous weapon used as part of the assault?
Does the defendant have prior convictions on their record?
Did the assault lead to a felonious action?
Have you been injured in Massachusetts as the result of the recklessness or negligence of someone else?
Massachusetts law permits those injured by negligence or recklessness to seek financial compensation for damages in a civil court. Personal injury cases have the potential to get quite complicated, which is why it is important to have a team of attorneys working for you who have been catering to seriously injured clients for over 25 years.