Close to 200 students participated in the programme which includes wearable or portable items with contactless payments capabilities and a mobile app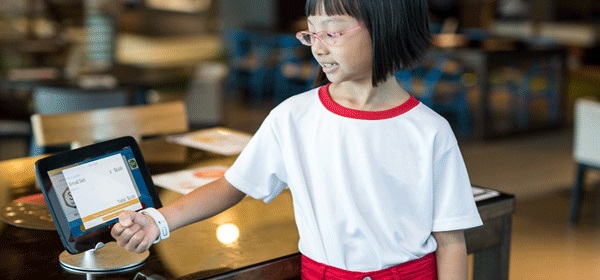 POSB announced the successful trial run of a global first – the POSB Smart Buddy programme. The ground-breaking programme – the first of its kind – creates a contactless payments ecosystem within the school to help cultivate sensible savings and spending habits among young students in an interactive, engaging manner. Its accompanying mobile app allows parents to remotely manage their children's spending and savings, while empowering students to monitor their own finances.
The POSB Smart Buddy programme uses portable and wearable devices such as a watch or a student card and modifies them, so they have contactless payment capabilities. The programme also comes with a mobile app which tracks their expenses and savings in real-time, and allows parents to pre-set daily allowances for students. From July this year onwards, some 130 students from Anchor Green Primary School received a customised POSB watch, while some 60 students from St. Joseph's Institution Junior (SJIJ) tested their modified student concession card. Students were able to use these items to make contactless purchases in their school canteen or bookstore.
In Anchor Green Primary, the schools' canteen and bookstore vendors were set up with contactless terminals with which students could use their POSB Smart Buddy watches to make purchases. A kiosk was also set up at the school canteen, allowing students to scan their watches so they can instantly check on their remaining allowance for the day. Students who are given partial access to the accompanying app by parents can also check on their savings and spending balances. In addition, the POSB Smart Buddy watch also doubles as a fitness tracker, helping the child track their steps and calories burnt for the day.
Benefits of the POSB Smart Buddy programme include:
1)    Hands-on learning of financial management at an early age: The programme's uniqueness lies in its ability to provide young students with a real-world and hands-on interactive learning tool that helps them understand the basics of financial management. Parents can give their child partial access to the app, where their child can view their own savings and spending patterns in real-time. Finally, the child can also choose to spend part of their allowance on the POSB National School Savings Campaign's Smiley Stamps at their school bookstore. Such purchases will be automatically logged as "savings".
E. Foo, 7 years old, who is taking part in the programme trial at SJI Junior said, "Buying items with my student card is very fun and easy. If I need anything from the canteen and bookstore, I can just use my card to pay. I especially like buying Smiley Stamps and seeing my savings build up day by day!"
2)    Greater convenience for parents, coupled with security: Using the programme's app, parents can link their savings account with the app and effectively manage their child's spending at school by setting a daily allowance limit in advance. They can also view their child's expenses and savings in real-time via the accompanying app, as well as increase their child's daily allowance limit instantly – no more rushing to school to hand their child emergency spending money. In addition, parents can choose to automatically transfer the accumulated savings into their child's POSBkids account. If the child loses their watch or card, parents can remotely disable the devices in an instant.
Ms. S.K. Kok, whose sons participated in the programme, appreciated the ease of using the app, "It's just so simple and convenient. I used to have to collect coins to ensure my children have their allowance for the day but with POSB Smart Buddy's app, I simply key in the allowance to be allocated to them that day. I also share with my sons the savings they've managed to accumulate for the week and encourage them to save more."
3)    Encourage familiarity and experimentation with wearable tech and contactless payments:  The POSB Smart Buddy programme takes an innovative approach to getting students familiarised with relatively sophisticated concepts such as wearable tech and contactless payments at a young age. Furthermore, the payments ecosystem set up within the school provides an environment where students are introduced to how such technology works in an intuitive manner. The programme is very much in line with Singapore's vision of becoming a Smart Nation, to harness data and technology to enhance our lives.
Said Jeremy Soo, Managing Director and Head of Consumer Banking Group (Singapore), DBS Bank, "The introduction of the POSB Smart Buddy programme – a global first – carries on a long and proud POSB tradition of introducing innovative savings initiatives to generations of Singaporeans. From creating a nationwide savings programme for students, to being the first to provide a rewards programme for national servicemen, our aim as Singapore's oldest and most loved bank is to always remain at the forefront of providing pioneering financial solutions that cater to the evolving needs of Singaporeans."
"The most exciting part of POSB Smart Buddy is the level of enthusiasm and creativity it has sparked among the students. We had some young students present us with a long list of ideas for customising and improving the watch/card and the app. POSB Smart Buddy is highly adaptable and has a great number of potential applications. Future iterations may include the ability to track diets, pay for transport charges, GPS tracking for security purposes, making the programme even more holistic. The positive feedback we've received on POSB Smart Buddy has been tremendous and look forward to rolling it out to even more schools in future as part of the POSB National School Savings Campaign."
Mr. Tan Kok Yam, Head of Smart Nation Programme Office, said, "We are very encouraged by the collaboration between POSB and schools. This is a great example of how a good idea can arise organically, be tested and refined by users, with the eventual aim of being put to practical use. In this case, using wearable technologies, parents can be given greater convenience and peace of mind, while kids can learn about financial management and the virtue of thriftiness."
Feedback from students and parents who took part in the programme was roundly positive, with most expressing interest in continuing participation. Among the highlights cited by parents were the ability to increase the daily allowance limit of their child in case of emergency, and to monitor their child's spending and savings in real-time.
POSB Smart Buddy is also part of a ground-up effort by the bank to drive cashless payment behaviour in Singapore – something the bank is uniquely positioned to do given that it banks most of Singapore. POSB does so by providing Singaporeans with an entire ecosystem of options to meet various payment needs and preferences. POSB/DBS was one of the first in Singapore to adopt all three mobile payment platforms – Apple Pay, Samsung Pay and Android Pay, and was the first bank in Singapore to launch a mobile wallet DBS PayLah!.
Additional quotes
Mr. Chong Chee Wee, Subject Head of Environmental Education at Anchor Green Primary said, "We believe the programme is beneficial as it allows the students to learn the importance of managing their finances wisely in a new and fun way. It also helps to cultivate the value of thrift and financial literacy at a young age."
Ms. Julie Oaw, Canteen Operator at Anchor Green Primary said, "One thing I like about the programme is that I can easily monitor my sales and what's more my sales proceeds are automatically transferred to my savings account the very next day."
A Primary 4 student who had taken part in the trial at Anchor Green Primary said, "I like to use the POSB wearable band because it's very useful.  You don't have to take out your wallet every time you want to pay for your meals and the queue is so much faster at the school canteen."
About POSB
A part of the DBS Group, POSB is the largest and oldest local bank in Singapore with over 4 million customers. Having served generations of Singaporeans for the past 139 years, it is known as the "People's Bank", and prides itself on being "neighbours first, bankers second".
With a good understanding of Singaporeans through the years, POSB offers products and services that are relevant to the savings, borrowing, investment and insurance needs of all Singaporeans. With over 50 branches conveniently located islandwide, and over 1,000 ATMs and Cash Acceptance Machines across the island, POSB's distribution network is the largest in Singapore.
POSB acknowledges the passion, commitment and can-do spirit in each of its staff. For more information, please visit www.posb.com.sg