Cleo – Fastest Growing Fintech Brand, USA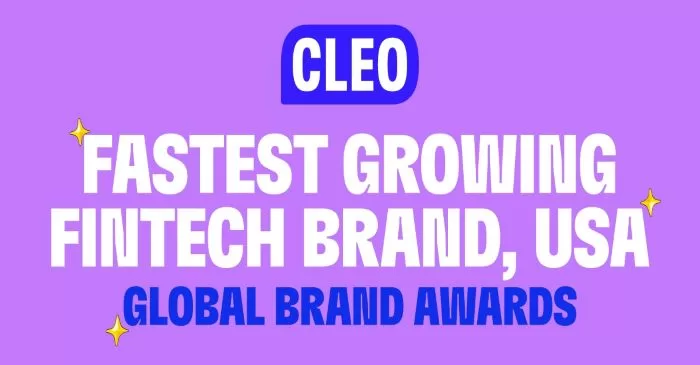 Cleo was launched in 2016 because banking is boring and broken. Cleo's not a bank — she's got your back.
Using simplicity and humor, she's helped 4 million people improve their relationship with money and financial health.
The core Cleo product connects to users' bank accounts and generates smart, proactive insights that help users see their spending habits. Our in-house machine learning, natural language processing and team of stand-up comedian writers enable Cleo to talk to users like a friend. Cleo understands their financial health and risks, and she helps them reach their goals by offering support and smart financial products.
There are 30+ apps that solve a similar problem. So why are 4M+ people choosing Cleo?
It's because of the experience and the promise of a different, more inclusive way to manage your financial life. Cleo's more than a bunch of features. And that's our USP — our personality as a product, as a brand and as a company.
All of this adds up to a unique relationship we have with our users: We're trusted by them. Cleo is their coach and confidant, offering personalized products and advice. What emerges from this daily personal interaction is impossible to replicate with traditional UI. It's a completely new type of relationship, one that brings economic and emotional value to a user's life. A type of relationship that most people come to love.
We're intentional about building a supportive community where people feel safe to talk about their money. Our campaigns spark conversations amongst our users, removing the shame from debt, and reminding people that they're more than their money.
In 2021, we:
Reached 4+ million users
Increased our average daily user sessions
Increased time spent on the app
Increased conversion from free to paid users within one month of signing up
Launched our award winning website (and pizza cursor)
Internally, we:
Now employ 

120+ people across the UK, EU, Australia and USA

Increased women in technical roles at Cleo by 10%
Doubled the size of our customer champions team, and started offering around-the-clock support to our users
Are currently the only fintech to open source all salary bands and career levels
We're thrilled to be recognized as the Fastest Growing Fintech Brand, United States, in the Global Brand Awards. 2022 is set to bring Cleo and our community rapid growth, which means helping more people on their journey to financial health.