Classico Presents Riserva – A New Premium Line of Pasta Sauces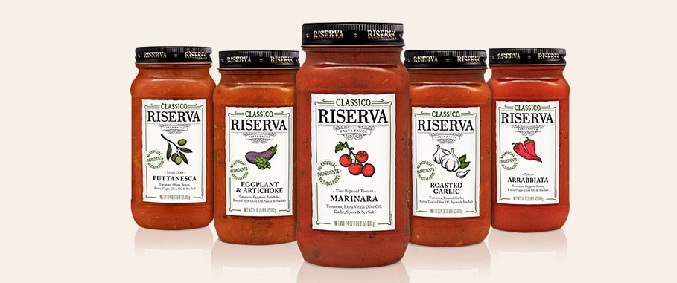 Known for crafting authentic-tasting Italian sauces, the Classico brand introduces Classico Riserva, a new premium line in its portfolio. Classico Riserva is the newest addition to the Classico line of pasta sauces and is available in five varieties including: Marinara, Eggplant & Artichoke, Roasted Garlic, Arrabbiata and Puttanesca.
The new Classico Riserva sauces are made with no artificial ingredients or added sugar. Vine-ripened plum tomatoes are picked at the peak of sweetness and are perfectly balanced with herbs and spices, extra virgin olive oil and a pinch of sea salt, then slowly simmered to perfection using Classico sauces' time-honored recipes. These simple, high-quality ingredients combine to give Riserva an exceptional taste and quality to elevate any dining experience.
"We have seen a trend across many categories including pasta sauce, where consumers just want the basics – no artificial ingredients but rather simple, fresh-tasting flavors," said Myrna Rexing, Brand Manager of Classico Sauces. "Classico Riserva delivers on that desire, with simple, high-quality ingredients that stay true to the Classico brand heritage of great-tasting Italian recipe pasta sauces."
A campaign, "Open up a Bottle of the Good Stuff", by McCann New York, supports the launch of the new Classico Riserva sauces. Giving a nod to cooks, food connoisseurs, and the sauces' quality ingredients, creative elements will liken opening Classico Riserva to that of opening a premium bottle of wine. The campaign will be supported with television, print and digital media, as well as public relations.
The new line of Classico Riserva sauces are available now at many grocery retailers, and will be available nationwide starting in May 2016 (MSRP: $4.99). Learn more at www.classico.com.
ABOUT THE KRAFT HEINZ COMPANY
The Kraft Heinz Company (NASDAQ: KHC) is the third-largest food and beverage company in North America and the fifth-largest food and beverage company in the world, with eight $1 billion+ brands. A globally trusted producer of delicious foods, The Kraft Heinz Company provides high quality, great taste and nutrition for all eating occasions whether at home, in restaurants or on the go. The Company's iconic brands include Kraft, Heinz, ABC, Capri Sun, Classico, Jell-O, Kool-Aid, Lunchables, Maxwell House, Ore-Ida, Oscar Mayer, Philadelphia, Planters, Plasmon, Quero, Weight Watchers, Smart Ones and Velveeta. The Kraft Heinz Company is dedicated to the sustainable health of our people, our planet and our Company. For more information, visit www.kraftheinzcompany.com