Chevrolet Bolt EV Will Debut At CES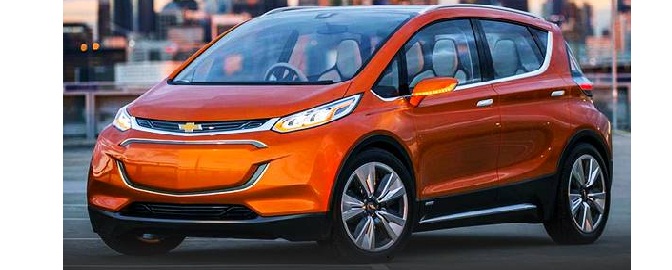 DETROIT – Chevrolet will unveil the 2017 Bolt EV at the International Consumer Electronics Show (CES) in Las Vegas on Wednesday, Jan. 6, and be the first auto brand to work with Facebook to debut a vehicle using Facebook Live.
With the addition of the Bolt EV to a lineup that includes the all-new 2016 Volt, 2016 Malibu Hybrid and Spark EV, Chevrolet will offer consumers more affordable, electrified vehicle options than any other major automotive brand – solidifying its position as the leader in electrification.
"The Bolt EV truly embodies the ingenuity that is at the core of everything we do at Chevrolet," said Alan Batey, president of General Motors North America and head of Global Chevrolet. "The technologies and the engineering expertise behind the Bolt EV are tremendous examples of the kind of innovation we intend to offer our customers, across an array of products at a tremendous value – something only Chevrolet can deliver."
Building on the electrification expertise established by the Volt, the Bolt EV is a game-changing, long-range electric vehicle. Not only will it deliver more than a GM-estimated 200 miles of range, it will break the affordability barrier with a price below $30,000 after full Federal tax credits.
The Bolt EV will also offer connectivity and infotainment technologies seamlessly integrating smartphones and other electronic devices important to today's consumers.
Chevrolet's four million Facebook fans will have the opportunity to be the first to experience the new Bolt EV – with both a live video of the debut as well as an immersive 360-degree interior video experience.
CES has served as the showplace for innovators and breakthrough technologies for more than 40 years, and has become a global stage where next-generation innovations, like the Bolt EV, are introduced to the marketplace.
Founded in 1911 in Detroit, Chevrolet is now one of the world's largest car brands, doing business in more than 115 countries and selling more around 4.8 million cars and trucks a year. Chevrolet provides customers with fuel-efficient vehicles that feature engaging performance, design that makes the heart beat, passive & active safety features and easy-to-use technology, all at a value. More information on Chevrolet models can be found at www.chevrolet.com.