Chad Richison's Hope Lodge was Built to Heal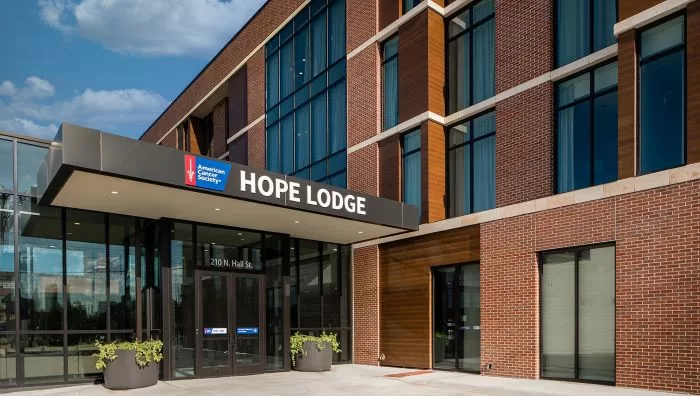 Few things in life match the unfortunate devastation felt when you or someone you love receives a cancer diagnosis. It doesn't care what you look like, where you live or how much money you make. Cancer can be a ruthless monster that gives no rhyme or reason as to the people it decides to infect.
For families who travel far from home to seek treatment, hard choices sometimes must be made. Making sacrifices at times like these can be devastating for patients, their treatment and their families alike.
Chad Richison's Game-Changing Investment
Paycom CEO Chad Richison has decided that Oklahoma families traveling from afar seeking cancer treatment for those they love deserve a little hope amid this deadly disease's despair. Richison also knows first-hand what it takes to fight cancer.
"I myself have had experiences in going through the process of fighting health concerns. I spent 45 days at Johns Hopkins in 2007, so I know what it's like to be away from family, to have to travel," Chad Richison commented on his deeply personal connection to these patients and the reasons for funding the Hope Lodge project.
To assist families who might not have the resources necessary, Chad Richison has funded Hope Lodge, a new temporary living facility for Oklahomans traveling to Oklahoma City seeking treatment for cancer as well as accommodations for the patient's family or caregivers. Hope Lodge is a community service deployed by American Cancer Society that offers housing to people currently in treatment at an Oklahoma City hospital. Hope Lodge was built to ease the financial burden felt by the patient and those they love.
Here are three ways that Chad Richison and Hope Lodge will benefit those who have been dealt the unfortunate task of seeking treatment for their cancer far away from home.
Subsidizing Travel Costs
Cancer is an expensive disease to battle. Along with standard hospital bills, there are other charges that those diagnosed must manage. The principal hospital costs alone can be astronomical. Many people with cancer have medical expenses for things like:
Lab tests (blood tests, urine tests, etc., and are usually billed separately)
Testing room charges, equipment and multiple doctor visits from specialists who demand top dollar.
Imaging tests (like X-rays, CT scans and MRIs, and separate bills for radiology fees, equipment and the associated medicines).
Radiation treatments (implants, external radiation or both).
Prescription drug costs.
Hospital stays (which can include many types of costs such as drugs, tests and procedures as well as nursing care, doctor visits and consults with specialists).
Costs associated with surgery of any type.
Those are merely the list of expenses associated directly with a patient's treatment. In addition to those, some patients incur extra traveling expenses because it's both strenuous and usually impossible to physically travel back and forth between treatments. So, many must tack on finding a place to sleep which digs into the already strained finances.
With a laundry list of mounting expenses, sometimes patients have no choice but to forego the high cost of a hotel room and save money by sleeping in less costly places like their vehicle.
This is right where the Chad Richison Hope Lodge now steps in to offer patients and their caretakers subsidized pricing to make certain that these patients and their loved ones have a safe, comfortable place to rest and stay between treatments.
Hope Lodge Offers Community
When battling an illness as vicious as cancer, it does not only eviscerate your bodily health but also puts a strain on your mental health. Even though you might have a wonderful network of people acting as a support system like friends and loved ones, it can be beneficial to a patient's mental state to talk to others in the same position and important to socialize with those who are on a similar journey.
Hope Lodge will provide 34 patient suites for cancer patients and their caregivers. By creating a facility to house many patients in treatment at the same time, Hope Lodge provides the patients with a built-in community of cancer-overcoming guests. It will provide guests with close quarters and the ability to easily seek out one another's counsel or simply find a friend in the same boat with which to play video games or watch television.
Hope Lodge will offer cancer patients a spirit of community where they can be themselves and share their deepest thoughts and fears—in turn, creating lifelong friendships, increasing their metaphorical cheering section, and possibly even regaining the mental energy needed to keep going when you thought there was no more.
Providing Close Proximity to Those You Love
In the end, the most frustrating thing beyond the financial burden and the simple daily inconveniences is cancer's ability to segregate patients; and alienate them from their families. Richison knows the importance of a support system for a patient's positivity along with the need to keep an optimistic outlook when fighting a health concern.
Bottom Line
By curtailing the inflated cost of patients traveling to seek cancer treatment, offering patients an accessible community system of people in the very same predicament, and allowing enough space that family and friends can stay close, Chad Richison and Hope Lodge provide an unmatched gift and service to the future Oklahomans who find themselves in such a tough circumstance.
Hope Lodge will instill faith and a sense of hopefulness within these patients so deeply rooted that it would change the way they face the treatments and fight their cancer.