Carl Zeiss presents Compact Zoom lenses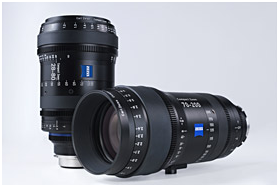 OBERKOCHEN/Germany, 03.04.2013.
Carl Zeiss presents its new zoom lenses from the Compact Family at the NAB Show 2013 (8-11 April) in Las Vegas at its booth C9043.Versatile, flexible and yet small and manageable – these are the characteristics that describe the Compact Zoom CZ.2 lenses. For the first time, the new
CZ.2 28-80/T2.9 will be presented in the US. The Compact Zoom Family currently comprises the CZ.2 28-80/T2.9 and the CZ.2 70-200/T2.9; the latter won the prestigious iF product design award in February 2013.
The ZEISS Compact Zoom lenses weigh just 2.5 to 2.8 kilograms (5.5 to 6.2 pounds). "For cinema zoom lenses, that is very little. The light and compact design is ideal for hand-held and steadicam shooting," explains Helmut Lenhof, Product Manager for the Compact Family in the Carl Zeiss Camera Lens Division. The lenses are suited for owner operators as well as episodic television series, documentary films, features and big-screen productions. Especially for shooting projects on a tight budget and time schedule, a ZEISS Compact Zoom lens is an extremely flexible solution. The zoom lens enables faster work and minimizes long set-up times.
Unlike zoom lenses for still photography, the ZEISS Compact Zoom cinema lenses each have three independently moveable zoom groups. This complex design prevents undesired focus shift and ensures optimal image quality. The lenses have a continuous high aperture of T2.9 over the entire zoom range.
Filmmakers can also look forward to a new shorter super wide-angle zoom lens designed for the owner-operator when the Compact Zoom series will expand to a family of three at the end of 2014. This new zoom lens will replace the Lightweight Zoom LWZ.2.
As members of the ZEISS Compact Family, the Compact Zoom CZ.2 lenses are the perfect complement to the fixed focal length Compact Prime CP.2 s well as other ZEISS cine-style lenses. Thanks to the exact color matching within the ZEISS cinema lens family, all lenses in this series can be combined flexibly with each other, with no visible deviations.
They cover full-frame format (24x36mm) and can therefore be used on HDSLR cameras, as well as professional HD video and cinema cameras. Being designed as full-frame lenses, they create a sweet spot effect and a uniformity of illumination when used on Super 35 sensors and are 'future-proofed' for next generation digital cinema cameras utilizing larger sensors.
Moreover, the interchangeable mount system makes it possible to use the lenses of the Compact Family on various camera models. The mounts currently available are for PL, EF, F, MFT and E. "Investing in this lens family is especially attractive for cinematographers and rental companies because the interchangeable mount also ensures the lenses' long-term compatibility in the rapidly changing camera market. For all relevant future camera models, mounts will be available which the user can exchange very easily," adds Lenhof.
Cinematographers can also rely on the quality features that ZEISS is known for:
The T* anti-reflective coating and the internal stray light reduction eliminate bothersome light reflections.
All Compact Zoom CZ.2 lenses have the same front diameter of 95 mm. The large focus rotation angle of almost 300 degrees and the calibrated focus scales ensure comfortable handling. All lenses in the Compact Zoom Family correspond to 4K production standards and cover a resolution of 4096 x 2160 with no distortion.
Australian cinematographer Warwick Brown has already used the Compact Zoom CZ.2 70-200/T2.9 for shooting a television production.
"I have just finished shooting a dramatic short film using this lens and the Compact Prime CP.2 Super Speed lenses together. They are a real winning combination. The zoom is sharp and handles highlights beautifully."
The delivery of the Compact Zoom CZ.2 70-200/T2.9 began in early 2013. The Compact Zoom 28-80/T2.9 will be available starting July. Carl Zeiss authorized dealers are now accepting orders on both zoom lenses. The suggested list price of each Compact Zoom CZ.2 lens will be €14,900 or US$19,900 (excluding VAT).
The lead time for the Compact Zoom CZ.2 70-200/T2.9 is currently six to seven months. A higher demand as expected led to these lead times. Carl Zeiss will increase its production capacities in order to reduce the lead time to three to four months.
Tobias Brandstetter
Camera and Cine Lenses
Carl Zeiss
Phone: +49 7364 20-4694
Fax: +49 7364 20-4045
E-Mail:  tobias.brandstetter@zeiss.com