British Airways Offers More Heathrow Fares At Under £40 Than Ever Before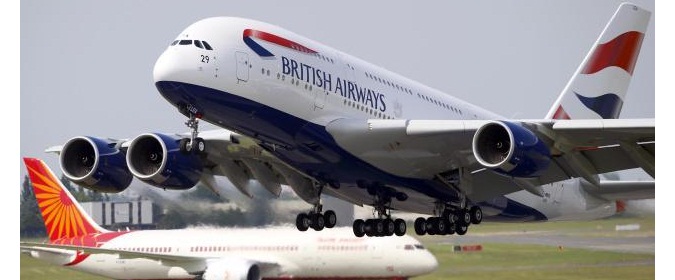 British Airways has this week announced it is offering customers more fares for under £40 than ever before from Heathrow this winter, with the most affordable starting from £30 or under, each-way. These routes include Luxembourg (from £27), Palma (from £28), Malaga (from £30) and Bilbao (from £30).
It's the first time in the airline's history that the company has offered such low fares on 40 of its winter short-haul routes from Heathrow, a firm demonstration of the carrier's commitment to affordable travel.
Adam Daniels, British Airways' chief commercial officer, said: "The bulk of our routes from Heathrow now have fares available for under £40 each way, which means that for less than £80, our customers can get to Europe and back for a holiday. At British Airways we offer great value for money with extensive flight schedules, centrally located airports, award-winning facilities from Terminal 5, generous baggage allowances, modern cabins and a truly British service style. British Airways is also the most punctual, major short-haul airline in London."
The new lower fares also extends to British Airways' Club Europe cabin with seats in business class starting from just £86 each-way on selected routes, which brings a return Club Europe fare in at just £172. Customers travelling in Club Europe also benefit from Club check-in, an increased baggage allowance, lounge access, priority boarding and complimentary food and drink.
The airline has also revealed its top tips for accessing the new fares and making the most of them:
Book early – Being organised and booking at the earliest opportunity generally allows you to access the lowest fares before they are snapped up.
Put down a deposit on your holiday so you benefit from the cheapest air fares – Booking early can be tricky if it's a big holiday and money is an issue, but British Airways Holidays offers customers the chance to pay a deposit of just £150 to hold your hotel and flights. This allows you to secure the whole trip with the cheapest air fares for less money, while also spreading the payments for your holiday.
Being flexible on your destination – British Airways offers short-haul flights to most of Europe's  major airports and if the lowest fare is not available through one airport, it may be available through another one that is located nearby. A good example of this is Milan, where Turin and Verona are not far away by car.
Combining a flight and hotel will usually work out better – If you have a hotel and  flight to book or hotel and car hire, booking the two as a package will help keep the overall costs down. British Airways Holidays can offer weekend flight and hotel packages using these low fares from £119 per person. A weekend in Malaga for two nights in January starts from £119 per person, and a weekend in Bilbao for two nights in January starts from £119 per person, including return flights.
Check out British Airways' low fare finder – On the British Airways website you can see the lowest fares by route and access them directly through the low-fare finder. This is especially helpful if you're flexible with your travel dates.
Hold the price for 72 hours – If you're organising a big trip and need to check the dates but don't want to miss out, British Airways offers the facility to hold flights for 72 hours for a deposit of just £5, which is refundable when you book.
Use Avios – British Airways offers customers the chance to part-pay for elements of their trip using Avios, from the meal on board the aircraft to car hire and hotel payments. Using Avios can help reduce the cost of a trip still further.British Airways has launched its multi-million pound investment plan to benefit its customers.
Four hundred million pounds will be spent on Club World with an emphasis on improved catering and sleep, and a new seat in the future. At Heathrow a First Wing check-in area with direct security and lounge access has launched, and lounges around the airline's network are to be revamped and improved. The Club Europe cabin has also been introduced on UK domestic services and all customers can look forward to the latest generation Wi-Fi across British Airways' long-haul and short-haul fleets over the next two years.