Bring In The New Year With Costa Coffee's New Drinks Menu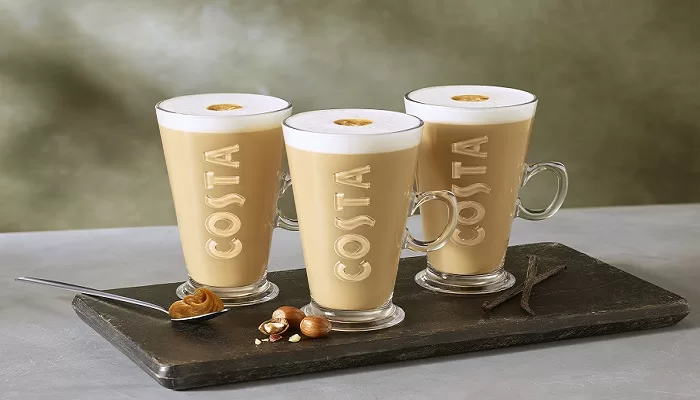 Costa Club app members can opt for a dairy alternative in their drink for FREE this season!
Try a handcrafted coffee from the new Costa+ range or pick up one of the new Aero® inspired Hot Chocolates available from Thursday 30th December 2021 in Costa Coffee stores nationwide
The festive season may be over, but the Nation's Favourite Coffee Shop*, Costa Coffee, is here to help ease January blues with some great offers for its Costa Club app users and also the launch of its new limited-edition drinks menu. Available to purchase from Costa Coffee stores nationwide from Thursday 30th December 2021.
Try a dairy alternative in your drink for free
Want to shake up your favourite Flat White order? Between Thursday 30th December 2021 and Thursday 3rd March 2022, Costa Club members simply need to scan their Costa Club app when ordering their favourite barista-crafted drink, to get the addition of a dairy alternative for FREE. Choose from either Coconut, Oat, Almond, or Soya from the new and tasty AdeZ range.
Using a reusable cup in-store? Costa Club users can earn two Beans when buying their favourite handcrafted drink in their reusable cup. The added incentive to go green ensures that those bringing in their own reusable can claim a FREE drink for every four drink purchases**.
NEW for January 2022!
The Costa+ range is made up of three delicious drinks that are not only vegan-friendly but are made up with a dairy alternative option – and are all enhanced with Vitamin B12, Zinc or Protein.
The Energiser Caramel Latte with Oat drink, Vitamin B12 & Zinc, a delightful take on a signature classic that has that extra hint of sweetness thanks to the use of the scrumptious caramel syrup.
The Energiser Vanilla Latte with Coconut drink, B12 & Zinc, made with vanilla syrup and a coconut twist for a little taste of paradise in every single sip.
For that smooth and nutty taste, there's The Power Hazelnut Latte with Almond drink and Protein, a perfect pick-me-up for any occasion and it features a delectable dash of hazelnut syrup.
For the Hot Chocolate fans there's  the new Aero® inspired Hot Chocolate duo. The Aero® Mint Hot Chocolate is smooth and creamy with a hint of mint, topped with a light dairy swirl, crunchy Aero pieces, and an Aero® Peppermint Bubble. Those that love a chocolate and caramel flavour combination must try the Aero® Caramel Hot Chocolate. A golden caramel flavoured hot chocolate, topped with a light dairy swirl, crunchy Aero® pieces, and an Aero® Milk Bubble.
A Costa Coffee spokesperson said: "It's a New Year and with that brings an abundance of exciting drink innovations for customers to enjoy. We hope a feel-good start can come from trying something new from our drinks range, whether it's the new Costa+ range or the delectable new Aero® inspired Hot Chocolates. We're also rewarding our Costa Club members with a FREE switch to any dairy alternative addition to their favourite barista-crafted drink."
Costa Coffee's 2022 limited-edition January drinks range will be available in Costa Coffee stores nationwide from Thursday 30th December 2021.
For more information on the new drinks menu at Costa Coffee this January and a list of participating stores visit: https://www.costa.co.uk/
For full T&Cs for the FREE AdeZ dairy alternatives for Costa Club members visit https://www.costa.co.uk/terms-and-conditions
For an update on the current restrictions in place across Costa Coffee stores, click here: https://www.costa.co.uk/withyou/store-updates
Source: Costa Coffee