Boeing South Carolina Begins Final Assembly of its First 787-9 Dreamliner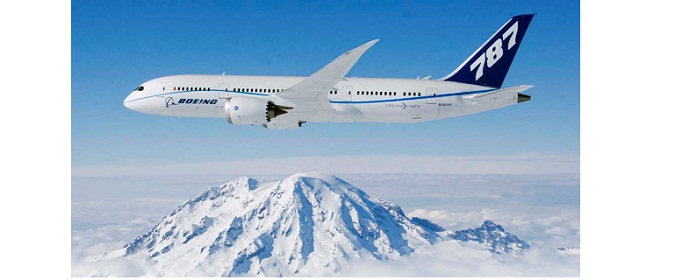 North Charleston site joins Everett, Wash., team in building newest 787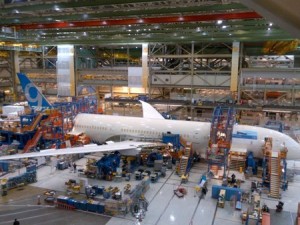 NORTH CHARLESTON, S.C., Nov. 24, 2014 /PRNewswire/ — Boeing (NYSE: BA) has started final assembly of the 787-9 Dreamliner at its South Carolina facility. The team began joining large fuselage sections of the newest 787 Nov. 22 on schedule, a proud milestone for the South Carolina team and another sign of stability for the program.
The North Charleston, S.C., site joins Boeing's Everett, Wash., final assembly, which began 787-9 production in May 2013. United Airlines will take delivery of the first South Carolina-built 787-9.
"Our team is well prepared and eager to assemble the 787-9 Dreamliner," said Jack Jones, vice president and general manager of Boeing South Carolina. "Achieving this significant milestone in our final assembly operations demonstrates that we're performing well here at Boeing South Carolina. We're looking forward to delivering our first South Carolina-built 787-9 to United Airlines, and delivering 787-9s as well as 787-8s to all our customers."
The 787-9 complements and extends the 787 family, offering airlines the ability to grow routes opened with the 787-8. With the fuselage stretched by 20 feet (6 meters), the 787-9 can fly up to 40 more passengers an additional 450 nautical miles (830 kilometers) with the same exceptional environmental performance – 20 percent less fuel use and 20 percent fewer emissions than the airplanes it replaces. The 787-9 leverages the visionary design of the 787-8, offering passenger-pleasing features such as large, dimmable windows, large stow bins, modern LED lighting, higher humidity, a lower cabin altitude, cleaner air and a smoother ride.
About Boeing
Boeing is the world's largest aerospace company and leading manufacturer of commercial jetliners and defense, space and security systems. A top U.S. exporter, the company supports airlines and U.S. and allied government customers in 150 countries. Boeing products and tailored services include commercial and military aircraft, satellites, weapons, electronic and defense systems, launch systems, advanced information and communication systems, and performance-based logistics and training.
Boeing has a long tradition of aerospace leadership and innovation. The company continues to expand its product line and services to meet emerging customer needs. Its broad range of capabilities includes creating new, more efficient members of its commercial airplane family; integrating military platforms, defense systems and the warfighter through network-enabled solutions; creating advanced technology solutions; and arranging innovative customer-financing options.
With corporate offices in Chicago, Boeing employs more than 169,000 people across the United States and in more than 65 countries. This represents one of the most diverse, talented and innovative workforces anywhere. Our enterprise also leverages the talents of hundreds of thousands more skilled people working for Boeing suppliers worldwide.
Boeing is organized into two business units: Boeing Commercial Airplanes and Boeing Defense, Space & Security. Supporting these units are Boeing Capital Corporation, a global provider of financing solutions; Shared Services Group, which provides a broad range of services to Boeing worldwide; and Boeing Engineering, Operations & Technology, which helps develop, acquire, apply and protect innovative technologies and processes.