BMW Group breaks new ground with BMW 2 Series Active Tourer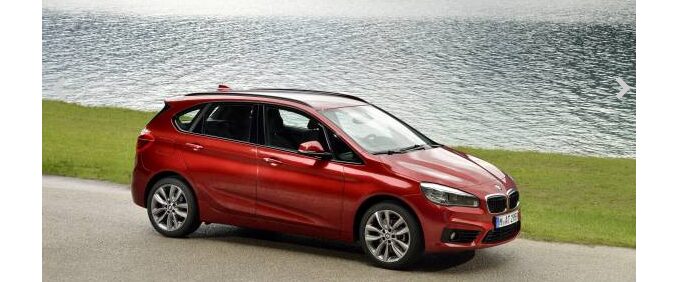 Sölden. The BMW Group is breaking new ground by entering the attractive premium compact class with its latest offering, the BMW 2 Series Active Tourer. "The response to the 2 Series Active Tourer has been extremely positive, which makes us confident that this new vehicle will be a resounding success," said Harald Krüger, board member of BMW AG responsible for production, as the new vehicle was presented in Sölden (Austria) on Wednesday. The BMW 2 Series Active Tourer is due to be launched on the European market on 27 September 2014.
The main markets for the 2 Series Active Tourer will be Europe and China. Europe is likely to account for some 40 per cent of sales and China around 15 per cent. "Apart from its amazing agility, unique for a vehicle in this segment, customers will appreciate the higher sitting position and spacious interior as well as its compactness, functionality and convenience," stated Krüger.
 The 2 Series Active Tourer will appeal to new customer groups
"Demand for premium cars in the compact class is developing very promisingly," Krüger continued.
With its MINI brand and the BMW 1 and 2 Series, the BMW Group is already well represented in the small and compact car segment. By expanding its product range, the Group is looking to attract new customer groups to the virtues of the BMW brand, just as it has already done with its successful BMW 1 Series. Around 70 per cent of the first-generation BMW 1 Series cars sold went to customers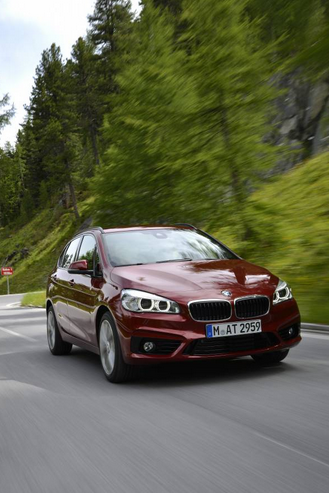 new to the brand.
"With the BMW 2 Series Active Tourer we mainly want to appeal to customers who may for family reasons have a wide range of needs in terms of functionality and convenience, but at the same time want to enjoy BMW's typical strengths such as sportiness and innovative design. We are talking about a combination that has not been available on the market in the past and which sets us apart from the competition," emphasised Krüger. The Active Tourer is the first ever BMW with front-wheel drive and the first core-brand BMW to become available with a three-cylinder engine. The new front-wheel drive architecture – with a transversely installed engine – allows maximum usage of the interior volume in a relatively small vehicle.
Economies of scale due to cross-brand vehicle architecture
The BMW Group has developed two architectures: one for future four-wheel and rear-wheel drive models and one cross-brand front- and four-wheel drive architecture, on which the BMW 2 Series Active Tourer is based. This front-wheel architecture is also the basis for ensuring profitable growth in the premium small and compact car segment: "The standardisation of development and production processes based on the concept of cross-model/brand architectures and engine modules enables us to achieve considerable economies of scale within the Group," said Krüger. 
Moreover, the BMW 2 Series Active Tourer is the first BMW to benefit from the modular engine concept.
 The standardised modular engine enables the BMW Group to manufacture 3-, 4- and 6-cylinder petrol- and diesel-powered engines of varying capacities on one single assembly line. The high percentage of identical parts means the Group can greatly reduce costs, both in development and in production.
Growing premium segment
In the foreseeable future, the premium segment is likely to grow more quickly than the basis segment. The BMW Group expects to see increasing demand and an average annual growth of more than 4.5% (2013 – 2020) worldwide. The premium small and compact car segment is also likely to benefit from this growth.
For any questions please contact:
Corporate Communications
Micaela Sandstede, Business and Finance Communications
Micaela.Sandstede@bmw.de, telephone: +49-89-382-61611
Nikolai Glies, Head of Business, Finance and Sustainability Communications
nikolai.glies@bmwgroup.com, telephone: +49 89 382-24544
Internet: www.press.bmwgroup.com
E-mail: presse@bmw.de 
 The BMW Group
With its three brands BMW, MINI and Rolls-Royce, the BMW Group is the world's leading premium manufacturer of automobiles and motorcycles and also provides premium financial and mobility services. As a global company, the BMW Group operates 29 production and assembly facilities in 14 countries and has a global sales network in more than 140 countries.
In 2013, the BMW Group sold approximately 1.963 million cars and 115,215 motorcycles worldwide. The profit before tax for the financial year 2013 was € 7.91 billion on revenues amounting to approximately € 76.06 billion. As of 31 December 2013, the BMW Group had a workforce of 110,351 employees.
The success of the BMW Group has always been based on long-term thinking and responsible action. The company has therefore established ecological and social sustainability throughout the value chain, comprehensive product responsibility and a clear commitment to conserving resources as an integral part of its strategy.
Facebook:http://www.facebook.com/BMWGroup
Twitter:http://twitter.com/BMWGroup
YouTube:http://www.youtube.com/BMWGroupview
Google+: http://googleplus.bmwgroup.com